Are you trying to find the perfect gift for your dog-loving friends?

Do you peruse the happy "tails" about adopted dogs posted on adoption websites? Imagine receiving over 250 of them in the mail. Now think how overwhelmed with glee you would be if you also received a FREE copy of a book that told you all about the secret life of rescued dogs who have worked in Hollywood…Now, stop imagining: it's for real! People asked and now you can receive the entire set of "Lost Souls: Found!" books (Bostons, Goldens, Dachshunds, Labs, and Pitties), wrapped in nice paper, along with a FREE copy of "Hollywood Barks!"
It's an $80.00 value for $64.75, hours and hours of entertainment, and the opportunity to help some dogs in need (over $10.00 from your purchase is donated back to rescue).Purchase your gift set this month and have it in time for the holidays!
---
Hollywood Barks! Is Still Available for Pre-Sale - Only One Week Left!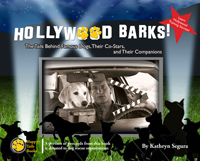 It's the last week to get $2.00 off or double donation pre-sale deal on Hollywood Barks! This book's large format (9'w x 7.25'h) and content full of great stories, photos, and little-known facts about dogs in Hollywood makes it a great gift for yourself or your friends! You can see a preview of the book on our Hollywood Barks page.
Review: "Five paws up for Hollywood Barks. Kathryn Segura hits "the mark" on telling the stories of well-known movie dogs and describing how they learn their roles. The training tips from expert trainer Segura can be used with all dogs, whether you want your dog to be a star or a well-mannered pet." Mary R. Burch, PhD, Director, Canine Good Citizen & AKC S.T.A.R. Puppy
---
Website Feature: Dogspired

(DOG)SPIRED gives people the opportunity to share thoughtful and inspirational dog stories with a devoted paw-approving audience. Their writers have experienced firsthand the joy, happiness, companionship, and unconditional love a dog can bring. The website boasts inspirational stories, and important tips and advice, educating people about canine care and increasing animal rights and rescue awareness. All dog lovers are encouraged to join the blog and share their stories; there is a truly dogspired audience waiting to read them.
---
Advocacy Feature: Mary Schaut, Phoenix Dog Products Examiner
Mary is an animal advocate who watches over dog products to inform us about the best items out there. On Nov. 7th she is participating in Petapalooza with her Lab-mix Raven to raise money for the Humane Society. If you'd like to support her efforts and help her raise money for the Humane Society, please make a donation here.
---
Contributor Spotlight: Morgan Miller, BT Lover and Photographer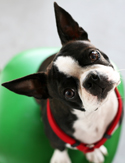 Morgan Miller, whose photo is featured on the cover of "Lost Souls: Found! Inspirational Stories of Adopted Boston Terriers," loves dogs and photography. When not shooting weddings or traveling, she spends her days with her Boston Terrier, Mickey, by her side. The perfect pair, Mickey loves to wear costumes and have his picture taken – which is convenient since Morgan loves to dress him up and shoot. "Adopting Mickey was the best decision I have ever made. He is my best friend, and the best companion anyone could ever ask for. When I am having a bad day--he always seems to be able to do something to make me smile."
---
Book Feature: Maggie: The Dog Who Changed My Life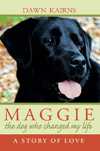 Black Lab Maggie helps author, Dawn Kairns find her place in the world, both personally and professionally. Through their relationship Kairns learns that dogs are intelligent, emotional beings that can sense our thoughts. "My book explores a deeper, spiritual side of the human-canine bond," says the author, "including animal telepathy, and the importance of trusting our intuition and dream messages. Like Happy Tails Books, Kairns donates a portion of proceeds back to dog rescue.
---
Store feature: Mouthfuls
Located in Denver, CO and also online, Mouthfuls is a neighborhood pet boutique specializing in upscale goods for your furry friends. The owners are very nice, the store staff is friends, and they are supporters of Happy Tails Books and dog rescue!
---
The answer to this month's raffle question, "In the Lost Souls: Found! Golden Retriever book, where did Micah find his family?" is "In a pet supply store." The winner of a free "Lost Souls: Found!" book, who answered correctly, is Jamie Dickens!
Next month's trivia question is: "What is Petri's favorite toy?"
The answer can be found in "Lost Souls: Found! Inspiring Stories About Dachshunds." If you don't own the book yet, don't worry! You can find the answer in the preview online.
*Oops! I misspoke in our last newsletter – the answer to our Sept. raffle question, "What kind of dog is Puffy?" is "border terrier," not "Puffy." Do'h!
---
Would You Like To Be Our Next Winner? Answer this month's question correctly to be entered in our raffle.

Boston Terriers: Books are back in stock and flying off the shelves again! Read Snickers story online this month (from Midwest Boston Terrier Rescue).

Golden Retrievers: We are overwhelmed by the kind reviews people have posted on Amazon.com. Posting reviews significantly helps our Amazon ranking and we can't thank you all enough!

Dachshund: Printed and Shipped! The reviews are coming in: "LOVE the book! I was only on page 30 and had laughed out loud and cried several times." -Lorrie Corsetti, What's Up Dox Shoppe

Labs: This book is so close to being finished! We'll be making author announcements this week. The pre-sale deals are only available for a few more weeks, so please pick up a copy today!
Read Ariel's story online this month (from Lake Erie Lab Rescue)

Pit Bulls: Done and done! The Pit Bull book is off to the proofreader and will be shipped towards the beginning of December. Check out the dogs and authors, and please pre-order your copy today!
Read Sterling's story online this month (from Linda Blair WorldHeart Foundation)

Chihuahuas: We're still looking for more stories, so please send your Chi "tails" over!

Other Breeds: We haven't forgot you! We've got many books planned for 2010 and will be in touch shortly about your favorite breed.
Want to learn more about Happy Tails Books and about Fostering?
Listen to our recent interview with the Conscious Discussions Radio Show.