---
High school girls serve breakfast
and the community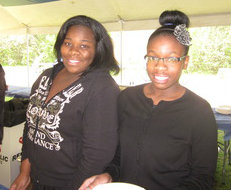 Mercy Education Project high school girls went on a community service field trip to the University of Michigan Dearborn to help at Pancakes for the Planet—a pancake breakfast benefiting the Environmental Interpretive Center on campus, which the girls also visited.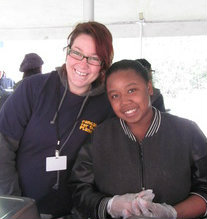 The girls had a great time making pancakes, serving guests, and painting faces for the children. Paired with college students, the MEP girls were also able to learn more about college life—all while volunteering.
---
WISDOM share friendships across faiths
In April MEP hosted WISDOM (Women's Interfaith Solutions for Dialogue and Outreach in Metro Detroit) for the Five Women Five Journeys program. A panel of women from Baha'i, Christian, Muslim, Jewish, and Sikh religions spoke about their childhoods, common misunderstandings about their faiths, and stereotyping they face.
MEP adult students especially appreciated learning about the Baha'i belief that girls should be educated over boys in a family—if the family must choose—because girls become mothers who then pass their learning on to their families, and that educating one girl means educating a village.

The presentation linked MEP's mission of cultural enrichment and women's education in a friendly and informative event.

---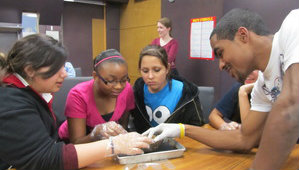 Patricia, Rayanne, and AnnaCelia
with a worm
Think MEP girls don't like science? Think again! In March, 40 middle school and high school students were treated to a series of biology presentations by students from the University of Detroit Mercy. The UDM students gave fascinating presentations about digestion, circulation, respiration, and evolution. Highlights included being able to look at (and even touch!) dissected specimens of flatworms, roundworms, clams, and rats. The girls not only loved learning more about science and biology, but also about college.

---
If you're on Facebook, "Like" MEP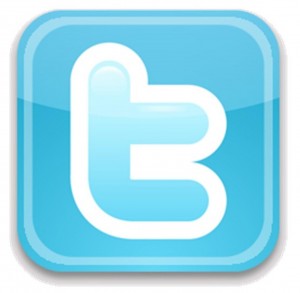 to get updates on our latest news and to view program and event pictures. You can also follow us on twitter!