GREETINGS and HAPPY Spring Ya'll...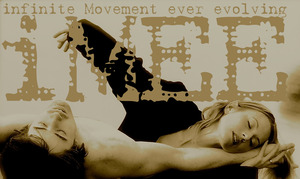 Photo © Mike Mesikep Photography

WHAT HAS iMEE BEEN UP TO LATELY...?
iMEE presented Artistic Director, Spencer Gavin Hering's multi-disciplinary World Premiere creation, elliptical capture and Andrea Dawn Shelley's "...exquisitely sensual pas de deux..." Frozen Angels during the JCC's Dance Month on January 28 and 29, 2012 at the Kaplan Theatre in Houston, TX. This special work was a true collaborative success which was brought to life through the talents of iMEE Artists, renowned photographer, Simon Gentry and soprano, Natasha Manley.
"The performance was stunning. The dancers' passion and fluidity of movement was beauty defined. And Simon's abiltity to capture it and immediately allow the audience to experience it from the camera's point of view was captivating. More collaborations please." -Patron, Melissa Smith


"Powerful performance - inspirational choreography! A brilliant collaboration of movement, music and photography! To me, it was a reminder that my eyes only capture fragments of the passion. Bravo to Simon as a true master for capturing amazing images in such low light! Bravo Spencer - Bravo IMEE!" -Patron, Karen Wilkson
To experience elliptical capture for yourself, click here to View now and Enjoy!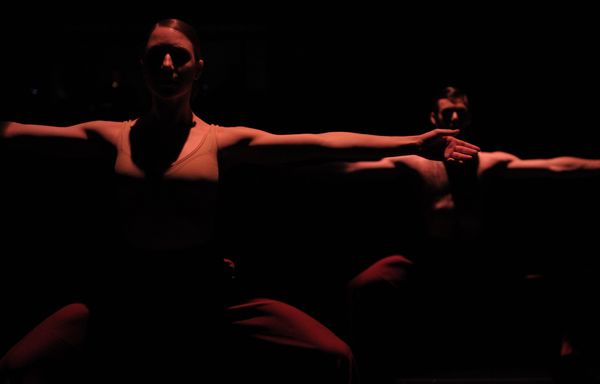 Image of "elliptical capture" captured on stage by Simon Gentry Artists, Jessica Collado & Connor Walsh


Our BIG ANNOUNCEMENT...
On February 6, 2012, iMEE announced the appointment of Maurice Causey as the company's first resident choreographer. Mr. Causey, an American-born European choreographer began his relationship with iMEE Directors in March 2011. The collaboration culminated in the creation of a new work set on the company in August 2011, performed in Houston, Texas. iMEE is honored to join forces with Mr. Causey, adding his talents, knowledge and expertise to their Artistic Staff. As iMEE resident choreographer, he will have the freedom to create one new work a season. He will also play a huge role as an artistic advisor to iMEE. Mr. Causey has danced with such companies as Ballet Frankfurt and Ballet Gothenburg. He has held the position of Ballet Master at both: To read more...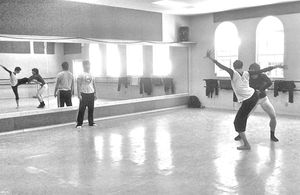 Maurice Causey working with iMEE Artists, Britt Juleen & Cristian Laverde Koenig
Mr. Causey will set his second work on iMEE in May 2012. iMEE Directors, Hering & Shelley, along with Causey, will take part in a two week residency in Amsterdam. During this time, Causey will set a 12 minute duet, Dve Deserter created specifically for the Directors. Dve Deserter delves into a couples toggling between affection and aggression. In March 2013, iMEE will travel to Turin, Italy for the company's first European Tour! This is extremely exciting for us! iMEE will be presented by Balletto dell' Esperia's "Centro Coreografico Progetto Rettilario" and present a full evening of iMEE repertoire. The company will reprise Causey's acclaimed work, Grim Eye which premiered August 2011 in Houston, Texas, as well as Causey's new iMEE World Premiere creation, Dve Deserter. The program will also include Hering's recent World Premiere collaboration elliptical capture, presented January 2012 at the ERJCC's Kaplan Theatre in Houston, Texas. Mr. Causey is excited to create, build and be part of the iMEE family and we are honored to officially welcome him to our family.


Some MORE GOOD NEWS...
Our Cultured Cocktails event sponsored by Spactaker at Boeheme Cafe & Wine Bar on February 2, 2012 was a huge success! iMEE received 14% from the bar that evening and all proceeds will benefit iMEE artists, specifically iMEE's barefoot troubadour, Graham Patzner for our upcoming April project, FestOval of Dance 2012 in West Palm Beach, Florida. We did very well. THANK YOU to our friends & fans who showed their support and joined us for some great conversation & cocktails! We also held a Silent Auction that evening with photography of iMEE Artists by Simon Gentry from our performances of Spencer Gavin Hering's, World Premiere collaboration, elliptical capture.

We congratulate Ken Yanowski for winning Simon Gentry's beauitful image of iMEE Artists (shown above) at our Cultured Cocktails event! Thank you for bidding on our special Silent Auction item and... for your continued support. Enjoy!


YOU CAN SEE iMEE MOVING NEXT...
April 6, 7, 8 2012
O Dance presents FestOval of Dance 2012 which includes performances by O Dance, iMEE, Reach Dance Company & SCDT! iMEE has been commissioned to present Andrea Dawn Shelley's, "romantic work," Frozen Angels which will feature iMEE Theatrical Artist/Musician, Graham Patzner. iMEE will also offer the back of beyond, a World Premiere creation by Spencer Gavin Hering. Hering and Patzner have collaborated on a hauntingly, divine score. Patzner will perform this original score live on April 6, 7, 8, 2012 at the Kravis Center for the Performing Arts, Rinker Theater in West Palm Beach, FL. Tickets are on sale now! Click here for ticket sales & more info.