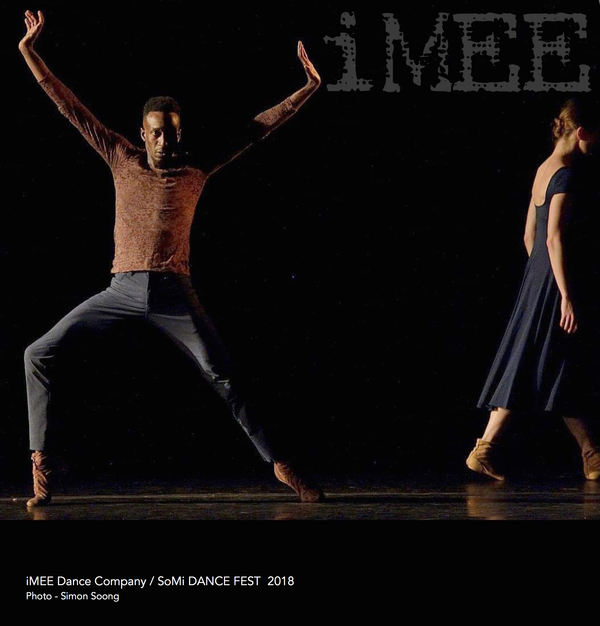 Hola iMEE friends & familia,
WONDERING WHAT WE'VE BEEN UP TO LATELY?

June 2018 -
Co-Dir
ectors
, Spencer G. Hering & Andrea D. Shelley announced their departure from Mandelstam DANCE.
Leading Mandelstam DANCE
since 2016,
MD
Co-Directors completed their last class in June 2018 and announced new leadership in July.
Mandelstam DANCE is now led by Dimensions Dance Theatre of Miami Founding Artistic Directors, Jennifer Kronenberg & Carlos Guerra.
Hering & Shelley accepted positions
as Artistic Faculty at Vitacca Vocational School for Dance
in Houston, TX
as Ballet Master, Woodlands & Professional Program Principal, Montrose.
This opportunity allowed iMEE Co-Directors to return to the Houston dance community which they admire, as well as, continue their work with pre-professional young artists. Hering & Shelley began their new positions in August 2018.
August 2018 - iMEE launched their second season of blank | SLATE in Houston, Texas. blank | SLATE is a movement lab for professional choreographers and dancers looking to accelerate their craft in an unrestricted, stress-free environment. At no cost to the selected choreographer, the artist is given four hours of studio space at Vitacca Vocational School for Dance in Houston, TX. Studio space is kindly donated by VVSFD. A different choreographer is selected each month. Participating dancers, 17yrs & older, pay a nominal fee to work with the selected choreographer during their four-hour session.
iMEE successfully held their first lab session in Houston on October 28, 2018 with emergent choreographer, Dwain Travis in addition to their second lab session on November 11, 2018 with choreographer, Jennifer Mabus. To learn more about blank | SLATE, participating dance makers and the 2018/19 roster/schedule, click HERE. iMEE is currently taking reservations for our DEC 16 - blank | SLATE SESSION with choreographer, Kate Rash. Click HERE to RESERVE.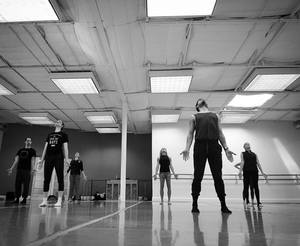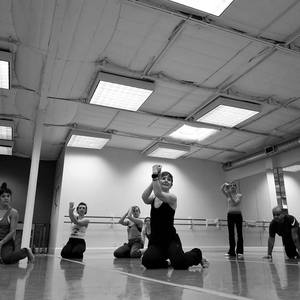 (L) October SESSION with Dwain Travis (R) November SESSION with Jennifer Mabus

November 2018 - iMEE launched their Annual Fundraising Campaign via GoFundMe on November 25, 2018. The campaign seeks support for iMEE's presentation of soMi DANCE FEST in South MIAMI, January 2019. "Bravo to the directors of iMEE, for creating soMi, a new addition and welcome addition to the dance scene in Miami; soMi DANCE FEST has now joined the extensive movement to promote and build dance in Southern Florida." -Cameron Basden, Miami ArtZine. Click HERE to make a contribution and learn more.

December 2018 - iMEE Co-Director, Shelley will create a new short work, a duet for METdance, marking her second work for the company. Shelley's new work will premiere in METdance's DUO program, February 7, 8, 9, 2019, Houston, TX. iMEE Co-Director, Hering will participate as a Guest Master Ballet Teacher as part of METdance Project presented on December 16, 2018. iMEE will also share the stage with METdance as part of their Better Together program, April 12 & 13, 2019. iMEE will present Maurice Casuey's, Shot Gun which premiered at soMi DANCE FEST 2018 in South Miami, FL. Shot Gun features iMEE artists: Jessica Collado, Cristian Laverde Konig, Melanie Martel & Randolph Ward. Be sure to save the date. SEE iMEE moving in Houston, TX, April 2019.

iMEE will present their second edition of the soMi DANCE FEST / soMi Master Class Series in South MIAMI, FL on January 12 & 13, 2019. Performance tickets & Packages go on sale December 1, 2018. All particpating companies and programming will be announced, December 1, 2018. iMEE will contribute a world premiere creation by Berlin based dancer & choreographer, Roderick George (Cedar Lake Contemporary Ballet, Basel Ballet/Theater Basel, Goteborg Operan DansKompani, The Forsythe Company.) We are excited to add George's work to iMEE's ever-evolving repertoire and share his work with new audiences in SoFlo. We look forward to uniting SoFlo professional dance companies for an evening of thought-provoking, original contemporary dance. SEE iMEE moving in South Miami, FL, January 2019.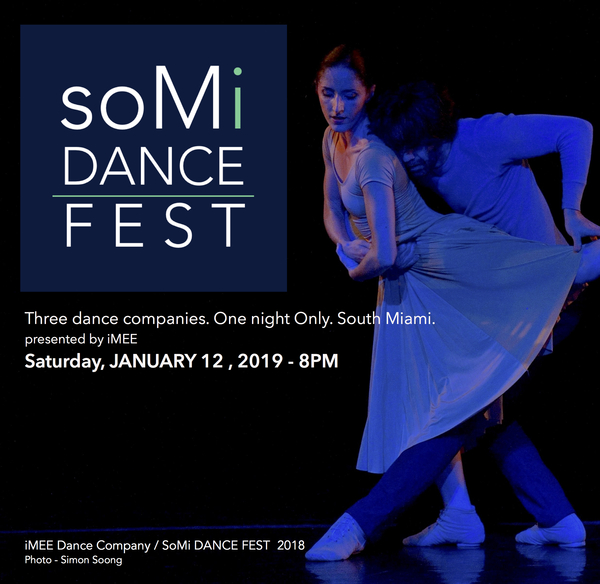 soMi DANCE FEST - JANUARY 12, 2019
Mandelstam Theater - 8PM
Sponsored by Mandelstam Theater / Presented by iMEE

soMi master class series - JANUARY 12 & 13, 2019
participating guest choreographers & dance companies location: Mandelstam DANCE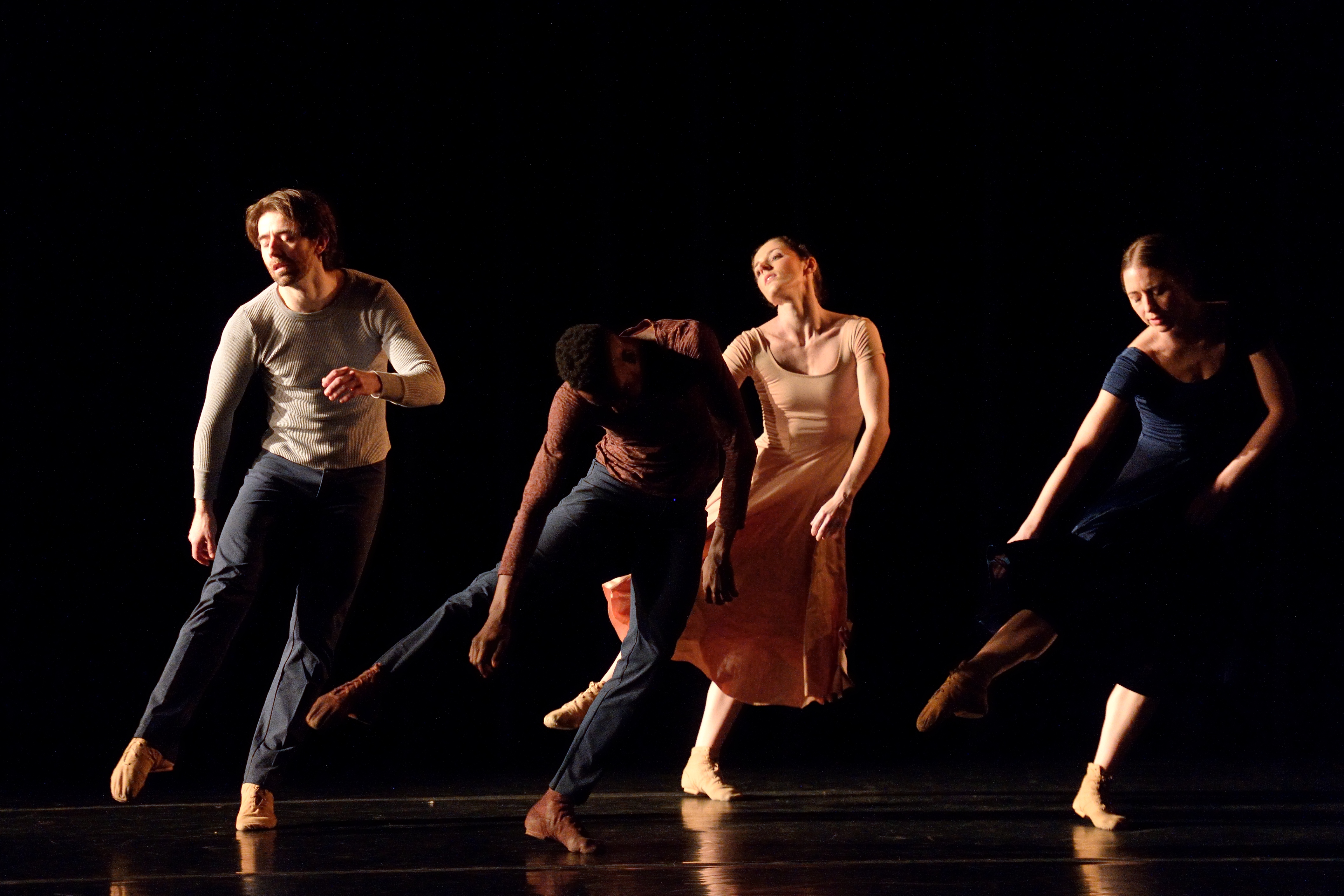 iMEE / photo Simon Soong
Click HERE ​for iMEE 2019 Performances

---


A note to current and future iMEE Patrons...
iMEE would not exist without the support of our dance-loving friends. Individual donations are the lifeblood of iMEE and your financial encouragement allows us to continue presenting multi-disciplinary, ever-evolving art to audiences near & far! We want to extend special thanks to each of our patrons. From the bottom of our hearts, we THANK YOU for helping us continue to spread our wings and share our work with audiences throughout the United States and abroad for our eight years of existence. Please help us continue our commitment to the presentation and creation of new works via our different patron options such as: underwriting an evening of iMEE contemporary dance, sponsoring a world premiere creation, costumes and/or an iMEE Artist. Our upcoming January & April 2018 projects include dance artists: Alan Alberto, Jessica Collado, Roderick George, Cristian Laverde Konig, Lindsey McGill, Melanie Martel, Randolph Ward. We are currently seeking artist sponsorships. If you would be interested in providing this type of assistance please, CLICK HERE.

In the spirit of #GivingTuesday we hope that you will consider including iMEE on the list of organizations you choose to support. iMEE is on the move in Houston & Miami and making great strides to build a stronger, united dance community that enriches both cities culturally through the art of professional, high-quality contemporary dance. Please support our continued efforts to provide our community with initiatives, such as: blank | SLATE for emergent/professional choreographers & dancers, soMi DANCE FEST and soMi master class series. Our upcoming festival serves to unite South Florida professional dance companies and provide young artists the opportunity to learn from leading South Florida dance artists, directors, national/international guest choreographers. Your monetary pledges will provide us continued encouragement in our creative and administrative efforts. To make a contribution, please CLICK HERE. Your gifts will keep #iMEEonthemove into 2019 and beyond!

As always, let us conclude our Newsletter with one final and very important thought...
None of what we do would be possible without you, our wonderful and faithful supporters. Infinite gratitude abounds.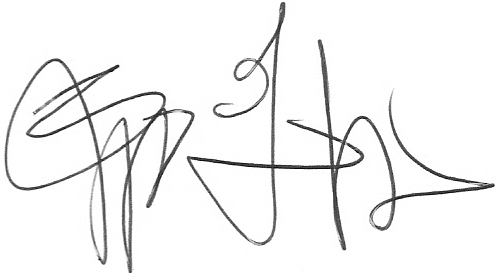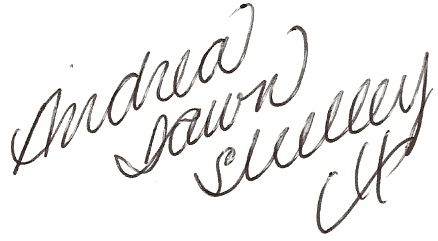 Spencer G. Hering & Andrea D. Shelley
iMEE Co-Founding Directors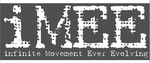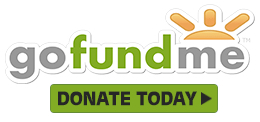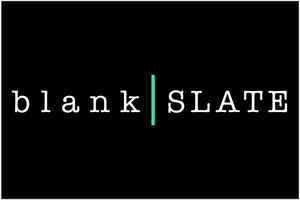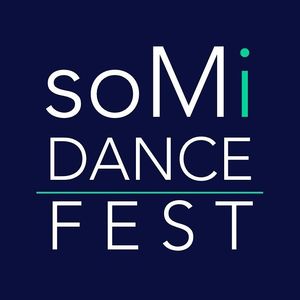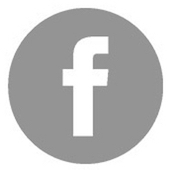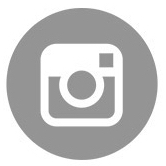 imeeonthemove.com
"iMEE... dance that inspires, educates and elevates your mind, body & soul"