Read what people are saying...

"I bought a SenseLife TIM8 CO2 Monitor last summer. The monitor has been very valuable to me in issues regarding ventilation in my surroundings and I am really happy with the monitor...I'm amazed at how sensitive the monitors are and how quickly they show changes in the CO2 level."

L.T., Kentucky

Do you have a CO2 Meter story to tell?

Write it in an e-mail, and if we reprint it here, we'll give you a free CAM CO2 Meter.

Click here to send it to us.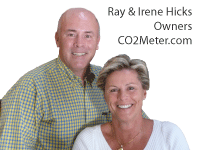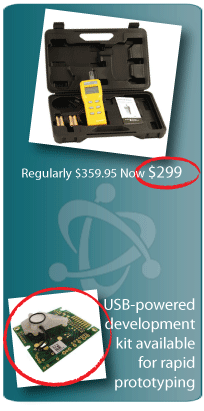 pSense portable CO2 meter on sale $299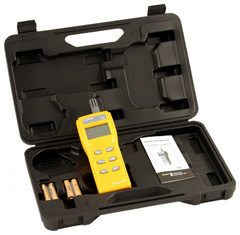 Our most popular hand-held

We received a large shipment of the pSense portable CO2 meters at a very good price from the manufacturer, and are passing the savings on to you.

Normally $359.95, we are offering these hand-held meters for $299.

This means that you can purchase an industrial-quality 0-2,000ppm CO2 meter at the same price we offer our high-volume wholesale customers.

The pSense uses infra-red NDIR sensing technology. It is powered by 4 AA batteries (included), comes in an ABS plastic carrying case, and can quickly and easily be calibrated outdoors.

This offer won't last. Click here to order yours today.
---
Sensor that measures up to 30% CO2 now available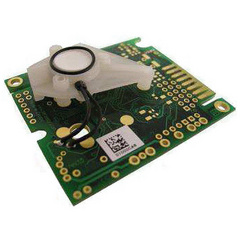 0-300,000ppm with tube caps for remote sensing
After requests from many of our customers, we now have the latest generation Sensear NDIR sensors capable of reading CO2 concentrations up to 30% of air by volume.
These sensors are designed to measure high concentrations of CO2 levels in either factory or scientific applications. For example, several researchers studying the effects of high CO2 levels in incubators have already purchased the product.

Included with each sensor is a cap that allows 0.8mm tubing to be attached. By applying a vacuum to one of the tubes, air can be drawn across the sensor from any distance. This makes the K-33 capable of being used to remotely monitor CO2 levels in a combustion chamber, for example. For more information, click here.
---
High levels of CO2 surprise customers, they write
Customers write about high CO2 levels in enclosed spaces.

One of the most common e-mails we receive from customers is the surprise they get reading their new CO2 meter in enclosed spaces. Here are some examples:

Stephen L. writes, "My friends and I have been surprised at how quickly CO2 builds up in a room full of people. In a basement home theater setup I installed, with six people in a 20'x x20'x x8' room watching a 2 hour movie, the CO2 concentration went from 400 to 2,000ppm by the end of the movie."


David R. writes, "Our studies found carbon dioxide levels rise to over 3,000ppm from 400ppm (outdoor air) in 30 minutes in an enclosed automobile with a single passenger." Read More