PhotoVoice Newsletter
November 2016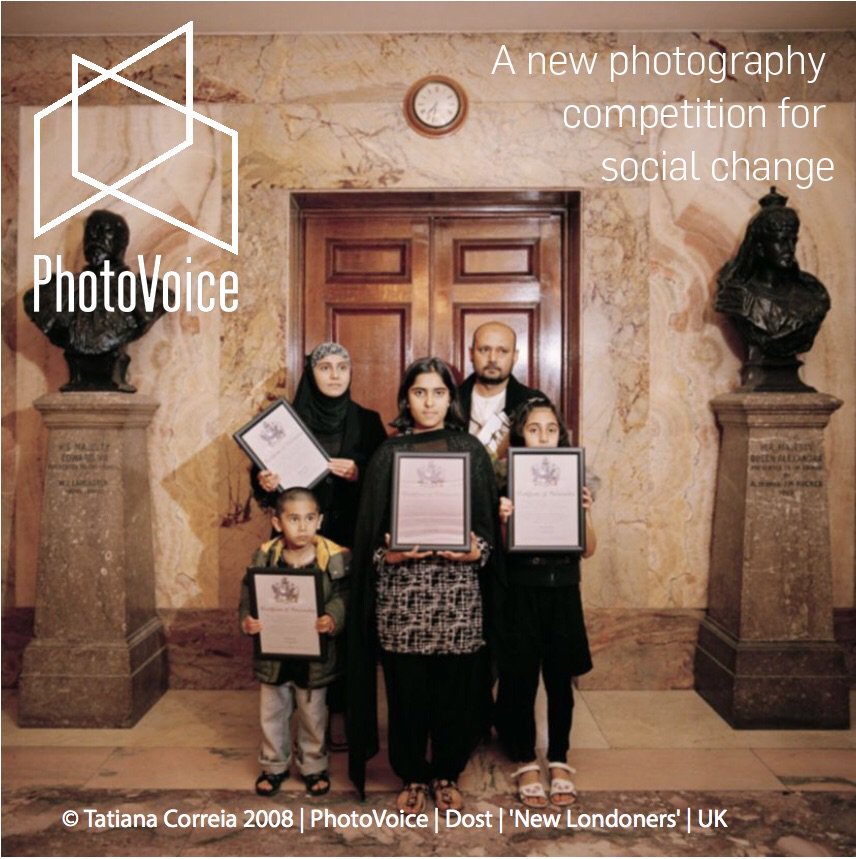 Hello and welcome to our November Newsletter!
This month, our new photography competition has been launched in partnership with Professional Photography magazine. Inspired by Tatiana Correia's image of her citizenship ceremony from our 'New Londoners' project, the theme of the competition is 'Modern Society'.

We interview Meredith Hutchison, a photographer and photo-facilitator collaborating with marginalised groups to promote social change. Elsewhere, evolveEA, a sustainable architecture and building firm shares their new community engagement resource. Our guest blogs also include London College of Communications' student Caroline Weber, who shares her experiences of running a participatory photography programme in Malawi.

Finally, there are still places available for our November training so make sure you grab your place soon!
New PhotoVoice Photography Competition
We explore what modern society does or should look like through our new photography competition, inspired by our New Londoners project. The winners will be featured in the pages of Professional Photography magazine and there is just over a week left to submit. The first 50 entries will receive a free copy of the New Londoners book, thanks to our friends at Trolley Books.
Find out more
Training
Hurry - there are still a couple of spaces available on our November training. The three-day course is a must for anyone wanting an introduction to designing, managing and facilitating a participatory photography project. The course includes our new handbook filled with material and case studies, developed following extensive feedback from previous trainees.
Find out more
Monthly Prize Draw
We are very excited to announce that this month's prize draw is being sponsored by Lomography. One lucky PhotoVoice supporter will win the Lomo'instant and a Spinner camera.

All PhotoVoice members are automatically entered into the prize draw. Alternatively, you can donate £3 to enter. Simply text 'PVUK00 £3′ to 70070
Please follow the Gift Aid link and share your email address with us so we are able to contact you if you are our winner!
Find out more
10 Questions with… Meredith Hutchison
We interview the photojournalist and photo-facilitator on her photography. Find out more about her approaches to photography, participation, facilitation and collaboration.
Find out more
Community Engagement Strategy Deck
PhotoVoice project 'ImAge Ethiopia' features in a new community engagement resource. evolveEA, a sustainable architecture and building firm has produced a creative deck of cards, bringing together different approaches to facilitation and community engagement.
Find out more
Kapanda Empire
Caroline Weber writes for PhotoVoice on her participatory photography project with Ripple Africa, a charity working to improve the environment and local education in Malawi, Africa.
Find out more
Featured image: "I had my citizenship ceremony last summer and to my surprise it was quite emotional. The Town Hall provides a lovely service and makes sure citizens feel welcome and appreciated. It feels like a very positive symbol of 'real' multiculturalism. On the day I could not quite understand why we had to do all the different bits of the ceremony – including singing the hymn and pledging allegiance to the Queen. Many people there did not know what was happening due to language problems. I started thinking about what the whole process of citizenship means and about how these ceremonies are part of the changing and evolving process of modern societies." © Tatiana Correia 2008 | PhotoVoice | Dost | 'New Londoners' | UK
---
---
PhotoVoice
c/o Photofusion
17 Electric Lane
London, England SW9 8LA
UK


Read the VerticalResponse marketing policy.