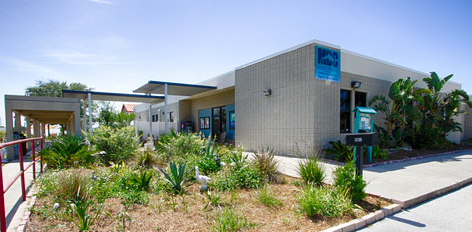 This May at
Marine Discovery Center...

...the weather is warming, and we're out and about every day on our tours and education programs!

Here in our newsletter you'll find lots of helpful info on upcoming events and programs, hear some updates on our restoration projects, learn about the birds and the bees (and the turtles), and find that special gift for Mother's Day.

Keep scrolling to see it all!



---
---
News and Info

---
---
Lagoonacy was a Blast!!!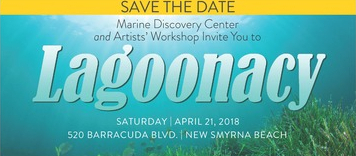 On April 1 we celebrated Lagoonacy!!
Complete with food trucks, beer, vendors, a mermaid rescue, lots of art, kayaks and archery, and our fantastic cardboard boat race, our Lagoonacy fundraising festival was a great success!
Make sure to join us next year on
Saturday, April 21 for Lagoonacy 2018!
In the meantime, check out some of the sights from this year's event...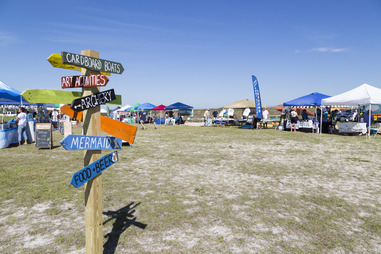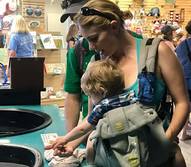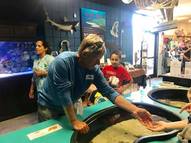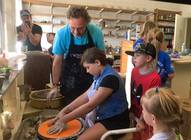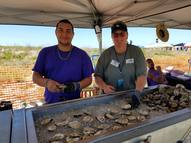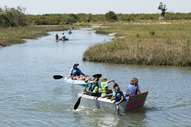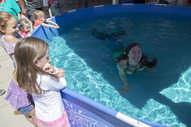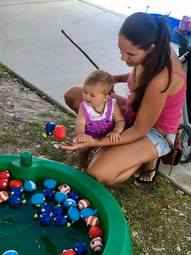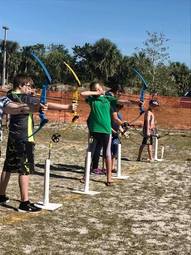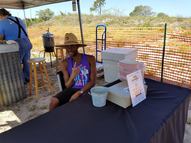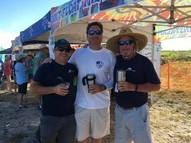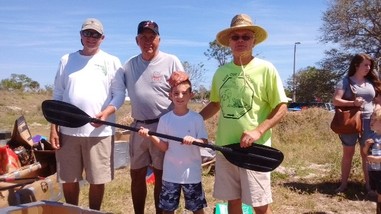 ---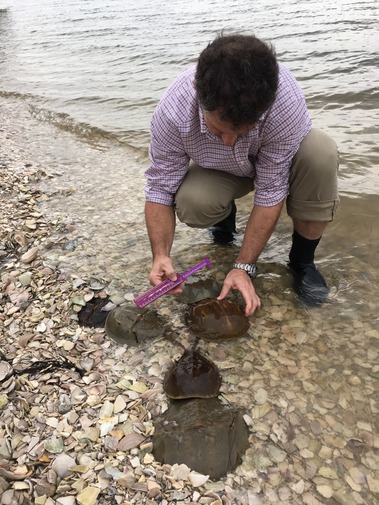 Horseshoe Crabs Featured in
Daytona Beach News-Journal!


MDC has been investigating the local horseshoe crab population for roughly a decade. Find out how we're working with Florida Fish and Wildlife Conservation Commission and other entities to study these amazing creatures in a great article from Daytona Beach News-Journal!
Click here to read all about it!
---
News from the Marsh
: Updates from Our Restoration Programs
MDC at GTMNERR


In early April, a team of Marine Discovery Center volunteers traveled to Guana Tolomato Matanzas National Estuarine Research Reserve in the wee hours of the morning to assist FWC, FDEP, and the aquatic preserves in the installation of shoreline restoration materials.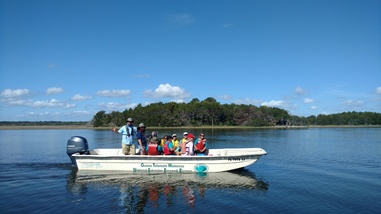 GTM NERR is home to a variety of important flora and fauna, as well as the inter-coastal water way. As boats both large and small make their way down the deep channel their subsequent boat wakes rock the fragile shoreline, slowly eating away at silty sediment and causing clumps of important marsh grasses to get washed away. Researchers from University of Central Florida have partners with the FDEP to install two experimental methods of shoreline protection; oyster gabions and BESE (Biodegradable Elements for Starting Ecosystems) blocks.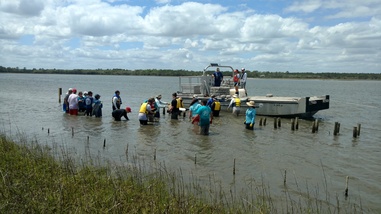 The volunteers worked alongside volunteers from GTM NERR to install 6 different experimental sites during a very high tide. Materials were loaded onto a barge, and deposited at each site by a fire line of volunteers working by the large pilings used as a wave break before the gabions.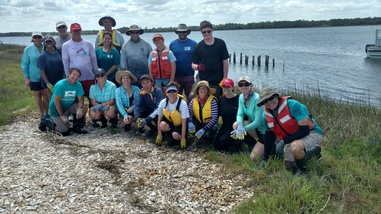 Once all of the sites were deposited and placed just so, researchers headed back out to the site at low tide to take initial measurements while the volunteers enjoyed a delicious ice cream treat in downtown St. Augustine.
Discovery Island:

Building Strong Backs since 2015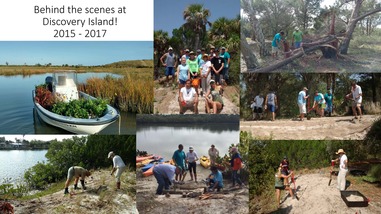 It's looking GORGEOUS out on Discovery Island thanks to the hard work of restoration staffers Erica & Jessy and our awesome volunteers who have really owned this project. Discovery Island is a small spoil island just off the main property; plans are to use it for future education programs.
For the past year and a half, this team has been tackling the Brazilian pepper, dealing with storm damage, stabilizing the shoreline, and preparing the island for fun & educational programs. We still have a little work to do on the stairs and brush removal, but we'll be finishing up this project in June.
We need some help this month - see below for details!
Here are some photos of the progress...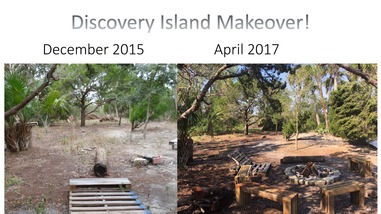 Living Shoreline Site: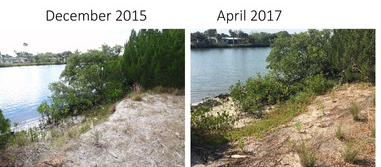 Campfire Circle: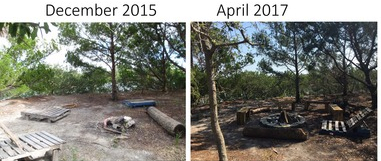 Eradication of Brazilian Pepper - Native Vegetation Growing In:

Camping Area (Still Under Construction):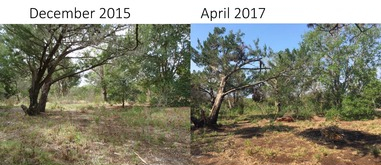 Removal of Brazilian Pepper & Debris; More Defined Trails: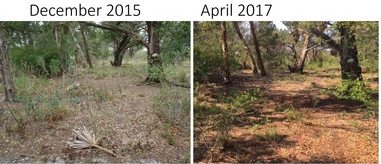 MDC Restoration
: Help Needed
UCF Marsh Monitoring
Monday, May 8
9:00 a.m. - 12:00 p.m.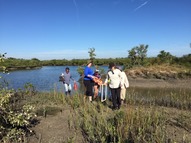 Help us take a look at what's living and growing in our marsh! Volunteers will want to wear closed-toe shoes and clothes that can get wet and dirty. Please bring sunscreen, bug spray, a hat, sunglasses, a reusable water bottle, and snack.
RSVP to Erica at erica@marinediscoverycenter.org

Discovery Island Enhancement Day
Tuesday, May 16
9:00 a.m. - 12:00 p.m.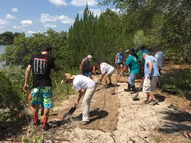 Help us complete some of the last final touches to the island!

There will be a variety of activities including Brazilian pepper removal/maintenance, watering plants, general clean up, and leveling of the entry way. If you have a tamper or leveling tools that you could donate for the event, please let Erica know.
RSVP to Erica at erica@marinediscoverycenter.org
so kayaks can be reserved.

Shuck and Share:
Join us for the last oyster bagging
events of the spring!!!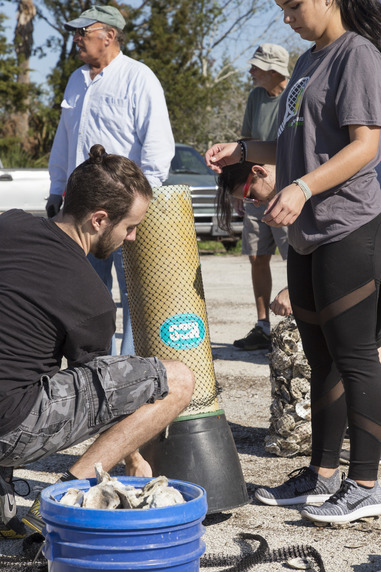 Join us for our last oyster bagging events of the season on May 6th & 18th from 9am to 12pm
Contact
Jessy@marinediscoverycenter.org
for more information.

Shuck and Share:
We Need Buckets!!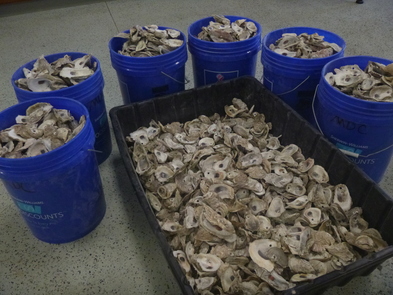 Our Shuck & Share program is in need of circular 5 gallon buckets!! For info on bucket donations, contact Jessy at
jessy@marinediscoverycenter.org
---
2017 Bird Walks a Big Success!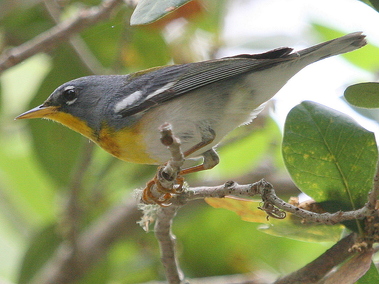 A parula seen on our bird walks


Another winter of Tuesday morning bird walks came to an end in April, and our volunteer Don Chalfant had some great things to report!
The number of participants on the walks varied from a low of fifteen to a high of 44, with an average of 23 participants per walk, a new high. Here are some other facts and figures from this year's walks:
74 species were encountered during this year's walks, two of which not been encountered during the 107 walks of 2009-2016: American Wigeon and Black-crowned Night-Heron.

The highest number encountered on any one of the walks was 46. The average number encountered was 33, a new high.

The cumulative total of bird species encountered on the walks of 2009 thru 2017 now stands at 129.
Participants during that same period have come from 34 states, five Canadian provinces, and four other countries!!!!!!!!!!!
These figures do not reveal, however, the excitement Don and crew experienced when they saw an Eastern Screech-Owl on every one of the 14 walks!!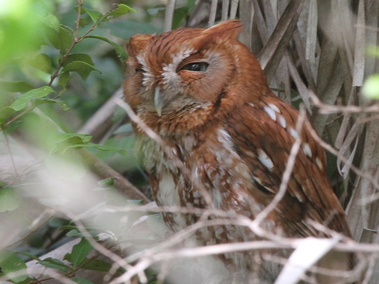 Eastern Screech Owl from the bird walks


In addition, a participant asked if we had ever postponed a walk due to rain. Surprisingly, the answer is NO: in nine years, we have yet to have rain on a Winter Bird Walk. A great omen!
Don wanted officially recognize the efforts of three birders who not only attend the walks regularly, but make significant contributions to their success: David Baker, Roger Wykes, and Elza Phillips. In addition to finding birds for all to see, these three offer unique talents: Dave and Roger making the pertinent comments of an experienced naturalist, and Elza taking extra time to see that all participants, especially beginners, get to see each and every bird. The continuing success of our bird walks is due largely to these three.
We look forward to hosting walks again next winter season!
---
It's Sea Turtle Time Again
by Lisa D. Mickey

While sea turtle nesting season officially starts May 1 on Florida beaches, several species of turtles have arrived early on the shores of Volusia County.
Leatherback turtles arrived early in April, and a Kemp's Ridley sea turtle nested in Wilbur-by-the-Sea on April 24 – an uncommon nester on our beaches.
The only sea turtle species that nests predominantly during daylight hours, Kemp's Ridley turtles primarily nest on a 16-mile stretch of beach in Tamaulipas, Mexico, said Karrie Minch, FWC Wildlife Technician and East Coast Sea Turtle Stranding Coordinator.

This rare Kemp's ridley mama turtle nested in Ponce Inlet


This species typically comes to shore in an "arribada," in which large groups – sometimes totaling thousands -- arrive to nest over a span of a few days. In the United States, Kemp's Ridleys may also be found in Texas. Florida is not a typical geographic nesting preference for this species.
"It's exciting since it's not something that is expected every year," said Minch of the Kemp's Ridley nest in Volusia County. "There was also a nest north of the inlet last year, but it's just not very common."
More common are nests of loggerhead and green turtles on Volusia County beaches –especially along the shores of Canaveral National Seashore, where sea turtles dug 5,345 nests last year, said Nancy Malmberg, a local volunteer Turtle Tracker. The 2016 season also included 676 sea turtle nests on Volusia County beaches, including leatherback, loggerhead, green and one Kemp's Ridley nest.
When you consider there may be between 80-100 eggs per nest, the importance of keeping nesting areas safe on our beaches cannot be understated.
With the official start of turtle nesting season -- which spans until late October -- all nests on Volusia County beaches will be monitored seven days a week. Authorized marine turtle permit holders actually began monitoring the beaches several mornings a week in April. Those trained Turtle Tracker volunteers look for new nests or beach crawls by the female turtles at sunrise each day.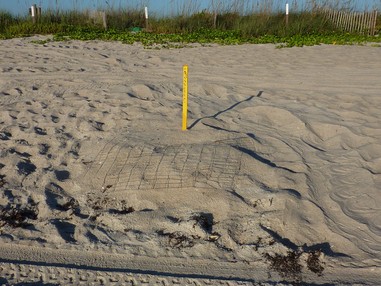 A nest at Canaveral National Seashore
But while wildlife officers and a team of volunteers help monitor and protect these nests, the Florida Fish and Wildlife Conservation Commission (FWC) is asking the public to remember that sea turtle mothers may become frightened when they experience cell phone photo flashes as they crawl onto a beach. A mother who becomes spooked by onlookers may simply turn around and return to the ocean, potentially losing her clutch of eggs in the sea because she was unable to nest on the beach.
"Anyone who spends time on the beach can help sea turtles," said Minch. "Just remember to enjoy nature's beauty from a distance."
Minch reminds beach goers to remove all trash when leaving the beach and to fill in any holes that have been dug on the beach so nesting and hatching sea turtles don't become trapped.
Also be sure to remove all beach chairs, cabanas and tents from the beach each night, as their presence may deter nesting females and interfere with hatchlings crawling toward the water.
Lights on the beach are always a concern for sea turtles, as hatchlings associate it with light on the ocean – their destination when they leave the nest and attempt to enter the Atlantic Ocean. Avoid the use of any lights on beaches where nesting is taking place, including residential and business lighting, car lights, flashlights and flash photography.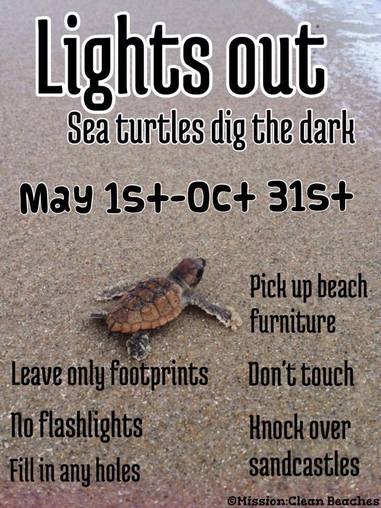 In addition to using discretion around turtle nests, it is also illegal to harm, harass or take sea turtles, their eggs and hatchings, including getting too close to a nesting female.
"All of these actions can have a positive impact on our sea turtle population," added Minch. And if 2017 is anything like 2016, Volusia County beaches will serve as a significant nursery to thousands of baby sea turtles just beginning their journey.
Want to help???
Canaveral National Seashore Turtle Training!

Saturday, May 6 | 10:30 am
Visitor Center Pavilion

7611 S Atlantic Ave

New Smyrna Beach, FL

Help is needed monitoring sea turtle activity
at Canaveral National Seashore!
Position details:
Turtle Nest Protection Program Night patrol on 12 miles of beach using an ATV. Locate, identify and screen nests. Lots of hard work and bugs. Opportunity to observe turtles in their natural habitat.
Hours: 11:00 pm – 7:30 am
New and returning volunteers welcome. Orientation for both Apollo and Playlinda volunteers. Lunch after the program – bring a dish to pass.
Additional information:
Kristen Kneifl
Resource Management Specialist at CNS
(321) 267-1110 ext. 14
---
Mother's Day is Coming Soon!

Why not treat your mom to a sweet surprise from the MDC gift shop?!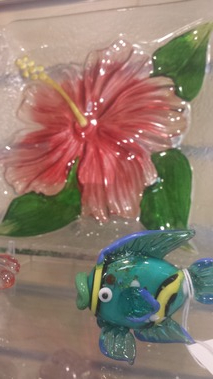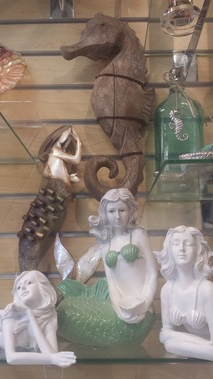 Not only will mom get a gift worthy of her hard work and efforts, your purchase will be supporting MDC and its mission to protect and restore Florida's coastal and Indian River Lagoon ecosystems!
Want something a little different?
How about treating Mom to an
MDC membership!
---
---
Upcoming Events and Activities
---
---
Full Moon Boat & Kayak Tours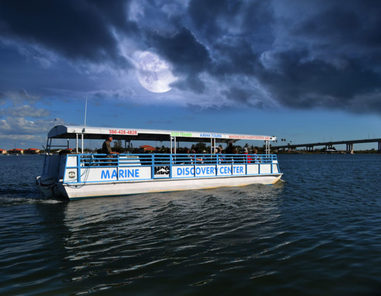 What's better than watching a beautiful sunset followed by the rise of the full moon? Watching it from the comfort of our 40-foot pontoon boat, Discovery, or from the calmness and serenity of a kayak in the lagoon?
May Schedule:
Tuesday May 9
:
Moon rise 7:08
Boat tour: 6:00 p.m. – 8:00 p.m.
Kayak tour: 6:00 p.m. – 7:30 p.m
Wednesday May 10
:
Moon rise 8:01
Boat tour: 7:00 p.m. – 9:00 p.m.
Kayak tour: 7:00 p.m. – 8:30 p.m
To book your reservation, please call our Welcome Center at 386.428.4828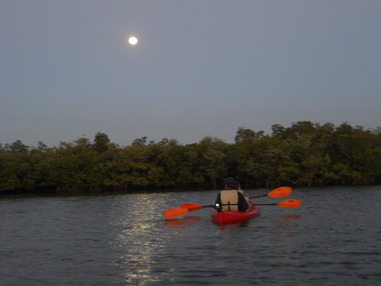 ---
Join us on our new Browns Bay Kayak Tours!!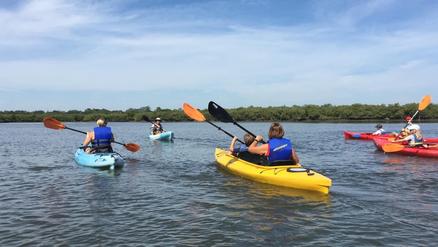 Explore the backwaters of the Indian River Lagoon by joining MDC on our new 1- and 2-hour paddles through the beautiful Browns Bay!
Our Browns Bay tours are offered on Tuesdays, Thursdays, and Saturdays and depart from Indian River Lagoon Preserve Park off of Saxon Avenue on beachside in New Smyrna Beach.
Browns Bay Kayak Tour Schedule*:

Tuesday 9:00 am: 2-hour tour
Tuesday 12:00 pm: 1-hour tour
Thursday 9:00 am: 2-hour tour
Thursday 12:00 pm: 1-hour tour
Saturday 9:00 am: 2-hour tour
Saturday 12:00 pm: 1-hour tour
To book your reservation, please call our Welcome Center at 386.428.4828. All Browns Bay Tours will need to be paid for in advance (no later than the day before) by calling or coming to MDC.
Browns Bay Tours take place at Indian River Lagoon Preserve Park
700 Sandpiper Street, New Smyrna Beach
(off of Saxon Ave)
---
MDC Public Lecture:

Honeybees and
'The Taste Of Honey'
Thursday, May 18
6:00 p.m.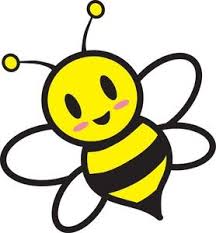 Honeybees and "The Taste Of Honey" will be the topic of the May monthly lecture at The Marine Discovery Center.
Marlin Athearn, a University of Florida Certified Master Beekeeper, will be the guest speaker. Athearn will discuss the importance of bees as pollinators, how honey is made and harvested, and what citizens should and should not do in their lawns to better protect the health of honeybees.
A variety of different local and regional honeys will be available for tasting at the event. Locally harvested honey will also be available for purchase.

The lecture is open to the public at no charge.
No reservations are required.
---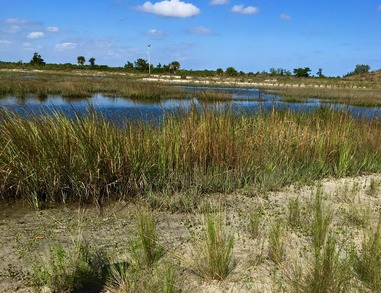 Living Shoreline Walks
Tuesdays & Thursdays
Integrated Environmental Science masters student Andrea
will lead guests on FREE walking tours of the MDC Living Shoreline Exhibit Area on Tuesdays & Thursdays
*
at:
10:00 - 11:00 a.m.
12:00 - 12:45 p.m.
2:00 - 3:00 p.m.
Shoreline walking tours are FREE and open to the public.
No reservations are required.
For more information, call 386.428.4828 or contact Andrea at
orozcorojodelavega@students.cookman.edu
This project is a collaborative effort between Bethune-Cookman University, the Marine Discovery Center, and the Florida Department of Environmental Protection (FDEP) Indian River Lagoon Aquatic Preserve Office.
---
---
---
---
From the Education Office...
As the school year is winding down,
our field trip season is in full swing!
With field trips almost every day, the education staff has been busy teaching students about plankton, invertebrates, sharks, and mammals. The students have also enjoyed tours on the Discovery Boat, exploring the salt marsh and learning about animals in the exhibit area.
One of the teachers had this to say about their experience, "Thank you for a wonderful day! I have been teaching for 20 years and I can honestly say that this was the best field trip I've ever been on! The guides were knowledgeable, friendly, and taught us so much. The exhibits were engaging and the boat ride was perfect. Thanks again!" We even had a school group here from Atlanta, Georgia! We are looking forward to finishing up our fantastic field trip season in May!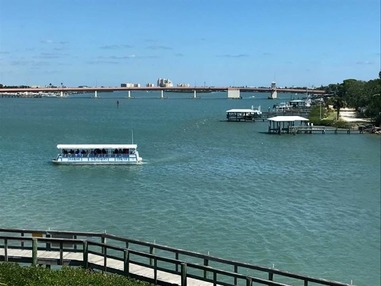 With summer quickly approaching we are gearing up for Summer Adventure Camps! We will be offering eight different camps this year. Be sure to check out our new Archery camp this year as well as Loggerheads, Leatherbacks, Mangrove Maniacs, Aquatic Adventures, FWC Saltwater Fishing, Lagoonys, and SCUBA.
Whether your child is 4 or 14, we have something for all ages. Even if you're not a kid anymore, you can still enjoy summer camp! We are looking for volunteers to assist with supervising camp activities.
We will be having Summer Camp Counselor Training on
Thursday, May 11th 3:30-5:00 p.m. and Saturday, May 13th 10-11:30 a.m.
for anyone interested in helping.
Volunteers only need to attend one of these trainings and can contact Erica at
erica@marinediscoverycenter.org
with any questions. More information about our summer camps is in the next section...just keep scrolling!
Finally our last Sea Squirts program for the school year will be Wednesday, May 24th 10:00-11:15 a.m. We will be learning about Spectacular Sea Turtles!
Looking for something for your preschool age children or grandchildren this summer? Check out our new Hawksbill Hatchlings Summer Adventure Camp!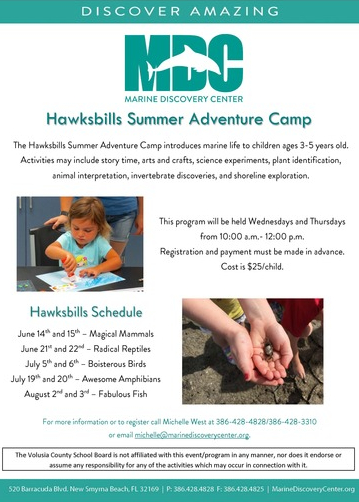 ---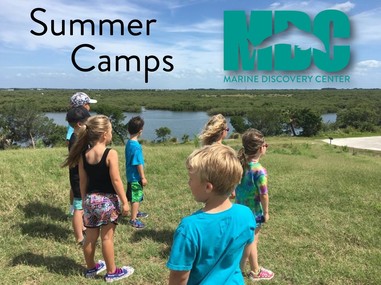 Register for
MDC Summer Adventure Camps!

Registration is OPEN for our 2017 Summer Adventure Camps!
We have 2 camps every week from June 5 through August 11, and this year we're featuring a brand new archery camp!!
Visit our website for camp
descriptions & prices
,
schedule
,
FAQs
, and to download our registration form.
MDC members
receive additional discounts (see camp FAQs for details).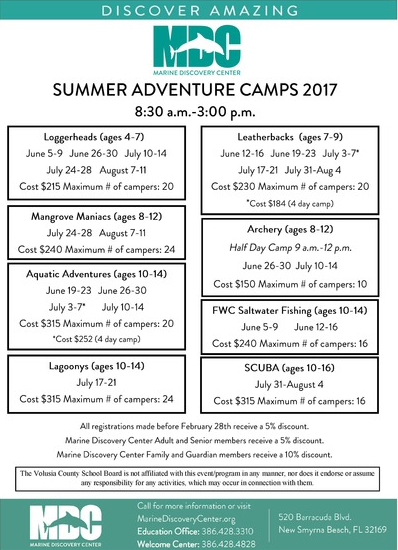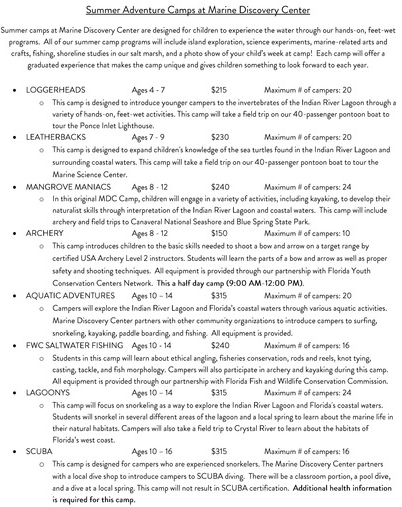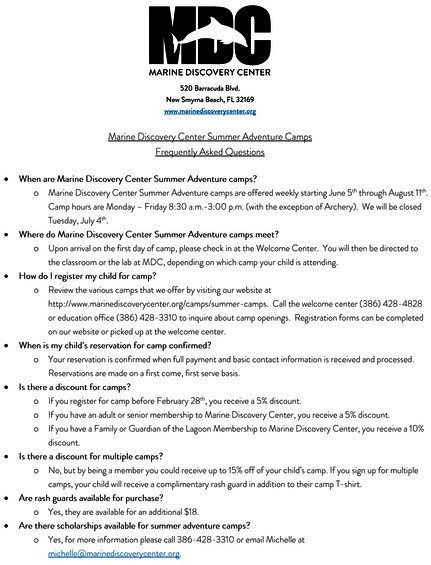 DISCOVER AMAZING
with our New Camp Rash Guards!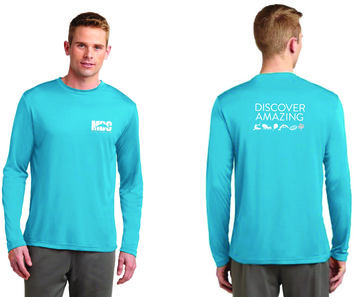 "Discover Amazing" rash guards are available for purchase at $16 each.
Sign up your child for
more than one camp
and receive one of these new camp rash guards
FOR FREE!!
For info, email Erica at
erica@marinediscoverycenter.org
---
Sea Squirts Program

Next Date:
May 24 10-11:15 a.m.
"Spectacular Sea Turtles"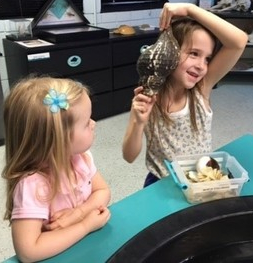 The Sea Squirts Program introduces marine life to children ages 2-5 years. Adults will accompany the children to the program.
Activities may include examinations of species both skeletal and alive, art and craft activities, stories audio visual presentations, and games.
The program is always on Wednesdays from 10-11:15 a.m.
Reservations must be made in advance so that materials for the arts and craft activities will be adequate.
Cost is $5 per adults and $5 per child.
For schedule and registration info, click here


---
Field Trip Programs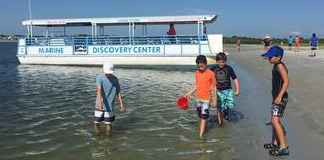 We have 4 field trip program offerings:
Indian River Lagoon Experience
Kayak Adventures
Discovery Eco-Adventure Tour
Total Immersion
For more about our field trip programs, including program descriptions & contact info,
click here
---
---
---
---
Citizen Science Opportunity:
Indian River Lagoon Community

Here's an interesting citizen science project from University of Central Florida and funded by National Science Foundation (NSF). There's no pressure to get right or wrong data...this one is all about emotional attachment to the Indian River Lagoon by the general public.
Researchers will use online mapping to understand what motivates an individual to develop a strong sense of place or emotional attachment to the lagoon and where such motivations occur throughout the IRL.
It's a simple survey, and users can participate more than once if they feel a strong connection to the lagoon.
http://www.citizensciencegis.org/place/
---
Explore Volusia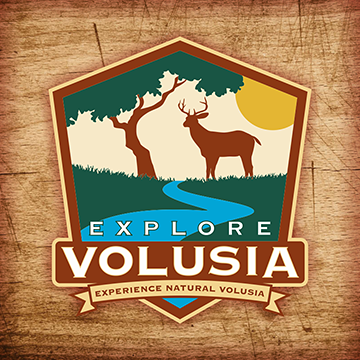 Volusia County Environmental Management's "Explore Volusia" program is designed to educate residents and visitors about our local natural surroundings through the exploration of the wonderfully diverse habitats of Volusia County.
For a list of upcoming programs, visit the Explore Volusia
website
or like them on
Facebook
---
---
Critter Corner

---
---
Tales from the Tanks:
Updates from our exhibit team
If you have not had a chance to stop by the exhibit area recently, we have had some changes in the last month. Unfortunately, we have had a few losses including our Lionfish and "Junior" our baby octopus. We are working diligently to get these exhibits back up and running as soon as possible.
In the meantime, visitors can check out the tank-mates that our two friends had including crown conch snails, hermit crabs and a little blue crab. You may also see our filefish that was previously living in the seahorse tank swimming around the octopus tank.
Speaking of seahorses, we are still planning to add some to the new seahorse exhibit. We had a delivery of six small seahorses last week, but unfortunately, due to their sensitive and delicate nature they did not make it. We are determined to be successful and will be working on getting more as soon as possible.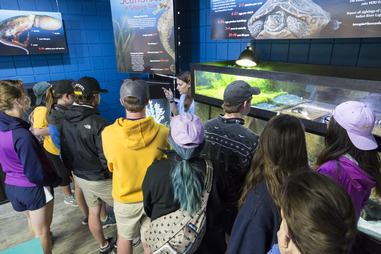 MDC aquarist Logan introduces Cousteau to visiting students


On the upside, we have added some new fish to some of the lobby exhibits! Come and check out the Terrapin Exhibit to see some of our new mojarra and killifish that are hanging out with our resident terrapin, Cousteau. Do not worry; she is more interested in them sticking around as her friends than being food!
Our native live rock tank in the lobby also has some new additions including snails, a small school of baby sergeant major fish and some gobies. You might have to take a long look to find the gobies as they like to hang out in the rocks and are the same color.
Keep checking back for more updates as we continue to improve our exhibit area!
Kitty's Journey at MDC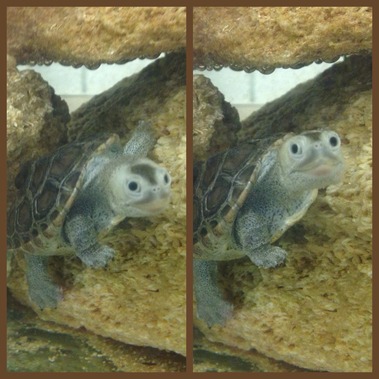 Time for a Kitty update!
Kitty is a very unique diamondback terrapin in that she initially was not growing much after she joined us last year as a tiny hatchling that was rescued from near a local citizen's pool.
She continues to grow at an excellent rate, measuring at 8.3 cm this month! That is a .70 cm increase since April! She still has a little ways to go before she is big enough to move into the Terrapin Exhibit with Cousteau, our resident terrapin, but she is on her way.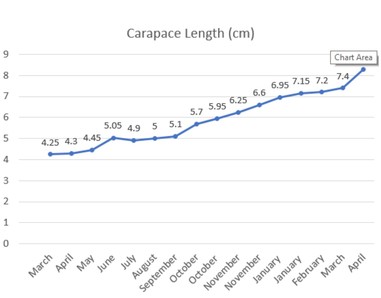 Office Hours

Weekdays: 9-5
Weekends: 9-3


---
---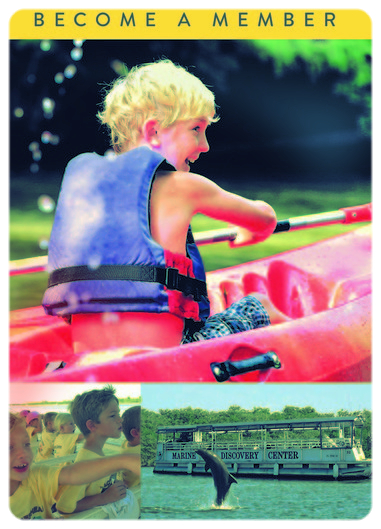 Become a Member TODAY!
We are a membership driven organization and can only accomplish what we do with the unfailing support of our members.
Please join us; you'll be supporting our mission while enjoying many
member benefits.
---
---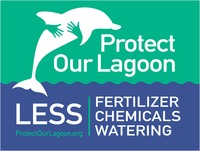 Project H2O

---
---
Ongoing Events
Shuck & Share
Oyster Bagging

Saturday, May 6
and
Thursday, May 18*

9 a.m. - 12 p.m.


Help us take recycled oyster shells and turn them into oyster bags to aid in shoreline restoration around the state. Please meet out in the back oyster lot. Be sure to wear close toed shoes, and clothes you don't mind getting dirty. Bring a reusable water bottle, snacks, and a good sense of adventure!

*There will be NO oyster bagging during the summer months.


New Volunteer Orientation
1st Wednesday of Every Month
3:30-4:45 p.m.


Fill out the necessary paperwork, meet some of the MDC staff and learn about the many volunteer positions available at the center.
No reservations required.
For more information,
Public Lecture Series

3rd Thursday of Every Month

6:00 p.m.
This month's topic:
Bees & Honey


Our monthly Public Lecture series features speakers on a variety of topics related to the Indian River Lagoon.


MDC's Public Lectures are always FREE and open to the public; no reservations are required.
For more information, please contact Lisa Mickey at
lisa@marinediscoverycenter.org
---
---
Calendar of Events!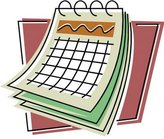 Please be sure to check MDC's
online calendar
for all of our upcoming events and activities!
---
---
How Can You Help MDC?
And be sure to engage with us on social media


---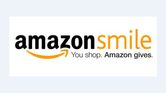 Help Us When You Shop!
Amazon Smile is a simple and automatic way for you to support Marine Discovery Center every time you shop, at no cost to you.
Just go to
Amazon Smile
and select Marine Discovery Center as your charity of choice!
Every time you shop on Amazon, make sure to start at Amazon Smile
For more info on the Amazon Smile program, click
HERE
---
---