Here are some of our up-coming
Shows and Workshops in the USA and in France.
Upcoming Workshops

---

June 26 - 28
Plein Air Oil Painting Workshop - Howard Friedland
Bozeman, Montana
This is a three day workshop centered around the beauty of Bozeman.

There are still a few spots left!

(406) 586-4484
---

5 Thursdays in July
Painting Children in Watercolors - Susan Blackwood
Bozeman, MT

Each Thursday in July
we will meet from 9 to 4 to study the art of painting children
from photos as well as live models.
To sign up and for more information
Click here:
(406) 586-4484
---
Featured Available Paintings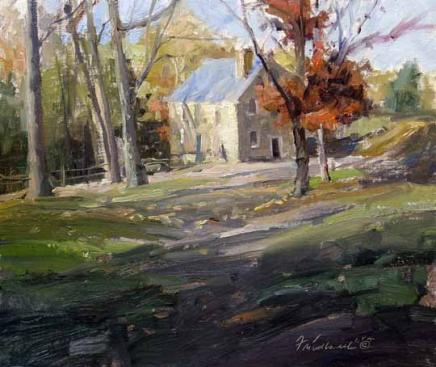 Fall at the Cooper Mill by Howard Friedland
10 x 12 Oil
$1200
Howard painted this in New Jersey
during his Plein Air Workshop
at Highlands Art Gallery.

The old Cooper Mill is a local treasure in Chester, New Jersey

To Purchase Contact:
---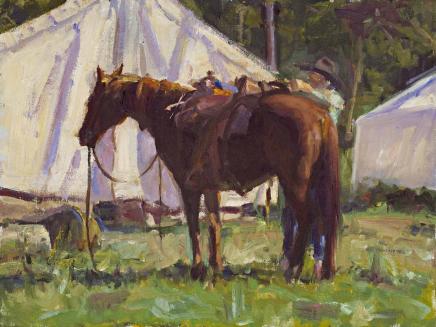 Saddling Up by Howard Friedland
12 x 16 Oil
$1800
Several years ago, we organized a
5 day Horse Pack Trip into the wilderness for artists.
What an incredible trip!
It was packed full of exciting landscapes to paint.
Everyday was a new experience.
Even the daily loading up of the horses created delightful subject matter.

This painting received
"Best of Show for Signature Members in 2007"
at the Central Regional Oil Painters of America Show.


To Purchase Contact:
---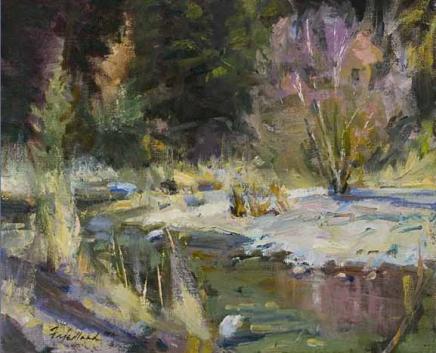 Highwood Willows by Howard Friedland
10 x 12 Oil
$1200
Howard and our friend, oil painter Tom English, braved a cold winter's day in the Highwoods just east of Great Falls to paint plein air.
This little gem is the direct result.


To Purchase Contact:
in Bozeman, MT
_______________________________________________________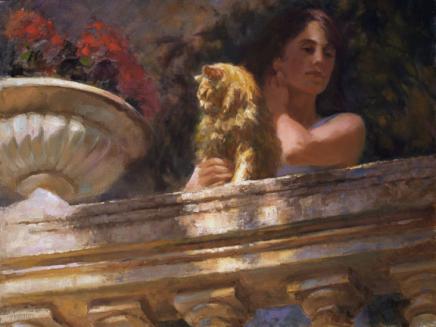 From Her Balcony by Susan Blackwood
24 x 30 Oil
$4800.
Susan often takes artists to France to study the light and paint the villages.
This painting was produced back home in the studio from photos taken
in Vence, Provence, France.
The cat, so easily enjoying the view from the balcony, was gently protected by the lady that loves her.
This kind lady invited us into her home to meet her cat.
To Purchase Contact:
in Kirkland, WA
---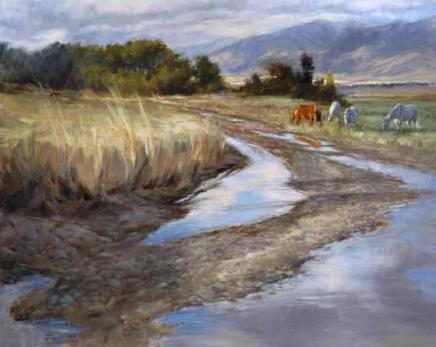 Reflections in the Road by Susan Blackwood
40 x 50 Oil
$16,000

Bozeman is a beautiful valley rich with farm land
and surrounded by glorious mountains.
Just east of town this muddy road with it's big reflecting puddles
inspired Susan to add some horses and paint it big!
The result is a traditional painting with a contemporary flair.


To Purchase Contact:
in Bozeman, MT
---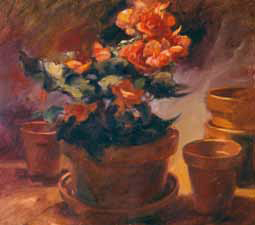 Planted First by Susan Blackwood
16 x 18 Oil
$2,150.
Stopping by a florist to pick up some cut flowers for a still life arrangement,
Susan found this lovely Begonia plant.
It was just begging her to paint it.
So with a few empty flower pots near by,
she planted it and put it all in a painting.

To Purchase Contact:
in Loveland, CO
_______________________________________________________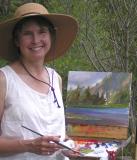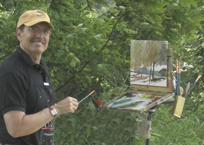 Have a Great Summer!
Susan and Howard