Dear Friends of the Foothills,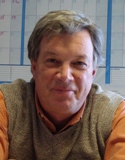 Last month leaders from across the East Tennessee region gathered in Knoxville to discuss future growth in our communities and its impact on our quality of life. The Plain Talk on Quality Growth Conference, put together by the East TN Quality Growth group, focused on a variety of topics including healthy and livable communities and sustainable communities for economic vitality. I was part of a panel discussion that included other regional land trust representatives - all of us highlighted the importance of educating our state and local officials about what we do and the relevance to our East TN community.
That same week, FLC staff traveled to Chattanooga for a regional land trust conference. Our peers in the field of land conservation were able to network and present on topics such as the conservation planning for both urban and rural areas, IRS guidelines for land trusts, as well as best practices in land management and stewardship.
Both of these events highlight the importance for all of us to come together as a community and plan for future growth - at the federal, regional, local and individual level. If you have any questions or want to know more about East Tennessee land conservation programs, please don't hesitate to contact me at the Foothills office (865-681-8326).
Thanks and we hope to see you at our
Summer Celebration
the evening of Saturday, June 18
th
!
Bill Clabough
FLC Executive Director & East TN Quality Growth Board Member
---
Upcoming FLC & Regional Events...