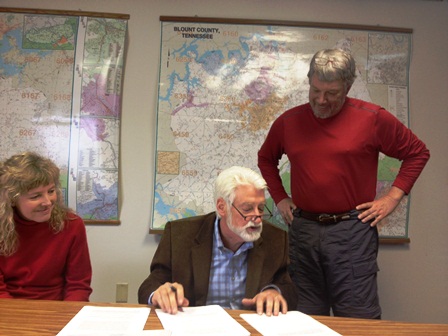 Attorney & FLC Board President, LeAnn Mynatt (left), and FLC Executive Director, Bill Clabough (far right), look on as Dr. Craig Jarvis signs his second land preservation agreement with FLC.

Dr. Craig Jarvis helped FLC celebrate mark the organization's 100th conservation easement agreement Friday by signing his second easement with Foothills to mark the occasion!

FLC also has another reason to celebrate. Dr. Jarvis will be a returning Board Member in 2013. He has been associated with FLC since it started and has served intermittently on the Board throughout the years.
Yesterday's signing will protect a 2nd property, which is in Blount County. The 62 acre tract is 50% wooded with most of the remainder in hay fields. The property is very close to Chilhowee Mountain and the 11,000 acre Foothills Wildlife Management Area (WMA), a vital buffer between the Great Smoky Mountains National Park and the developed areas outside the Park's perimeter. Other natural areas in the vicinity include the 350 acre Kyker Bottoms WMA and the 8000 acre Tellico WMA3. The proximity of the Jarvis property to these areas adds a safe buffer habitat for maintaining healthy populations of resident and migratory wildlife species and as a reservoir of native plant species.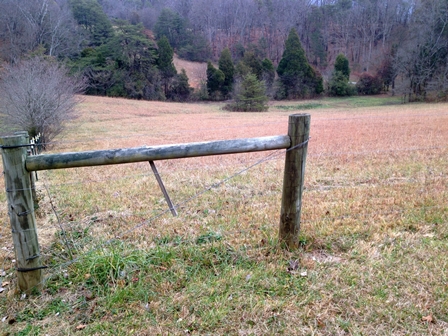 For Dr. Jarvis, the timing was right for the second easement, "we didn't want it to change and we felt like because of that it was time to go ahead and give the easement on it also - so that we know from this moment on it won't change."

Back in 2007, Jarvis permanently preserved close to 478 acres in Monroe County. Located in the wooded foothills of the Unicoi Mountains, the majority of the acreage from the first easement is forested with 2nd and 3rd growth oak, hickory and pine. Views from the west side of that tract offer sites of Starr Mountain and the Cherokee National Forest.