Community News...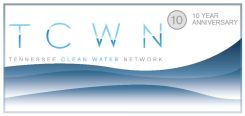 Our friends at the Tennessee Clean Water Network are turning 10 this year! As the only statewide organization that fights to protect all Tennesseans right to clean water, we encourage you to check out their website to learn more about them and see what they are up to! Foothills Land Conservancy and TCWN work to keep our part of the world beautiful and protected! http://www.tcwn.org/.
---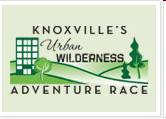 Saturday, March 20th - Knoxville
Outdoor enthusiasts will have a chance to explore some of Knoxville's parks, greenways, wilderness and special places that comprise a part of the Urban Wilderness and Historic Corridor. Three unique activities for adventurers of all levels are available including: an adventure race, guided hikes and canoe trips. The event benefits Legacy Parks Foundation and is sponsored by River Sports, Patagonia, Knoxville Volunteer Rotary, Knoxvillager.com, Barley's, Dewhirst Properties and Appalachian Mountain Bike Club. Click here for more event info.
---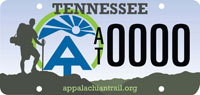 The Appalachian Trail Conservancy is offering specialty license plates to TN residents at a discount. A grant from the Eastman Chemical Company Foundation is allowing them to offer reduced prices for people that apply. A.T. license plates are now available for $15 instead of the usual $35 annual fee (limited opp). Renewals will be at the standard $35 annual fee. For more info call the ATC at (828) 254-3708 or go on line to www.appalachiantrail.org/tnlicenseplate.
---
Plant it, they will come...
Spring will soon be upon us. One of the most rewarding directions to go with gardening is to use plants that offer more than just good looks. Adding plants that use less resources (water, fertilizer, maintenance), and that also provide food, cover and nesting for our wild friends, make all the sweat and blood spent getting them in the ground much more rewarding. Many of our native plants readily fit this bill.
Planting in the springtime allows time for roots to establish while conditions are amenable for growing. Check out these native nurseries to learn more:
Save the Date for FLC's '25 in 25' Celebration
Saturday, June 19th, 2010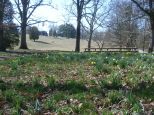 2010 is a milestone year for Foothills! We have recently completed our '25 in 25' inititative - preserving 25,000 East Tennesee acres by our 25th year of service! Join us as we highlight our history, accomplishments and many contributors. Host location will be Christine Hayworth's Penrose Farm property located in Knoxville. To learn more about FLC's '25 in 25' initiative click here. Additional Celebration details coming your way very soon...
Land Director's Corner by Meredith Clebsch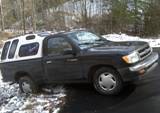 It was bound to happen, right? Stuck. In the middle of nowhere. Three cheers for FLC's board member, Mike Suttles, who happened to have engineered the road I was on so he knew exactly where I was, and happened to be nearby and available, and came and rescued me. My lucky day and Mike's Karma is fully charged.
Despite all of the cold, rain and snow we've had this year, I've managed to visit almost 50 of FLC's 77 conservation easements for our annual monitoring program. The last couple of years Bill and Ed spent time showing me all of our easements, so this is my first year handling them solo. I try to cover some new ground each time I visit a property which is always fascinating. If you are ever interested in joining me, just let me know. I should be working on these visits for about another month.
Peaches (1994-2010)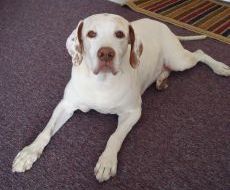 Our dear office buddy left us on Sunday, February 28th. Peaches was so sweet and friendly to everyone. Her 16 years with Bill and her sister Jasmine were filled with hunting trips, hikes, and many other exciting adventures. She will be missed!
---
FLC is a 501(c)(3) non-profit that relies on the monetary support from individual donors. Financial contributions allow FLC the necessary land conservation programs and operational funds needed to carry out our mission. We welcome any and all support!
To donate online:

Or...
If you prefer to mail in a contribution, please print this form and mail along with your check/credit card information. Printable Donation Form