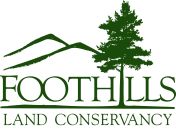 Maryville, TN –Let's ring in 2012 with a plan to preserve our wealth for the benefit of ourselves and our family. Foothills Land Conservancy (FLC) will offer a three part series on the topic of Estate Planning. All presentations are free, open to the public and located at the Blount Memorial Wellness Center (220 Associates Blvd. - Alcoa, TN). They are part of an ongoing partnership between FLC and the Wellness Center that provides FLC a location to present, once a month, on topics related to the appreciation of our natural resource and individual wellness.
Estate Planning 101 Series
January 24th – 6:30PM

- Fundamentals of estate and tax planning, including a discussion of current (and future) death taxes.

Presentation by Lee A. Popkin (Long, Ragsdale & Waters, P.C.) - Lee Popkin has an estate planning and business transactional practice with an emphasis in the areas of federal and state tax planning. He also has experience in probate administration, joint venture planning, and business entity formation. He is an associate with the firm. Mr. Popkin has a Master of Laws in Taxation (LL.M.)
February 21st – 6:30PM

- Wills vs. trusts and the probate/trust administration process.

Presentation by Matthew C. Haralson (Kizer & Black, Attorneys, PLLC) - Attorney Matt Haralson practices in the areas of Wills & Trusts, Estate Planning, Probate & Estate Administration, and Elder Law.

He is a member of the Blount County, Knoxville, Tennessee and American Bar Associations. He is also a member of the Knoxville Estate Planning Council and the National Academy of Elder Law Attorneys.
March 20th – 6:30PM

- Planning for and dealing with incapacity & issues of long term care.

Presentation by Matt Haralson (Kizer & Black, Attorneys, PLLC) – Haralson's bio is listed under February's presentation description.
About FLC
- The mission of Foothills Land Conservancy is to protect, preserve, and enhance the natural landscape of the East Tennessee region. Now in its 27th year of service as a land trust, FLC has assisted in the preservation of 30,000 acres in 18 Tennessee counties.

For more information about FLC, please visit www.foothillsland.org or call (865) 681-8326.