Bell Branch Creek Restoration Effort Continues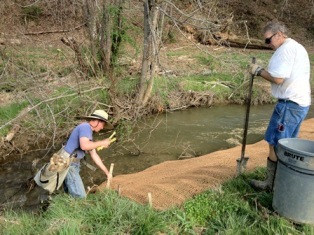 EcoFlow Consulting workers prep bank for native tree plantings.

In August 2011, the National Parks Conservation Association (NPCA) and Nature Valley® partnered with the Foothills to remove non-native, invasive plant species along Bell Branch Creek. This creek is one of the only waterways that flow into the Great Smoky Mountains National Park and is located very close to the Abrams Creek campground area. 12 volunteers, including Bill Landry, spent time removing non-natives like Multiflora rose and East Tennessee's nemesis, Chinese privet, through a method called "cut and paste". The shrub or plant is cut to its base and then a targeted spray of herbicide is applied to the cut surface. This past month EcoFlow Consulting began phase 2 of the project, working on the reshaping of the creek banks and planting close to 1300 native trees and live stakes along with native seed grass mix. Tree plantings include: swamp chestnut, sycamore, chestnut oak, tulip poplar, pin oak and silky dogwood. They were selected based on their ability to bear fruit for wildlife and their helpfulness for curbing erosion along the creek bank. All of these efforts will assist in improved aquatic habitat and protection of aquatic species in the stream, in the Park and downstream. FLC looks forward to providing another progress update with pictures in the coming months so stay tuned.