Partners in Conservation...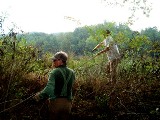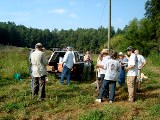 Left - FLC Ex. Dir., Bill Clabough, works on removal of invasive exotic plants and shrubs in Bell Branch Creek (Happy Valley). Right - Volunteers gather their tools and break into teams.

The National Parks Conservation Association (NPCA) and Nature Valley® are partnering with the Foothills Land Conservancy to remove invasive, non-native plant species, and re-planting native trees and shrubs along a creek that enters the Great Smoky Mountain National Park to help minimize pollution and creek sedimentation entering the Park. Bell Branch Creek is one of the only waterways that flows into the Park and is located very close to the Abrams Creek campground area. Last month, 12 volunteers (including Bill Landry) spent time removing non-natives like Multiflora rose and East Tennessee's nemesis, Chinese privet, through a method called 'cut and paste'. The shrub or plant is cut to its base and then a targeted spray of herbicide is applied to the cut surface. These efforts will provide for improved aquatic habitat and protection of aquatic species in the stream, in the Park and downstream. Meredith Clebsch, FLC's Land Director, notes that the importance of this project, "This is a beautiful creek and valley that includes some rich wetlands. The invasives have spread along the creek from upstream threatening the Park, and now that we have them under control we will fill those gaps with natives." Later this fall, volunteers will re-visit the site in order to plant native species like silky dogwood, buttonbush and white oak. She adds, "It's important to have roots to hold the banks so you can't just remove the bad guys. Replacing them with natives will help hold the banks plus provide improved habitat and food for wildlife. There is instant gratification with this kind of work and we hope this will spur similar efforts along other sections of Bell Branch in the future to help minimize the negative effects invasives and sedimentation have inside the Park. Join us if you can. It's FUN!" To learn more about this effort, click here to view the Knoxville News Sentinel's article. You can also view pictures from last month's volunteer effort at the The Daily Times.
---
Field Trip! FLC Conservation Easement Tour...
Tuesday, September 20th at 6:15PM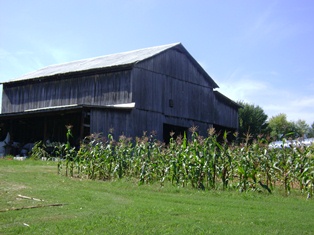 Foothills Land Conservancy has over 75 conservation easements with close to 30 of them located in Blount County! Each one has their own unique story and environmental attributes. We will plan on visiting one of these preserved and quintessential East TN properties. This tour will highlight several conservation practices you can incorporate in your own backyard - such as proper land stewardship, planting native and planting for wildlife. Conservation easements are one of the most popular land preservation methods in the East Tennessee region. They are voluntary, customizable agreements between a landowner and the land trust describing activities that may take place on the land while permanently protecting the important natural areas, agricultural and/or historic resources on their land. Landowners can continue to own, use, live on, sell, lease, bequeath or donate their property. Meeting Location: Blount Memorial Wellness Center (220 Associates Blvd. - Alcoa, TN) at 6:15PM. You may wish to carpool with friends or you can follow the Foothills staff in your own car. Our tour will take place close to the Montvale Road and should require no longer than 30 minutes of travel time each way. Please bring water, comfortable shoes and be prepared to walk a mile or so as we tour the property. This event is free and open to the public but space is limited to 25 so please call Elise with FLC's offices at 681-8326 to reserve a space.
---
FLC Hosts TN Farmland Legacy's Quarterly Meeting in Maryville

Last month Foothills hosted the Tennessee Farmland Legacy Partnership (based in Nashville, TN). The partnership was formed in 2010 as a resource to the farming community and to promote the preservation and viability of working farms in the state. FLC staff provided an overview of our programs and past accomplishments to representatives from the TN Department of Agriculture, Center for Historic Preservation, and UT's Institute of Agriculture. Also in attendance was Tourism Commissioner, Susan Whitaker. The meeting offered everyone a chance to network and discuss ways to partner on future farmland protection and conservation projects. Click here to learn more about the TN Farmland Legacy Partnership.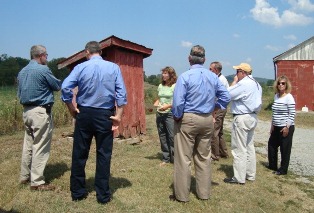 FLC Land Director, Meredith Clebsch, provides a tour of a Blount County conservation easement property for TFLP representatives.

---
UPCOMING EVENTS:
To view all of FLC's events on one page:
click here
!
The Alliance is a partnership of public and private organizations unified in their commitment to protect the Cumberland Mountains and Plateau Region of Kentucky, Tennessee, Georgia, Alabama, West Virginia, and Virginia.
Click here to learn more.
Did you know that the Gatlinburg COC has a 'Go Green' program to help businesses adopt greener practices?
Click here to learn more.