FLC Celebrates Two Conservation Easement Signings - Looks Forward to Another Record Setting Preservation Year!

For Immediate Release (10-23-12)
This past week FLC celebrated the signing of two conservation easements with several more expected to occur by the end of this year. According to Bill Clabough, FLC's Executive Director, "Foothills is poised to have another history making conservation year. By the end of December we anticipate preserving close to 5000 acres in 8 Tennessee counties – adding those figures to last year's 4400 acres."

Last week's easement signings included two Cumberland Plateau area properties, both held by Cumberland Property Holdings, LLC.
The Dry Creek Conservation Easement is located in Warren County. The 433 acre tract is south of the town of McMinnville and within 20 miles of Fall Creek Falls State Park. The vast majority of the site is forested.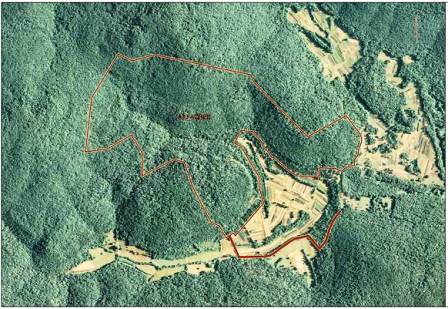 Gently rolling plateau tops allow for scenic views. The easement will help to protect these high areas which provide part of the view shed for the valleys below.
Within 15 miles of the property, there are Several Class II Natural-Scientific State Natural Areas. Hubbard's Cave, considered by the Nature Conservancy as a "foremost cave preserve" (nature.org), is found within 4 miles of the Property. This State Natural Area is comprised of the cave and 50 surrounding acres and is home to large populations of endangered gray bats and Indiana bats. Within 10 miles is the Savage Gulf Class II Natural-Scientific State Natural Area, part of South Cumberland State Park. Big Bone Cave, 15 miles from the Property, is a National Natural Landmark.

The Goforth conservation easement, also situated in the Cumberland Plateau, is located in Van Buren County, Tennessee. The 395-acre tract is south of the town of Spencer and less than a mile from Fall Creek Falls. The property contains a creek, open fields and several groves of mature trees. The proximity of both these preserved properties to these natural areas adds to a regional wildlife corridor. Continuity is an important ecological concept for sustainable habitat for plant and animal species.
For more information about these conservation easements or other FLC projects/programs, please contact the Foothills office at 865-681-8326 or email info@foothillsland.org.
Mission Statement - Foothills Land Conservancy is dedicated to protecting, preserving, and enhancing the lands and environments of East Tennessee and promoting the character of the region for the benefit of the general public, now and in the future.
Foothills Land Conservancy ● 865-681-8326 ● 373 Ellis Avenue ● Maryville, TN 37804 ● info@foothillsland.org