April 2010
Foothills Land Conservancy
Celebrating 25 years of service and 25,000 East TN acres preserved!
(Includes 2009 Annual Report)

Support FLC today as a 'Friend of the Foothills' - to donate online or to print a donation form, please visit our Friends of the Foothills page.

---

Mark your calendars! FLC's '25 in 25' Celebration is set for Saturday, June 19th, 2010 at Penrose Farms in west Knoxville. Click here for details...
KTOS Visits Sevier County Conservation Easement
- by Meredith Clebsch, FLC Land Director
During a recent presentation by FLC's Executive Director, Bill Clabough, the Knoxville Chapter of the TN Ornithological Society indicated their interest in developing an up-to-date list of bird species on one of our conservation easements. In early April, about 10 members of KTOS congregated on the late Marian Oates easement that sits a top Bluff Mountain to begin their survey.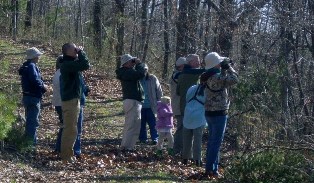 As a member myself, I was pleased to join the group and help familiarize them with the property. Bill and Mary Kay Sullivan, Knoxvillians and long time KTOS (and FLC) supporters, also have a house on the mountain and were most helpful in orienting us to potential hotspots and also noted interesting sightings they have made over the years.

After spending time around the homestead, we went to Dupont Springs and the old hotel site where wehad great views of the first broadwinged hawk of the season – soaring below us along the bluff. Black and white warblers, blue-headed vireos, and black-throated green warblers were the other notables of the recently returning migrants. Little foliage had yet emerged on top of the mountain so birds were sparse, but we heard considerable activity at lower elevations where foliage was further along. Hopefully, we will return for additional monitoring visits throughout the season.

We greatly appreciate the interest of KTOS in contributing to the survey which we hope will be an on going effort to document the property's diversity.
FLC's 'Native Garden' Office Makeover
With a little help from the Knoxville Garden Club 'Community Funds' grant program, FLC's Land Director and avid gardener, Meredith Clebsch, got to work! She set out to establish a 'demonstration native plant garden/landscape' of mostly perennials that not only looked great but promoted energy and water efficient gardening. Both low maintenace and wildlife friendly, these plantings can be enjoyed by vistors to our office and those passing by on their way to the adjacent Maryville Greenway.
Plantings include: 2 species of Trillium, Woodland Phlox, Celandine Poppy, Wild Geranium, Fern (Dryopteris natural hybrid), Wild Blue Indigo, Beardtongue (3 species), Bluestar, Arkansas Bluestar, Hoary Skullcap, Spiderwort, Beebalm, Purple Coneflower, Blackeyed Susan (perennial), Grey-headed Coneflower, Lance-leaved Corepsis, Stokes Aster, Aromatic Aster, Winterberry Holly, Dwarf Red Buckeye, Switchgrass 'Heavy Metal'.
Plant donations provided by Overhill Gardens & East Fork Nursery
Thanks to Meredith for all of her efforts - and for inspiring all of us to get out there and create our own native gardens!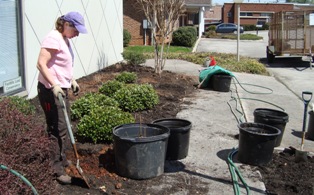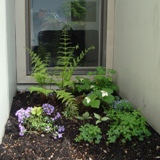 Foothills Land Conservancy ● (865) 681-8326 ● info@foothillsland.org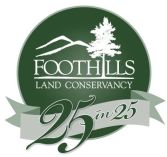 A special thank you to FLC's '25 in 25' Celebration Sponsors!
Gold Sponsor Level
Silver Sponsor Level
Bronze Sponsor Level
Information International Associates
Oak Ridge Associated Universities
For info on beoming a corporate sponsor, please contact Elise Eustace at 865-681-8326 or through email at eeustace@foothillsland.org.
---
FLC Activities
APRIL
*Earth Round Up - Maryville Saturday, April 24th
*FLC Kiosk Display - Blount County Library through April
JUNE
*Land Trust Day at Mast General's Knoxville Store Saturday, June 5th (A portion of Mast's sales that day goes to FLC programs.)
*'25 in 25' Celebration Saturday, June 19th, 2010 Penrose Farms, Knoxville
---
On the road...
FLC has over 75 conservation easements and we've been busy collecting images and stories behind these protected acres.
Be on the lookout for our upcoming articles in Everything Knoxville and the September Issue of Tennessee Conservationist Magazine!
A special thank you goes out to Mark Lewis Photo Video for his photography assistance!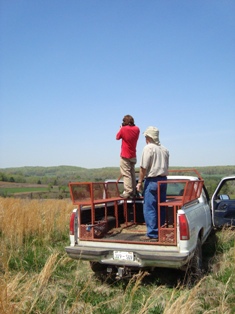 Photographer Mark Lewis & Dick Conley (Hartman Farm Land Manager & FLC Board Member)