The property is nearly 100% in woodland with about 75% in planted pine plantations and the remainder in mixed oak forest (within the drainages and riparian areas).

The large areas of public lands in the region include the 20,000 acres of the Fall Creek Falls State Park and Natural Area which is less than one mile from the Property, and the Bridgestone/Firestone Centennial Wilderness totaling almost 15,000 acres less than ten miles away.
As an almost completely forested landscape, the Cane Creek property functions as an especially important buffer to the adjacent conservation areas and is a critical component in the support of regional continuity and ecological viability of wildlife corridors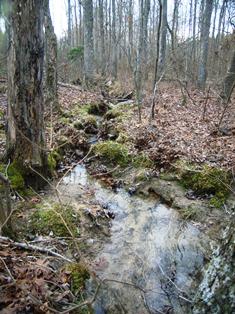 between these vast protected public lands on the Cumberland Plateau, Cumberland Escarpment and Cumberland Mountains.
The property is located within the Caney Fork River watershed and contains the source of the Whetstone Fork of Cane Creek, which then flows into nearby Fall Creek Falls State Park and supports Cane Creek Falls, a popular destination in the Park.

Currently a 60,000 acre wilderness corridor is envisioned by Conservationists who hope to link Scott's Gulf to Bledsoe State Forest and Fall Creek Falls State Park. The Cane Creek Property would at lease serve as a buffer, and therefore conserving the property in its natural state would further the goal of establishing a vast, unbroken corridor.