Hello Friends,
I'm sure all of us are in agreement that 2011 is flying by! May is already upon us and that means the year is almost halfway through. If you or someone you know is interested in preserving their land -now is the time to learn about your options and get any questions answered. Conservation-minded landowners now have until December 31st, 2011 to take advantage of a significant tax dedcution for donating a voluntary conservation easement agreement to permanently protect important natural or historic resources on their land. Call the Foothills office at 865-681-8326 for more information or make plans to attend our presentation at Blount Memorial Wellness Center on May 17th (information below).
Regards,
The FLC Team

Join FLC for an Overview of our East Tennessee Land Conservation Programs...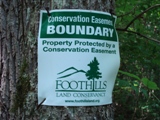 May 17th at 6:30PM - We will discuss creative, free-market methods for protecting and enhancing our natural landscape – including family farms, scenic views, woodlands, and public parks. Presentation by Bill Clabough, Foothills Land Conservancy's Executive Director. Tuesday, May 17th at 6:30PM – Blount Memorial Wellness Center (located at 220 Associates Blvd – Alcoa, TN). There is no cost to attend. Contact the FLC office for additional information at 865-681-8326. Click here to view FLC's East TN Land Conservation Brochure....
---
FLC Receives TN Wildlife Federation's Conservation Organization of the Year Award - Last month, FLC representatives headed to Nashville to receive the Conservation Organization of the Year award from the Tennessee Wildlife Federation (TWF). This award honored outstanding achievement by an organization for some phase of conservation during the contest year. A selection committee comprised of TWF members, Board representatives, conservation professionals and members of the media reviewed all nominations and decided the winners. 2010 was a milestone year for Foothills! We celebrated the completion of the '25 in 25' campaign - preserving 25,000 East Tennessee acres by our 25th year of service. Launched in October of 2007, Foothills committed to the creation of a regional initiative that would maximize land owner interest while raising awareness of it's mission throughout the community. Click here for the FLC's news release and media coverage. or Click here to view other award recipients.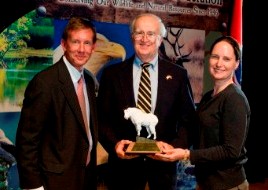 Pictured left to right: Dan Hammond, TWF's Chairman of the Board; Ernie Blankenship, FLC Board Member; and Elise Eustace, FLC Communication & Development Director