Hi and welcome to the Kate-Lo Tile & Stone Digital Review. Each month we will feature new products from our extensive collection, helpful hints on using new installation products and trends in the tile industry. We will also feature specials on new and featured products.
Past issues
of Kate-Lo Tile & Stone Review can be found here.
Kalahari from Imola Ceramica
Pictured on the upper left hand side is a new series from
Imola Ceramica
called
Kalahari
. This gorgeous slate replica is a durable porcelain tile that is suitable for residential and many commercial floors. Named for the African desert, this tile warms up any environment with an intense and vibrating light. Stocked in 13" x 13", 20" x 20" & coordinating battiscopa.
Please visit our showrooms to view this tile.
New innovation from Schluter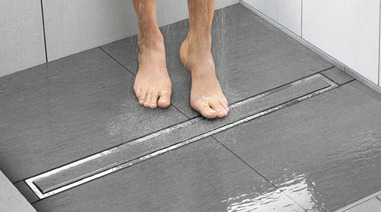 We now carry the newest innovation in shower drains called
KERDI-LINE
from Schluter. KERDI-LINE is a low profile linear floor drain specifically designed for bonded waterproofing assemblies. KERDI-LINE can be installed adjacent to walls or at intermediate locations in showers, steam rooms, wet rooms, and other applications that require waterproofing and drainage.
The floor can be sloped on a single plane to KERDI-LINE, which enables the use of large-format tiles and creates interesting design opportunities.
Discover Ebb & Flow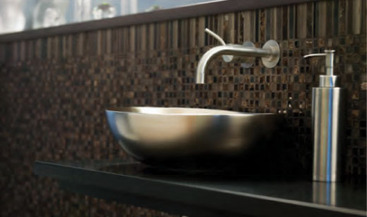 Crossville celebrates the incomparable beauty of natural stone and glass and blending them harmoniously in its new Ebb & Flow mosaic wall tile. Capturing the rhythmical patterns found in nature and in life, Ebb & Flow achieves a "tromp l'oeil", three-dimensional effect on interior and exterior walls, yet its surface is actually smooth, so it's easy to clean and maintain.
Beautifully versatile in both commercial and residential installations. Exclusively available at Kate-Lo Tile & Stone.
Thanks for reading and we will be back next month with more great industry news and products.