The following important information for your associations was presented at the August 4th Directors meeting.
Questions About Volunteer Gifts and Payments

Wayne Rhoden (Williamson County), TMGA's resident tax advisor, answered questions about paying / gifting volunteers. Volunteers are unpaid, but very valuable! However, when wanting to provide monetary gifts to volunteers, the IRS rules are not too clear. In fact, it can get quite confusing for non-profit associations like Master Gardeners.

Wayne's recommendation is to stay on the "safe side" of IRS rules and not give or accept more than $100 per volunteer per year. Records do need to be kept, but under $100 limit means you don't have to report these on tax returns. If you have specific questions, contact Wayne at
mgardener@suddenlink.net
, and he can help you with an answer.

---
---
Update on New TMGA Training Handbook

Jayla Fry, TMGA Coordinator, gave an update at the Directors meeting about the availability of the new version of the TMGA training handbooks. Much to her dismay – and to those who are planning training classes – the new edition printing has been again delayed. August was the latest hopeful date; however, due to changes in the personnel who produce the handbook, the date is now on hold.

If your association is planning for their training classes, order the existing handbook (binders not included) from through your County Agent from the Texas A&M Bookstore.

She also reminded associations that making copies of them is a violation of copyright laws, and that the payment for the handbooks help fund State Master Gardener updates and projects.
---
---
TMGA 2018 Awards Submission - Update

Beth Turlington, Chair of the Awards Committee announced that award submissions will be accepted for 2018 projects (to be presented at the 2019 TMGA Conference) from January 1 through January 31, 2019. Deadline will be January 31 at 10 p.m.

The Awards Committee has decided that web links in submissions are still not allowed with entries. Using good narrative and some pictures will help judges "see the story in their head."

Ms. Turlington also sent out a plea to the small counties – "Where are you?" – knowing that they have great, educational events and projects going on in their areas. Most questions about awards can be found at this web page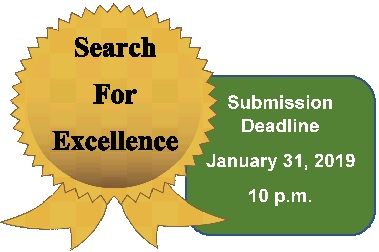 ---
---
Specialist Training - Changes
Jayla Fry has been in touch with County Extension Agents, and a couple of changes are now in effect.
Specialist certificates will be sent directly to the County Extension offices once a year.
Starting in 2019, the deadline for submitting specialist training dates and event details will now be January 31. The trainings can be scheduled for any time during the year, but the deadline for scheduling them is January 31. This gives everyone time to
get the word out about the trainings,
review the different specialty trainings available,
prevent overlapping or conflicting training and dates,
make arrangements to attend the trainings