LETTER FROM THE PRESIDENT
Greetings, my fellow gardeners,

Where did you learn about gardening?

Stop and think about all the wise and maybe not so wise gardening advice that you have received over the years. It may have come from your relatives, friends, a teacher, or even a stranger. Hey, it could have even been from me. What do we do with this advice? Use it, store it in our memory or disregard. Well, after all it was free!

Myth or True?
Don't say thank you for the gift of a plant or it will die….
April showers bring May flowers…..
Don't plant legumes(peas-beans) in May, all you will get is flowers….
If a plant is under stress, feed it…..
Throw stale bread into the rain to make the rain go away……
Plant Marigolds in veggie garden to keep pests away…..
Use baking soda for black spot on roses…….
Early to bed, early to rise, early bird gets the worm…..
Candy bar a day keeps the Doctor away, wait…..maybe that was and apple…I never tried it.
The point is, hmmmm, don't guess I had a point, but I do know healthy soil will bring healthy plants and a larger harvest!

Always keep smiling….it makes people wonder what you have been up to!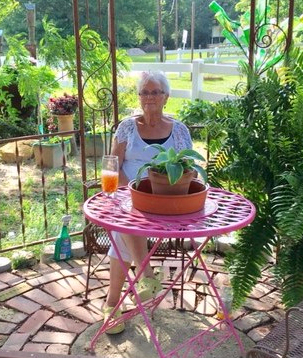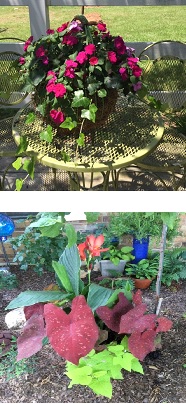 Happy gardening.
Hugs,
Peggy Rogers


2017 President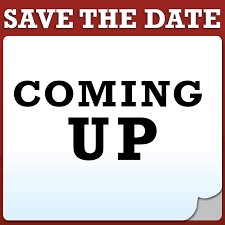 07/08/2017
Plan Your Fall Garden
McLennan County

07/10/2017
Fall Plant Sale
Victoria County

07/19/2017
Lunch with the Masters - "The Lore and Lure of Herbs"
McLennan County

07/27/2017
The Herb 'n' Cowgirl - Ann McCormick
Henderson County



August 2018 Rhine River Cruise




Arkansas Master Gardener Janet Carson's Study Cruise information:

Rhine River Cruise





UPCOMING
SPECIALIST TRAINING OPPORTUNITIES
Junior Master Gardener
- August 1-4
hosted by Denton County in Corinth, TX
Entomology
- September 18-21
Dallas County Agrilife Extension, Dallas, Tx
Vegetables
- October 17-19
hosted by Bexar County in San Antonio, TX
Plant Propagation
- October 30-31 hosted by Hill Country Master Gardeners in Kerrville, TX

April 4-6, 2018
Texas A&M University, College Station, TX

Plans are increasingly underway for the 2018 conference hosted by the TMGA and Texas A&M AgriLife Extension Service, honoring YOU, the Texas Master Gardener!

Join us as we "Honor the Past, Celebrate the Present, Embrace the Future". We will be celebrating 40 years of the MG Program in the state of Texas and the unveiling of the Earth-Kind® Gardens within The Gardens at Texas A&M University! It's going to be a grand time of festivity!

Over a third of the rooms within our block at our host hotel, The Hilton, have already been reserved. You may make your reservation by following this link. College Station books up fast!

Have you heard a presenter speak who you think would be good fit for this unique commemorative conference? Please have the presenter fill out our Call for Speakers application for consideration or email Nicky at nmaddams@tamu.edu.


---


WE NEED YOUR HELP!
During the 2018 conference, we would like to feature as many of you (that's over 7100 Master Gardeners!) for exclusive video productions to be featured at the conference.

Send us your photos with identification to 2018tmgaconference@gmail.com:
(See examples to the right)
A selfie with you in MG attire (yes, a selfie, not a photo someone else took!).

​

A photo of your association.

A photo of a project your association is involved with or has completed.

A photo showing what you do outside of working in the dirt. Our Master Gardeners are multi-faceted and we want to know more about you!
INTERNATIONAL MASTER GARDENER CONFERENCE 2017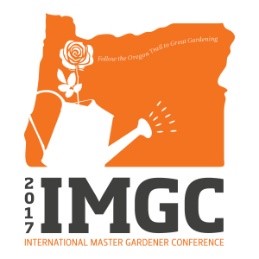 July 10-14, 2017
Portland, OR
If you attend the International Conference in Portland, please send pictures and/or a short write-up of your experience to share in the next newsletter. tmga.news@gmail.com
---
---

Examples of photos you can send
for the 2018 conference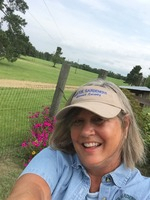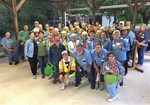 1. Selfie
2. Group photo
Jamie Bruns
Brazos County

Grimes County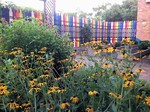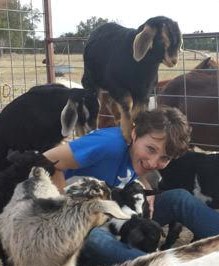 3. Project
4.
What Else We Do
School Crayon Fence
Donna Hagar's goats
McLennan County
Somervell County
SPECIAL PROFILE: Venkappa Gani
Travis County Master Gardening Association Lifetime Member and Master Gardener of the Year
Uses His Suburban Yard as an Edible Farm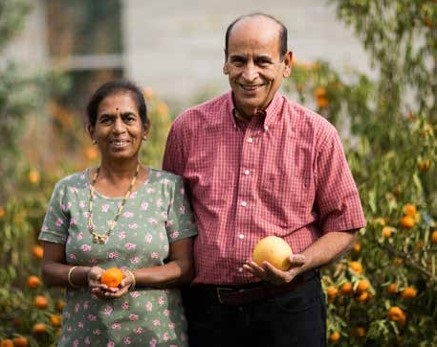 An Unexpected Oasis

Tucked among far South Austin's well-manicured lawns, an oasis of fruit trees, vegetables, herbs and ornamentals flourishes in a 40- by 60-foot backyard that serves as both an outdoor laboratory and labor of love for Venkappa Gani and his wife, Ratna. In 1997, following Venkappa's 30-year engineering career, the couple retired to a neighborhood undergoing construction of hundreds of new homes. At the time, the yard was slated as a flat canvas for St. Augustine, but the Ganis had other ideas.

They managed to opt out of sod in favor of soil, and got started planting a border of fruit trees. "I grew up in the garden," says Venkappa—explaining that growing food was at the core of the school curriculum in the farming village where he was born in the southwestern Indian state of Karnataka. To help the village thrive, all students were given a plot of land to cultivate, which required hauling buckets of water to tend their plants. Every year, as they moved up a grade, they were given a bigger plot.

Formal education was customarily expected to end at the eighth grade, but as the top student in his class, Venkappa advanced to the local high school—walking three miles to and from school, every day. Graduating at the head of his high school class, he went on to the B.V.B. College of Engineering and Technology, where he again rose to the top his class and graduated with a B.E. in electrical engineering. The next stop for Venkappa was Boulder, Colorado, in 1966, where he earned a M.S. in electrical engineering from the University of Colorado.

He left Boulder for Poughkeepsie, New York, where he was offered a position with IBM. Then, while on a trip back to India, he married Ratna. Eventually, IBM led the couple to Austin where the seeds that were planted during elementary school took root in a retirement that's redefining what's possible on a modest plot of land, and turned Venkappa into an award-winning and sought-after local gardening expert.

Entry to the Ganis' backyard is via a dense canopy of crimson-flowered Rangoon creeper vine, then suddenly, a wildly prolific, Eden-like setting is revealed. Venkappa appears to have defied any number of well-accepted notions of what can thrive amid Central Texas' scorching heat, occasional freezes and often subpar soil. Fruit trees—primarily along the edges—include pomegranate, persimmon, papaya, peach, fig, jujube, Texas red grapefruit, Meyer lemon, kumquat, Dorset apple, olive, pineapple guava, Orient pear and banana. In the center of the fertile plot, divided by limestone blocks and brick pathways, are edibles, ornamentals and leafy herbs that are indigenous to just about every corner of the globe and include lamb's quarters, papyrus, bay laurel, thryallis, Swiss chard, coriander, dandelion, curry plant, tarragon, bitter gourd, hibiscus (for tea), butterfly weed, pequín chili pepper, okra, rosemary, oregano, tomatoes, broccoli, peas and garlic.

Growing up without running water or electricity, Venkappa takes neither for granted. He was among the first to benefit from the City of Austin's rebate program for solar energy in 2004, and put his electrical engineering degrees to work to install solar panels on his roof. City rebates also came into play the following year with the installation of two 1,500-gallon tanks for rainwater harvesting.

As is his tradition, Venkappa never uses chemical fertilizers, pesticides or herbicides. A hearty compost heap is the source of an occasional nutrient boost to the soil, and if there's a secret ingredient, it might be his all-natural Gani Coco Coir product. It's made by extracting coconut husk fibers from coconut shells and compressing them into lightweight blocks that serve as an extremely water-retentive planting medium. Venkappa sells the blocks at various gardening centers around town.

The backyard garden is a significant source of sustenance to Venkappa and Ratna, who are both lifetime vegetarians. When a crop exceeds what they can consume—which is often—it's sold through co-op yard-to-market booths at the Sunset Valley SFC Farmers' Market on Saturday and the HOPE Farmers Market on Sunday, where the couple can often be seen chatting with customers and sharing gardening tips.

Over the years, Venkappa has become a solid fixture in the local growers circle. He's a life member of the Travis County Master Gardeners Association, a member of The Garden Club of Austin and a past president of the Austin Organic Gardeners club. He is also the founder of the Organic Farm & Learning Center at Green Haven Ranch in Hutto, Texas—a community-wide education initiative that offers hands-on training and workshops on organic gardening, rainwater collection and solar energy.

In 2005, the Texas Master Gardeners Association named him Gardener of the Year. Accolades and other projects aside, Venkappa's home garden continues to be a beloved and comforting personal haven. When asked whether Ratna's love of the garden is at the same level as that of her husband's, she says unequivocally "I love it more!" And then she offers one of her favorite ways to cook their bounty: "Add whole mustard seeds and whole cumin seeds to hot oil," she says. "When the seeds start to pop, add onions and vegetables and sauté. Finish with curry powder, salt, lemon and tamarind, to taste." Yum.



Lisa Walhghren, author, and Andy Sams, photographer


Reprinted with permission: Edible Austin Outdoor 2017 Magazine, p. 56