Grill up better steak next time you tailgate.
Ready to kick off football season? We're right there with you. If you or your loved ones enjoy nothing more than hitting the pavement for some pre-game festivities this time of year, AngusPride® beef has got you covered. With great Angus beef and these parking-lot-friendly recipes, you can make your next tailgating session outshine the actual game.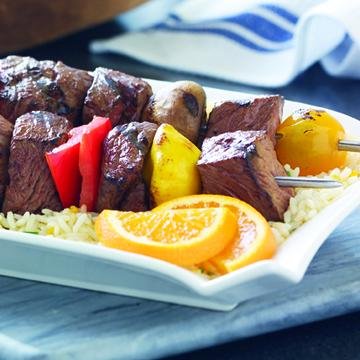 If you plan far enough ahead, you can cut some delicious AngusPride® beef sirloin steaks into chunks and create Sensational Sirloin Kabobs. Finger foods are always a hit at tailgating get-togethers, and these kabobs are no exception. Or grab some rib-eye steaks and try this simple recipe for Dry-rubbed Rib-eyes – a delicious choice for any tailgating celebration. And what says football more than a meal like Peppered T-bones?
When it comes time to actually cook, it helps to have some reliable grilling hardware. Whether you prefer gas or charcoal, we recommend taking a look at Weber's portable grilling options – the Weber Smokey Joe and the Weber Q. The Smokey Joe makes just about every grilling enthusiast's hot list for portable charcoal-grilling perfection. And with a small propane tank attached, the Q does exactly the same for those who prefer the convenience of gas grilling.
For more great Angus grilling ideas, check out our entire database of beef dishes online. juicy AngusPride® beef.

Like us on Facebook
Stay up-to-date on all AngusPride® beef happenings by clicking on the Like button of our AngusPride Facebook page.