Table of Contents
Celebrating 5-Year NLR Users:
Message from the CEO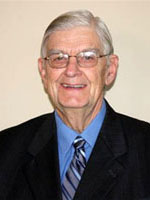 Tom West, NLR CEO
This Fall marks the sixth anniversary of the first routes on NLR's national backbone becoming operational. We thus want to highlight in this edition of our newsletter some initial NLR members – research groups and institutions who very early appreciated how dedicated, high-performance networks could help advance and accelerate scientific discovery and network research.
NLR congratulates the pioneers –the Pittsburgh Supercomputing Center (PSC), the first NLR user dating back to July 2003, and five-year NLR users – at the Texas Advanced Computing Center (TACC), the California Institute for Telecommunications and Information Technology (Calit2) at the University of California San Diego and the University of Illinois Chicago's Electronic Visualization Laboratory (EVL). Please take a moment to read their stories below.
This Fall not only brings the start of another academic year but a new era for NLR, technologically and organizationally. By completing the upgrade of the NLR backbone this past spring, NLR has laid the foundation for deploying 40G and 100G circuits to serve the growing requirements of several major research initiatives. Already inquiries are being made of NLR. Not only is NLR ready to respond technologically, we intend to provide the most cost-effective solutions. An updated schedule of the Costs for Services should be announced shortly.
When I think back six years ago to what we had to pay to lease a 10G wave for six months to serve PSC until the NLR route between Pittsburgh and Starlight was completed, to what PSC is paying NLR now for a whole year, the savings is many fold. Likewise, comparing what we had to pay to lease a wave from a commercial provider for TACC for five years from Dallas to Starlight, to TACC's costs for the circuit from NLR for the next five years, their savings are very significant.
The point is that NLR not only provides the research community with the most cost-effective solutions but it is now able to provide the most technologically advanced and robust capabilities.
NLR keeps expanding its service offerings. This past year we have deployed and now operate the NLR TelePresence Exchange using Cisco TelePresence technology. As part of our plans over the past few months, NLR and AT&T have been collaborating to enable the first inter-connection between a research and education telepresence exchange and a commercial telepresence exchange.
NLR's now working on a pilot gateway service with AT&T, using Cisco TelePresence to make it easier for researchers to collaborate with industry partners around the world to advance science as well as enable the leaders from private sector corporations, universities and government to collaborate in forging policies and strategies that will advance economic development and the quality of life. At the same time, we are working with Internet2, the QUILT and the RONs to forge a plan for a unified, national Research and Education TelePresence Exchange using Cisco TelePresence.
Organizationally, within the next several days NLR will introduce its new president and CEO and I will depart NLR by mid-October. It has been a great "whitewater" ride and I will cherish the experience of having served this community. At a later time and in a separate piece I will attempt to reflect on what we set out to do several years ago and assess how well we have done, to date.
NLR has been the shared and collective work of many people including Board members, staff members, and researcher users. I want to extend my very special and personal thanks to Wendy Huntoon. Four years ago Wendy stepped in to serve as the Interim Executive Director of Operations. Four years later she has stepped down from that role. However, unlike me, she will continue her deep involvement in NLR as a Board Member and representative of the Pittsburgh Supercomputing Center membership in NLR.
Recognizing NLR's First User: PSC
From TeraGrid to Broad-Based R&E Applications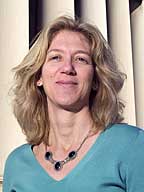 Wendy Huntoon, Director of Networking, PSC and Vice Chair, NLR
NLR's first-user distinction goes to the Pittsburgh Supercomputing Center (PSC).
Before PSC was able to even join NLR as a member, they contracted with NLR for 3x10 Gigabit Ethernet (GE) waves to Chicago in July 2003. PSC had won a NSF grant to connect PSC resources to the TeraGrid router in Chicago. And since PSC required a link from NLR's Chicago Point-of-Presence (PoP) to the StarLight exchange at Chicago's Northwestern University, NLR responded by adding that segment – which has turned out to be the busiest on the NLR backbone.
"NLR was willing to adapt to our requirements, and put in place the circuits we needed, at a highly attractive price-performance point," according to Wendy Huntoon, PSC's Director of Networking and currently Vice Chair of the NLR Board. "With the support of Ralph Roskies and Mike Levine, PSC's co-scientific directors, and other colleagues, PSC decided to make the leap and chose NLR over other, experienced providers."
As other groups in PSC's region, specifically the University of Pittsburgh, became interested in NLR, PSC was able to convert its NLR contract into a membership. Today PSC relies on NLR for a broad range of research and education networking requirements. PSC uses NLR PacketNet for 10-GE research and education connectivity, critical given the large data sets associated with many of the applications used in PSC projects.
PSC was also able to implement, through a donation of a 10-GE wave from Cisco, a dedicated path for real-time tornado forecasting in collaboration with the Center for Analysis and Prediction of Storms at Oklahoma University. In addition, PSC integrated the NLR infrastructure into the services it offers through 3ROX - the regional network aggregation point for research and education in the region - and PSC uses NLR FrameNet for backup connectivity for its primary connections as well as for a connection to TransitRail, which has become an essential part of PSC's commodity service at 3ROX.
Celebrating 5-Year NLR Users!
---
Texas Advanced Computing Center:
Supercomputing with Ranger, TeraGrid
---
The Texas Advanced Computing Center (TACC) of The University of Texas at Austin reaches its five-year anniversary as an NLR user this month. In that five-year span TACC has become one of the country's leading centers for high-performance computing and home to one of the most powerful supercomputers for academic research, known as Ranger, which has the computing power of about 30,000 typical desktops.

Tommy Minyard, Director, Advanced Computing Systems, TACC
"NLR has consistently provided reliable and responsive service to help ensure the success of the many research projects which access TACC resources from across the country and around the world," according to Tommy Minyard, Director of Advanced Computing Systems at TACC.
Back in 2004, to qualify for a National Science Foundation (NSF) grant to connect TACC resources to the TeraGrid, the largest, distributed cyberinfrastructure for scientific research, TACC needed a high-speed link to TeraGrid's central connection in Chicago. NLR's own fiber wasn't yet in place, so NLR leased a circuit from Dallas to the Starlight Chicago exchange. The TACC proposal was successful, and the NLR circuit was soon turned on thereafter, and today TACC is one of 11 TeraGrid partner institutions.
In 2006, TACC was awarded NSF's first "Path to Petascale" grant, and in February 2008 Ranger went into production. Today TACC uses two, 10-Gigabit Ethernet (GE) NLR connections: one dedicated for TeraGrid between Dallas and Chicago, the second to Houston handles all other traffic to NLR. NLR member Lonestar Education and Research Network (LEARN) handles the Austin to Dallas and Austin to Houston legs.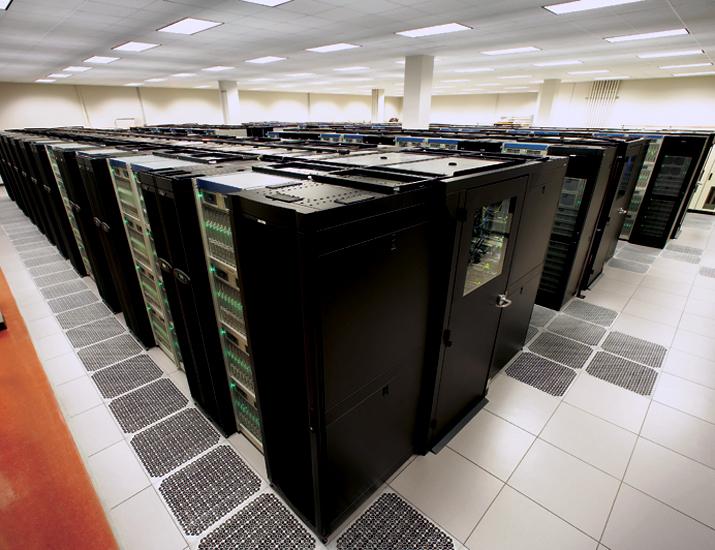 Ranger Supercomputer, TACC
"Ranger processes terabytes of data per day, supporting projects between campuses around the country and internationally," said Minyard. Examples of recent applications include simulating new exhaust designs to reduce jet noise, studying mutations in the swine flu virus that can lead to drug resistance, and modeling Antarctic Ocean conditions to monitor for climate change.
Five years ago NLR paid the equivalent of $175k per year to lease the circuit TACC needed to Chicago. This year a comparable, dedicated 10GE circuit costs NLR members only $37k.
---
Calit2 and EVL: CAVEwave, OptIPuter as Catalysts for Wide-Ranging Innovations
---
The California Institute for Telecommunications and Information Technology (Calit2) at the University of California, San Diego and the Electronic Visualization Laboratory (EVL) at the University of Illinois at Chicago (UIC) have both been NLR users for more than 5 years, having leased a dedicated 10-Gbps circuit between Chicago and San Diego in September 2004 to support the NSF-funded OptIPuter project.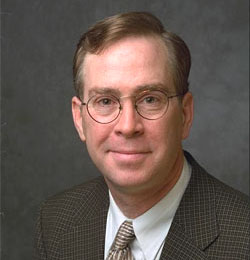 Tom DeFanti, Research Scientist, Calit2
"Before NLR we had no option for getting lightpaths to a broad set of points in the U.S.," said Tom DeFanti, Research Scientist, Calit2 at UC San Diego and a co-founder of EVL. "NLR allowed UIC to connect to UC San Diego and also the University of Washington in Seattle, bringing the many international circuits that come to StarLight and the Pacific Northwest GigaPoP to Calit2. No other country in the world has anything like NLR where researchers can procure bandwidth easily, apolitically and at a highly cost-effective price point."
As the OptIPuter project gained momentum and branched into new areas, the 3,200-mile wavelength, known as CAVEwave, because its funding came from the royalties that UIC got for the CAVE virtual reality system licensing, has been the platform making possible numerous innovations.
"CAVEwave was first and foremost used to develop high-performance visualization middleware, new network protocols and new distributed data coupling techniques between UIC/EVL and UCSD/Calit2 as part of OptIPuter," according to Maxine Brown, EVL Associate Director.

Maxine Brown, Associate Director, EVL
Over the years, the CAVEwave was extended to McLean, VA to allow experiments with NASA Goddard in Maryland, an OptIPuter partner, and with the J. Craig Venter Institute, Calit2's partner in the CAMERA metagenomics project.
SAGE, the Scalable Adaptive Graphics Environment, is a major outcome of the OptIPuter project. SAGE is cross-platform middleware that enables users worldwide to have a common operating environment, or framework, for accessing, streaming and juxtaposing high-resolution visualizations on one or more OptIPortals. (An OptIPortal is an ultra-high-resolution tiled display wall, interconnected to other OptIPortals and data sources by optical networks.)
EVL Director Jason Leigh: SAGE Visualcasting with a Calit2 OptIPortal
UIC and NASA Goddard used CAVEwave to develop LambdaRAM,a high-performance distributed cache that takes advantage of memory from multiple clusters interconnected by optical networks to provide applications with rapid access to both local and remote data.
CGLX, (Cross-Platform Cluster Graphic Library), an OpenGL-based graphics framework for distributed high-performance visualization systems, and CineGrid, which applies OptIPuter architectures to the needs of digital media professionals, are among the many other successes of the OptIPuter project to date.
CAVEwave enables CAMERA team members to collaborate on discovering and decoding the DNA of microbial ocean-dwelling organisms and their surrounding ecologies. CAVEwave also provides transport for High Energy Physics users in Brazil to get data from CERN, and enables radio-astronomers to move data from Aricebo Observatory in Puerto Rico to the Netherlands for real-time data correlation. This past year, another switch was installed by CENIC/NLR in Sunnyvale to enable HP Labs to get to the CAVEwave at 10Gbps for joint research.
"NLR management and engineering have made all this possible and, I have to say, exciting," according to DeFanti.
---
Testbed Networks Provided by NLR
---
NLR provides the infrastructure for several testbed networks that are developing emerging network technologies and applications. For more details, visit: http://www.nlr.net/testbeds.php.
The Global Environment for Network Innovations (GENI) is a virtual lab for exploring future internets at scale.

The Open Cloud Testbed is the world's first and only 10-GigE WAN cloud, developing much-needed standards for measuring cloud performance.

The OpenFlow Consortium has developed a standard enabling experimental protocols to run on production networks.

The Stanford OpenFlow Team

VINI is a virtual network infrastructure that allows network researchers to evaluate their protocols and services in the wide area.
Coming Up
October 27 NASCIO Conference, Austin.
NLR Chairman Kurt Snodgrass to participate in panel "States and Broadband: A Fast-Moving Train of Opportunities." http://www.nascio.org/
November 4 EDUCAUSE Annual Conference, Denver.
NLR Board Director Ron Hutchins to speak on NLR removing technical, cost barriers to the inter-networked university and college. Also, NLR demo of Cisco TelePresence on NLR's TelePresence Exchange. http://www.educause.edu/home
Nov 14-20 Supercomputing 09, Portland.
NLR to offer 10-Gigabit Ethernet FrameNet (Layer 2) and PacketNet (Layer 3) services from the conference in Portland to Seattle, Sunnyvale and Los Angeles. NLR will also host Supercomputing's only TelePresence meeting room, in conjunction with Cisco. http://sc09.supercomputing.org/
NLR News Highlights:
July – September 2009
TelePresence in Action at Quilt Workshop
September 21, 2009
First University-Corporate TelePresence Connection
September 9, 2009
NLR Partner Darkstrand Teams with NCSA
August 11, 2009
First International, Multi-Point TelePresence
August 10, 2009
40GE Line Up, Tested for SC09
August 5, 2009
Grover Browning Promoted to Director, Eng and Ops
July 27, 2009
NLR, Calit2 Collaborate on End-to-End Research Cyberinfrastructure July 21, 2009
NLR Platform-at-a-Glance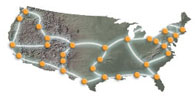 Up to 1600 Gbps capacity
12,000 miles coast-to-coast
Nodes in 30 cities
Easy connectivity to over 30 regional networks
Over 280 universities, colleges and research groups participating
Platform for NASA, DOE labs
Infrastructure for major NSF research grants: GENI, OptIPuter, TeraGrid
Owned by the U.S. research and education community
Contact Us
We hope you have enjoyed reading this NLR Update. We welcome your questions and feedback.
Contact us at editor@nlr.net.