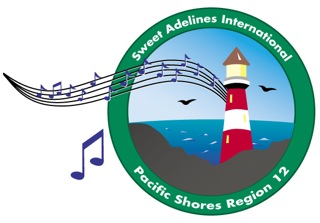 This is the time of year when we get so many opportunities to share our music with the world. Holiday performances and shows abound.
It's also the time to re-commit to the coming year. Make a resolution to give yourself the time to improve your skills. Plan to attend as many educational events as Region 12 has to offer.
Begin your quest for MORE MUSIC in 2012 by booking a room for the upcoming AIM weekend in San Mateo. The deadline for booking a hotel room at our group rate is January 6th!
San Mateo Marriott - 1770 South Amphlett Blvd. - San Mateo, Ca 94402
Rooms will be $109.00 - Free parking
To book your hotel, call (866) 263-1461 - ask for the "Adventures In Music" group rate, or
click this link
for online booking.
Pre-register for AIM weekend with your chorus. Chorus contacts: remember that pre-registration sign-ups are due by January 13th to Sherry Rowe.
Remember, the chorus with the highest percentage of participants wins a prize!