Important Information about upcoming AIM weekend

1. Here is the current
AIM schedule
. When registering at our registration desk, pick up a copy of the schedule, as the meeting rooms are subject to change between now and AIM weekend.
2. Parking is free for those attending our event. They will be able to get their parking ticket validated at our registration table.
3. For our Oregon choruses - Pre-registration for AIM is with your chorus' AIM coordinator. If you do not have an AIM weekend coordinator, please contact the regional treasurer, Pattie Hitch, at
finelyhitched@sbcglobal.net
and send checks to Pattie Hitch, 902 Suntan Lane, Brentwood, CA 94513. They don't need to register for classes - just the weekend.
4. Cost of the weekend
Regular members: $20 pre-registration, $25 at the door
Youth members: $10 pre-registration, $10 at the door
Non-members, adult: $40 pre-registration, $50 at the door
Non-members, youth: $10 pre-registration, $10 at the door
5. Unfortunately, our hotel room block is full. If you need a room and have not already made a reservation, it may be possible locate a room through
www.kayak.com
or
www.hotels.com
or
www.booking.com
.
6. Prior to our hotel reservation deadline of Friday, August 30, 2013, if an existing room reservation needs to be cancelled, please notify Bonnie Garlow, EVC, at
dgarlow@sbcglobal.net
, so that she can coordinate the cancellation with the hotel.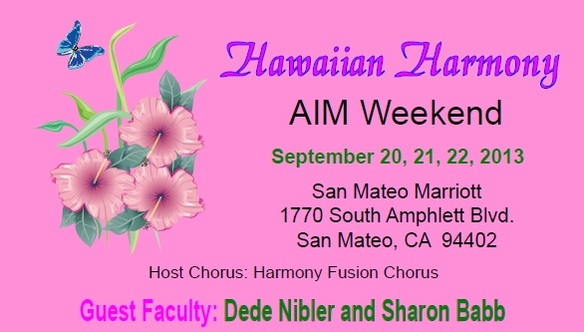 ---
Region 24's Gold Country Provides Monetary Gift for Quartets
Region 24's championship quartet group, Gold Country, recently gave a gift of $910 to Region 12 with a request that the money be earmarked for quartet education. Gold Country members from Oregon are Kathy Scheel, Martha Segura, Eileen Kemp and Connie Norman - and the gift was presented at Summer Spectacular : New Beginnings . Monetary gifts in the same amount will be presented to Regions 13 and 8, from the Gold Country members joining those regions.

For the past 20 years, Gold Country coordinated various fundraisers and educational events including the Henreitta Lindsey Quartet and Vocal Workshop each summer, the Quartet Showcase prior to each regional contest, and we also paid annual dues. Through these projects we were able to support our regional quartet champions representing Region 24 at International Competition, as well as provide education and performance opportunities to our area quartets. We hope this gift will benefit future quartets in Region 12.
---
The License Plate Holder (aka The Torch) has Been Passed

by Teresa Landsaw, Sierra Gold Assistant Director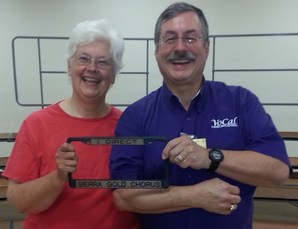 The Sierra Gold Chorus of Auburn, California, had only had two directors since chartering in 1994. Well, all that changed on Monday night, June 17, when Barb Tincher followed a tradition started by Sharon Hardie and handed off to Ron Black the license plate holder that states "I direct Sierra Gold Chorus."
After seven years at the helm, Barb decided to retire due to family obligations, so Sierra Gold undertook a director search that brought four wonderfully qualified and talented individuals to our door. Each of these four candidates auditioned for us and strutted their stuff, and boy, were we impressed! When the dust had settled (aka we voted), Ron Black came out on top.
All the members of Sierra Gold Chorus welcome our new director and we want to share a little bit about him with each of you and the rest of the region.
Ron comes to Sweet Adelines with a rich history in the Barbershop Harmony Society. He has been an active coach in Sweet Adelines for both choruses and quartets. He was the vocal coach for Channelaires for 15 years which resulted in their climb to International 9th place in 2004, and for the San Diego chorus resulting in their gold medal performance in 2002. He has coached quartets such as International Medallist Main Event and International Finalist Shimmer. As a past BHS Singing Category Specialist and a former Contest & Judging Committee chairman, Ron currently judges in the BHS Music Category.
If any of you are in the Auburn area on a Monday night (7:00 to 9:30 at the DeWitt Center in Burback Hall, 11577 E Avenue, Auburn, CA 95603), please stop by and say hello to our newest member. We would love to sing with you on the risers and show off our new director!
---
FlipSide News and Events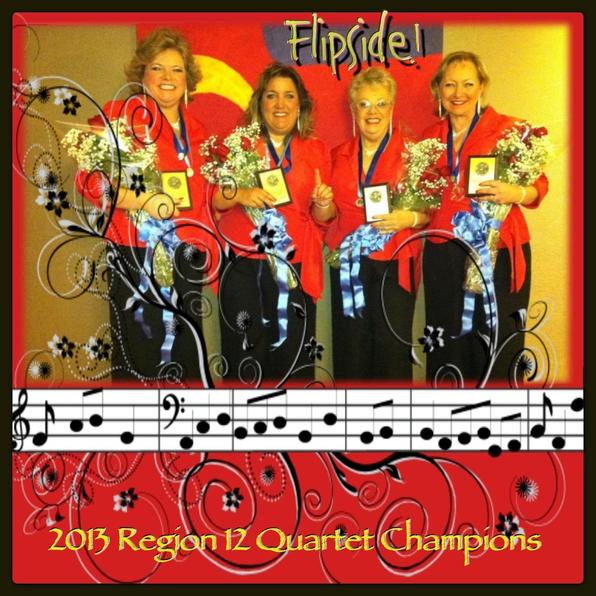 Hello Region 12!! FlipSide has been busy little flippers since April. We had a blast at the Summer Spectacular in June, singing tags with our friends and attending all the wonderful classes. It's amazing that's there's still so much to learn, even after singing in the organization for many years. We love that!! We made many new friends with our neighbors in Region 24 and thoroughly enjoyed performing in the red chorus with everyone, as well as hanging out with LoveNotes. Thank you everyone for your continued support. We are working hard to do our best to make you proud in Hawaii. We have rehearsals and coaching scheduled in the upcoming weeks, as well as some time away with our families and loved ones. Merriann, Margaret and Kathy have new dogs in their lives … Frank, Raisin, Buddy, and Snickers will be singing along with our warm-ups at a rehearsal near you.
We want to give a special thank our to our fundraising team, who are all working hard to "flip" us to Hawaii. We can't do this without you!!!
Speaking of fundraising, we have a couple of events coming up … both on
August 18th
. The first in Stockton with the Delta Harmony Xpress Chorus Tea at 2 p.m. at the First United Universalist Chuch and another event in Cameron Park with our Sac Valley sisters – a Hawaiian Luau Party at Donna Spitzer's home at 5:30 p.m. (See Upcoming Events below for more information). So check it out and come on over and sing a tag with us, share a drink and some food and visit. We'd love to see ya if you're able to attend!
We'll see you all at the September AIM … Margaret Leggett for FlipSide
---