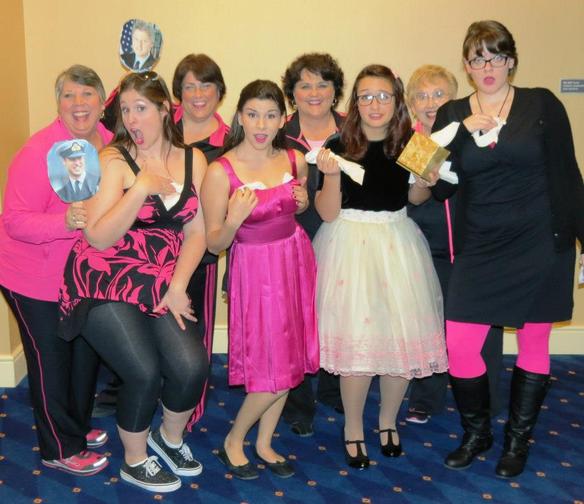 San Mateo's Marriott ballroom was packed as four novice quartets and eight double quartets took part in the QDQ Parade on the Saturday night of January's Adventures In Music. Our Regional Quartet Champions, PDQ, ran the pattern, and MC Barb Vander Putten kept the audience entertained with serious, but usually futile, attempts to have lost-and-found articles claimed.
As entertaining as MC Barb was, the focus of the evening was the performances by the ensembles. After much practice, costuming, coaching, and the big performance all the ensembles received comments from a panel very well qualified to assess performances and provide helpful comments: Sharon Carlson (Music), Jan Gervais (Expression), Becki Hine (Showmanship), and Julie Starr (Sound). The immediate reward at stake was the Light Up the Night Award which is awarded to the ensemble voted "most entertaining" by randomly chosen secret voters in the audience. This year the LUNA was won by "Training Bras and Menopause," a double quartet from Diablo Vista Chorus.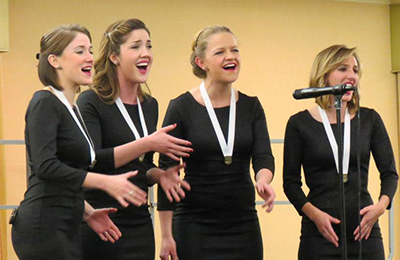 The evening was filled with entertainment, highlighted by LoveNotes. but the earlier day and previous evening was filled with education and camaraderie. There was tag-singing and classes focused on improving performances (individual as well as ensemble) along with classes in which we learned to better understand this "hobby" of ours. Some were large-group classes with Becki Hine, our guest faculty and Showmanship Judge, and some were classes of one – PVI's (personal vocal instruction) with our talented regional faculty, and some were middle-sized classes. The most difficult thing to do was to decide which class to attend. But it wasn't all classes and QDQ Parade at the January AIM. There was a smooth weekend registration and answers to every question at Mission Valley's host chorus registration table, there was the MV performance after lunch (thank you, MVC), the traveling trophy award (congratulations, California HEAT), a performance by the Young Women in Harmony who were having their workshop during the weekend, plenty of Sweet Adeline bling shopping, and lots of opportunity to hang out with friends.
Watch the website and plan register to attend the next AIM weekend. This coming September will be our last AIM weekend at the San Mateo Marriott (we're moving to the DoubleTree in Sacramento beginning January 2014). Come and enjoy the September AIM as we send our International competitors off to Hawaii.
(photos courtesy of Karrie Colette)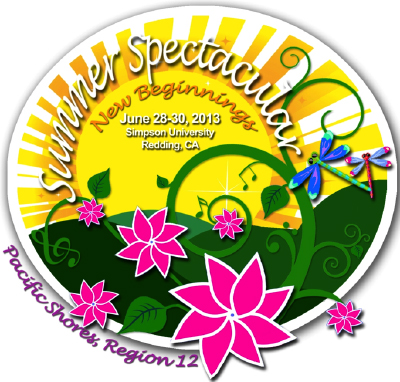 This May, Region 12 will grow to twenty-four choruses and reach from mid-California to northern Nevada to just south of Portland, Oregon. We will be celebrating our coming together in spectacular fashion. In a
university environment
there will be classes for super chorus members, directors, arrangers, quartets and musical and visual leaders. Our focus is to provide the members of the NEW REGION 12 an
educational event to learn together
and build a sense of community and camaraderie and become aware of the educational events and programs for our NEW region.
Classes are offered in a wide array of barbershop craft and technique topics. Students may customize their educational experience to their specific areas of desired development. Whether you want to focus on vocal technique, barbershop craft, movement and choreography, leadership and development, music theory or a little of everything, you can pick and choose the classes that best fit your needs from our virtual buffet of selections. Even a 30 minute Private Vocal Instruction session is available.
Everyone will sing in a spectacular chorus with coaching by Karen Breidert and Judy Pozsgay to polish your spectacular music and enjoy special musical happenings throughout the weekend. It all begins with the keynote address by Karen Breidert on Friday night and ends with performances on Sunday morning.
Early-bird registration for this incredible opportunity will begin on March 1st on our regional website!
EARLY-BIRD REGISTRATION: (MARCH 1- MAY 15)
Members (and male directors): $225
Host Chorus Commuter: $150
After MAY 15, 2013:
Members (and male directors): $275
Non-members $325
Host Chorus Commuter: $225