REGION 12's MOUNTAIN HARMONY CAMP
for girls age 13+
November 21 - 23

Girls are packing their PJ's, LOVE NOTES are packing their crowns, and counselors are packing coffee - we are all on our way to camp in a few weeks! It's not too late register your teen for this exciting weekend of harmonizing, barbershop style, with our International Champion Quartet. Don't miss the learning, joy, and friendships to last a lifetime. Scholarships are available.
Go to our web site:
www.mountainharmonycamp.org
for registration information or to sponsor a girl today.
---
New Happenings in Region 12 Education
We heard lots of great feedback about our AIM weekend with Kim Vaughn in September, thanks to everyone who responded. We're especially interested in your suggestions for ways to make our education programs better, so don't wait for an AIM survey to send your ideas to
Julie Starr
, Regional Education Coordinator.
We're currently working on more classes and experiences to excite and educate everyone this January at AIM, with the creative and gifted Tori Postma!
And there are more new things on the horizon!
Resources! We have a new DVD Librarian, Fran Laplante from Bay Area Showcase Chorus. Our previous librarian, Sherry King, found herself being pulled in so many directions between job, avocation, grandchildren, etc., that it was time to turn over this function to someone else. We appreciate Sherry's dedication and good care-taking for many years. Fran is putting together a catalog which we'll post on the Regional website. Judy Girard videotapes all the International faculty classes at every AIM weekend and converts them to DVDs, and these DVDs are available on loan to all Region 12 members FREE! Fran is also working on ways to make the content downloadable online, to eliminate the hassle of mailing.
If you have to miss the education at an AIM weekend, contact Fran to borrow a DVD and get caught up with the folks from your chorus who attended!
Or better yet, plan a DVD night with your riser buddies.
Directors, here's a chance to get all of your music team on the same page with the latest training from Sweet Adelines International.
Live streaming of classes!
Randy Sahae from San Francisco Sound WAVE Chorus, our Regional Technology guru, has been laying the groundwork for us to be able to stream International faculty classes over the Internet – similar to the webcast, but without commentators! We still have a few technical hurdles to overcome, and it is likely there will be some cost to members to use this service, but what a great way to keep up with the training we provide without having to face winter mountain driving! Stay tuned for more information on this exciting new direction in Region 12 education!
AIM is coming!
Right around the corner, after the holidays, we'll be back to Sacramento for a fabulous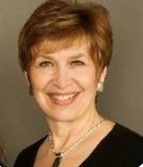 weekend of musical education, singing and sharing with friends from all over Region 12. Our guest faculty is Tori Postma.
Tori is a Certified International Faculty, a Certified Showmanship Judge, a former member of the International Board of Directors and the Certified Master Director of the award winning Mountain Jubilee Chorus of Salt Lake City, Utah. Tori is a dynamic, multi-faceted coach, best known for her high energy and innovative showmanship, and has said that her main goal is to bring "... joy through singing to all women". So, be ready to be blown away.
The weekend is scheduled for
January 16-18, 2015
and will once again be held at the
Doubletree Hotel in Sacramento
. Hotel cost is the same as it was in September - $98.00 per night. There is no charge for parking, even if you are not registered at the hotel. If a member requires a handicapped room, she should call Megan Chappel at 916-929-8855. The cut-off date for hotel reservations is
January 2, 2015
.
Registration for the weekend will happen through the individual choruses, and Chapter-at-Large members should send their information directly to Pattie Hitch, Regional Finance Coordinator. Cost may be found in
the table on our website
, and you can see that pre-registration will definitely save you money. Deadline for registration is
January 2, 2015
. Choruses should collect the registration fees from their members. The list of names should be emailed to our Regional Finance Coordinator,
Pattie Hitch
. A chorus check to cover the fees should be then mailed to her at 902 Suntan Lane, Brentwood, CA 94513.
One of the highlights of our January AIM will be the Quartet and Double Quartet Parade. The
Double Quartet Parade
provides an opportunity for a group of eight singers to perform together for the entertainment of our regional audience.
The Quartet Parade provides an opportunity for a quartet to perform in a contest-like situation. The quartet is evaluated so that they receive suggestions and guidance prior to the Regional Quartet Competition in the spring. There is no single "winner" in this parade as everyone is a winner! A "Quartet" (for the purpose of this parade) is a quartet in which no more than two members have sung together in any Sweet Adeline Regional or International Quartet Competition during the preceding two years.
We are very excited about the weekend. The schedule of classes is coming soon and will be posted on the regional website. We will be asking for information from you on which classes you think you might like to attend so that we can be sure that we accommodate everyone who wants to attend. Watch for that request coming soon!
---
News from the S.O.F.T.Y.
(Serve Others First Then Yourself)
side of the California HEAT Chorus
By Meg Planz,
HEAT to PATH Liaison


Although many of our chorus members travel a considerable distance to participate, the headquarters of the California HEAT Chorus is the small northern California burg of Red Bluff, population 14,000.
Not considered "just a shelter," the Sale House serves as a sanctuary for these temporarily-displaced families. It is a large, rambling, 2-story home, surrounded by 80 acres of prune and peach orchards. In the early 1900s, the Sale family raised eight children there. Now, thanks to the generosity of that pioneer family's descendants, and for a mere $1.50 per year, this safe haven is leased to the P. A. T. H. organization.
Two years ago, the "softies" of the California HEAT sisterhood were inspired to contribute to the betterment of the young women residing there. In the beginning, we gathered hotel toiletries collected during our travels---shampoo, conditioner, soap, and lotion. Now, thanks to the thoughtfulness and team spirit of our members, donations have expanded to include such items as toilet paper, dental care items, shower caps, bubble bath, make-up, fingernail polish, razors, tampons, deodorant, sunscreen, laundry soap, calendars, note cards, and gently-used children's clothing.
Members of the California HEAT Chorus will continue to embrace enthusiastically this opportunity to serve their sisters in need. (Secretly, we're really mostly HeaRt, not just HEAT!)
---
Enjoy a chorus show!

---
Diablo Vista Saturday, November 15th, 2pm matinee, at Diablo Valley College, 321 Golf Club Road, Pleasant Hill, CA.
---
Harmony Fusion Saturday, November 15th, 2:00 PM, Lynnewood United Methodist Church, 4444 Black Ave., Pleasanton, CA 94566
---
River Lights Annual Holiday Tea. Nov. 22, 2-4pm. Grace Spirit Center, 617 West Orangeburg, Modesto, CA. For info call 209-576-7010.
---
Bay Area Showcase Performance at the San Jose Harvest Festival, Saturday, November 29th, 1:45 – 2:15PM, San Jose Convention Center, 410 Almaden Blvd., San Jose, CA
---
Oregon Spirit 10th Annual Holiday Harmony Show (including local community singers). December 5th. 971-208-3FUN
---
Mission Valley Jingle Bell Tea, December 6, 11:30am or 3pm. Saratoga Community Center, Saratoga, CA.
---
California HEAT -
HEAT'n Up the Holidays dinner show.
December 6, 5:30pm. Red Bluff Union High School, Red Bluff, CA. californiaheatchorus.com
---
Greater Eugene Winter/Christmas Show, December 6, 2pm at St Paul's Catholic Church in Eugene, OR
---
Sacramento Valley
MGM Grand to Winter Wonderland,, December 7, 2pm, Sheldon High School Performing Art Center, 8333 Kingsbridge Dr, Sacramento
Link
---
Bay Area Showcase Holiday Party and Show, December 11, 7:15PM, CCDSV, 1748 Junction Ave., San Jose, CA
---
Sierra Gold
The Secrets of Christmas Show, December 13, 2pm, Calvary Chapel of Auburn, Auburn, CA.
sierragoldchorus.org
---
Voices In Harmony
Featuring Mission Valley Chorus, December 13, 2pm and 7:30pm shows.
www.vihchorus.org
---
Spread your news!

Upcoming Publishing Deadlines

December eBlast (DEADLINE Dec 1)


January
Stroke of 12
(before AIM weekend)
(DEADLINE DEC 30th)
Send your stories and photos to
Leah Brooks
, editor
---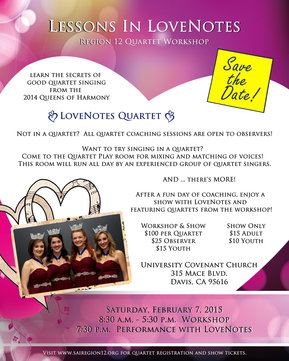 ---