September 20 - 22, 2013
Education and Pep Rally for Hawaii-Bound Competitors


San Mateo Marriott
1770 South Amphlett Blvd.,

San Mateo, CA 94402
Guest Faculty:
Sharon Babb and

Dede Nibler
Host Chorus:
Harmony Fusion Chorus
AIM Registration Deadline:
Friday, September 6, 2013
Members: $20 pre-registered or $25 at the door.
Non-member: $25.
Youth: $10 pre-registered or $12.50 at the door.
Non-member youth: $12.50
Choruses and CAL, send checks to:
Pacific Shores Region 12
c/o Pattie Hitch
902 Suntan Lane
Brentwood, CA 94513
Send Registration lists to finance.coord@sairegion12.org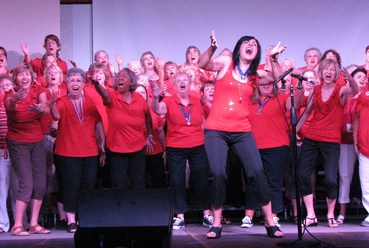 Summer Spectacular was just that and ALL THAT MORE too!
Shirley Kout, International Judge/musician extraordinaire and her team, Gwen Marks, Bonnie Garlow, Sherry Rowe, Leah Brooks and Kevran Day, presented Region 12 with a weekend of superb education, singing and friendship!
The occasion was developed to mark the merging of seven choruses from the former Region 24 into the existing Region 12 geographical area. Region 12 now has 24 chapters!
What really happened was fantastic singing and joyous friend-making. 245 women came together in the 112 degree Redding heat at Simpson University to enjoy the wisdom of BUZZ baritone and former IBOD President, Karen Breidert and Judy Pozsgay, choreographer of the most excellent Lions Gate Chorus. Special treats were the jaw-dropping performances by LoveNotes and FlipSide throughout the weekend.
Chapter members brought scrapbook-like Tri-folds that were on display in the auditorium. We enjoyed seeing pictures and learning about each chorus in the newly expanded Region 12. Such talent in our new region! The boards were fun displays with lots of chorus information.
All attendees were assigned to sing "My Romance" and "I Believe in Music" in either the Blue Chorus or the Red Chorus. Under the direction of Kathy Scheel, Director of Oregon Spirit Chorus, and Martha Segura, Director of Southern Oregon Sound/Northern Gateway (Harmony Classic Bound 2013), both choruses prepared an entertaining package of songs quickly came together and performed for each other on Sunday morning.
What a great way to welcome our Oregon chorus members and share the love!
Join the Team!
There's no need to wait for the deadline of September 15th if you're interested in joining our great team in Region 12.
Sign in as a member on
www.sairegion12.org
, hover your mouse over "RMT" and click on "OPEN POSITIONS." You'll find all the information you need to know, plus a link to the application.
We're looking for applicants for May 2014 - April 2016 for the following positions:
Team Coordinator
Communications Coordinator
Membership Coordinator
Education Coordinator
Read all about the jobs on the website. Looking forward to hearing from YOU!