AIM Weekend: January 18 - 20

It's time to look forward to our next Regional get-together, the popular January Adventures In Music weekend. We are so pleased to announce that our guest faculty person will be none other than the fabulous Becki Hine. Master 700 Director of the Song of Atlanta Chorus, Becki has been directing the chorus since 1993. Together they have won 10 regional championships and five International top ten medals, including their latest fifth place finish at the Sweet Adelines International competition in Denver this month.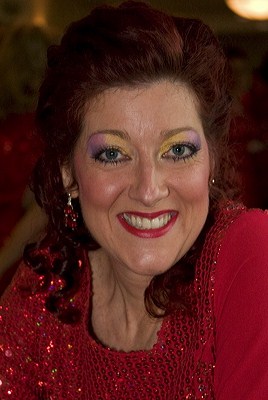 Becki is in high demand as a chorus and quartet coach and enjoys traveling around the world to share her infectious passion for performance and vocal excellence. As a Certified Showmanship Judge, she has judged Regional Sweet Adeline competitions throughout the United States, Canada, and Great Britain. She has also served as a judge for the European Barbershop Contest (held in the Netherlands) and for the Barbershopping in Germany (BinG) Contest in Germany.
Becki is passionate about promoting barbershop among young singers, and has served as clinician and judge at the International Rising Star Quartet competition, region 23 Young Women in Harmony contests, and youth festivals and workshops throughout the southeastern United States and in California.
Married to long-time barbershopper Clay Hine, highly regarded arranger, baritone of the International championship quartet FRED and director of the Atlanta Vocal Project chorus, Becki is rightfully proud of her dynamic barbershop family. Her daughter Melody sings on the front row of Song of Atlanta Show Chorus and son Camden performs with the Atlanta Vocal Project chorus.
---
Pre-Register for AIM weekend with your chorus contact person. Choruses can email their pre-registration forms by Thursday, January 10, 2013 to finance.coord@sairegion12.org, then mail their checks payable to Pacific Shores Region 12 for the registration fees to Sherry Rowe, 1580 Charm Way, Sacramento, CA 95835. Pre-registration for members is $20. Youth pre-registration is $10. At the door, $25 members, and $12.50 for Youth.
San Mateo Marriott
1770 South Amphlett Blvd.
San Mateo, CA 94402
Host Chorus: Mission Valley


Rooms will be $109.00
(the same as last year)
This rate includes free self parking
for overnight guests
Reservations must be made by Friday, January 4th
Online room reservations
are now just a click away with ResLink at
San Mateo Marriott San Francisco Airport

---
Here's MUSIC to SING – Just for You
Carol Johnson, a member of Diablo Vista Chorus whose arrangements are available through Sweet Adelines International, has given two arrangements to the members of Region 12; Tell Me Why and Mary's A Grand Old Name.

For each song, there are two versions - one for adult women, and one for Young Women In Harmony.
Carol said that at our recent AIM weekend she realized how few regional songs we share and are able to sing together. She set about arranging some public domain pieces for all of us to share. The first two of these pieces are being distributed to Region 12 as a gift. They are ours to sing free of charge. Just print what you need and sing. Your quartet can sing them, and so can your chorus. We can sing them in rehearsal; we can sing them for performance. Most of all, we can sing them when we get together.
You can download the sheet music here. You will be prompted to log in to the website as a member before you can access this page. (Audio tracks are not yet available.)
Thank you, Carol, for such a marvelous gift.

---
SAVE THE DATE
SUMMER SPECTACULAR...NEW BEGINNINGS
JUNE 28-30, 2013
SIMPSON UNIVERSITY, REDDING, CA

Calendar
Nov 24th; 2:00pm

BASC: Harvest Festival Performance
San Jose Convention Center, San Jose
Dec 1st; 2:00pm

River Lights Chorus Jingle Bell Tea
Grace Lutheran Spirit Center, Modesto
Dec 1st; 2:30pm

Diablo Vista's Annual Show
Dean Lesher Center for the Performing Arts, Walnut Creek
Dec 1st; 6:00pm
California HEAT Dinner Show
Red Bluff High School,
Red Bluff
Dec 8th; 11:30 & 3pm

Mission Valley Jingle Bell Tea
Saratoga Community Center, Saratoga
Dec 8th; 2:00pm
Sierra Gold Christmas Show
Combie Bible Church,

Grass Valley
Dec 8th; 2:00pm
Delta Harmony Xpress Holiday Show
Zion Lutheran Church,
Stockton
Dec 19th; 7:00pm

Pacific Empire Holiday Caroling
First Presbyterian Church of Petaluma, Petaluma
NOVICE and DOUBLE QUARTETS WANTED!
For those who missed it last year, there is now ONE parade of both Novice Quartets and Double Quartets with one drawing for order of appearance. It happens Saturday night January AIM weekend.
Participants receive written comments from Region 12's top coaches, and they will receive performance level letters (B, C, etc.) No points will be given. The panel of coaches do not declare a winner based on performance points. Each group of four or eight singers will be expected to sing two songs in the barbershop style.
DON'T WAIT! Start now to create some fun. The AUDIENCE chooses the most entertaining ensembles for "Lettuce Entertain You" Award. You'll want to be there to cheer on the ensembles from your chorus to help them win the entertainment prize.
Download the forms for
Novice Quartets
and
Double Quartets
and be sure to send it in by the deadline of December 23rd, 2012.
Questions?
Contact
Shelley Culp