Checking in with LoveNotes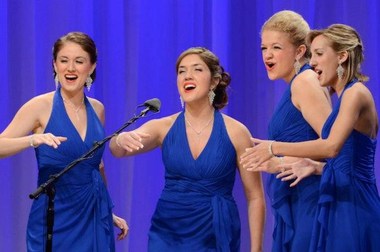 It was October 18, 2011, a sunny morning in Houston, Texas and we were lugging our suitcases and costumes down two flights of stairs, preparing to move to the headquarters hotel just before contest briefing. As we completed our task, a stroke of fate brought us face to face with a smiling group of Region 12 women who were just moving in! They told us they had come this year not to compete, but to enjoy from the audience, and they would be cheering loudly for us. Their words of luck and encouragement were the perfect way to begin our week and we thought back to that moment and the incredible support from the region many times throughout the next few days. We will always remember this moment, along with many other over the past nine and a half years, as a time when we felt proud and lucky to be a member of this caring and supportive region.
Our week in Houston was better than we could have imagined and we were so excited that our 5th place finish will allow us to experience the International Stage in Denver next fall. We wanted to take this opportunity to thank you, from the bottom of our hearts, for your unconditional and lasting support. We also wanted to take this opportunity to check in and give a little LoveNotes update! December has already included some exciting milestones for us as a group...The
Sweet Adelines International Global Promotional video
was released. The video will be used as the organization works to expand and include more women in this art form that we love and we were incredibly honored to be a part of it. Furthermore, after another round of birthdays, the LoveNotes are officially all over the age of 21! Finally, two weeks of vacation meant a lot of rehearsal time all together. We have two new performance package songs and a new contest ballad in the works.
Now, as we make the transition to 2012 we are looking forward to our annual fundraiser for International. This year we will be performing our newest music, raising funds for contest, and celebrating our 10th Anniversary as a quartet (has it really been that long?) at a Casino Night! The event will be in June, if you are interested in attending keep an eye on our Facebook page for details.
The next 10 months will include a lot of coaching, rehearsing, and working toward that week in October when we may once again try to make you proud. The past 10 years have been an incredible journey and we look forward to so many more. Thank you again for all that you have done for us. Please know that we are sincere when we say it has made all the difference in the world. We look forward to seeing your beautiful faces at the next regional event! Happy New Year!
---
The Stevens Sisters sing all over Sonoma County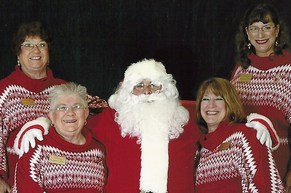 The Stevens Sisters have had a very busy year. We contracted with Sonoma County libraries for seven performances, over a period of six months. Somehow, St Helena Public Library heard of us and asked us to sing too, so we did, making a total of 8 libraries with a combination of Christmas and non Christmas programs, each about 45 minutes long, with a Q and A session after, (and sometimes, cookies). Several of our library programs led to other engagements too.
We sang for several local clubs and groups, including Spring Lake Village (their 50th anniversary), Brookwood Social Club, St James Women's Group, Cloverdale Senior Center (where we ran into a former Pacific Empire Chorus member, who grinned through the whole program). We also performed at the Korbel Champagne Cellars, singing with Santa Claus, as we have for several years. We also sang for a 50th wedding anniversary, a wedding and several birthday parties, and shows with Song of Sonoma and Pacific Empire Choruses. We had lots of great coaching this year with Jim Arns, Joe Connelly, and Sandy Marron. We look forward to more coaching in the new year. We are busy working on more music and buying more bling.
---
Gratitude from PDQ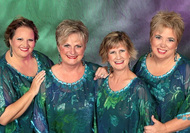 PDQ was so extremely Proud to be Designated as region 12's Quartet champions on the big stage in Houston. It was a wonderful experience! Thanks to each of you who helped us get there, and who cheered us in person or through their computer screen. Congratulations to our great friends, Cheers, on their first appearance on the International stage, and kudos to LoveNotes on their fabulous Top 5 medals!
We are having another amazing year. There was no break after International - we jumped right into coaching and performances, including Voices In Harmony's holiday show. In December, we performed at multiple times each week, at shows, corporate parties, and benefits. We're looking forward to seeing you at AIM weekend.
---
Presto!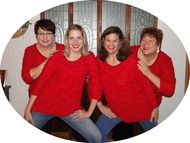 What do you get when you mix three Region 12 quartet singers who need a lead, the latest issue of the fabulous Region 12 Stroke of 12, Facebook, some sheet music, an international coach and just three days time? Presto!!! A New Quartet.
On Wednesday, Debi Thomas, Wendy Gibson & Kerry Kaempf-Wood were just lonely little harmony parts "Desperately Seeking Lead". On Thursday we happened to be reading the Stroke of 12 and learned San Francisco Sound Wave Chorus just welcomed their newest member ... Alisa Peters ... an International quartet competitor!! Not known for being dawdlers, and equipped to cyber-stalk, our harmonizers pounced at the opportunity and Alisa who was the baritone of "Rio", Region 11 champs who competed in Calgary, took less than a minute of coaxing to say YES!!! We have quickly discovered that she is an amazing singer and a LEAD in every way. Thank you so much San Francisco Sound Wave for your article in the Stroke of 12! And thank you so much Sandy Marron for naming us (in about 15 minutes) and coaching us right after we had sung for just 1 hour with Alisa. We promise to sing everything we possible can - really really fast. :)
We started our year with our first social event, a day with PEC gals watching the International Quartet finals. We have had several sessions with our favorite coach, Shirley Kout, and are getting ready for a weekend retreat with Martha Segura at Laghetti Vineyards. And... funny thing, Alisa went to school with Martha's daughter - what a small world. Kerry loves having a baritone for a lead .... they truly understand each other (even if nobody else understands either of them - and easily switch notes whenever necessary). We are thrilled to be part of Region 12 and can't wait to sing for all of you.
---
Looking ahead to September AIM
The international faculty for next September's Adventures in Music (AIM) weekend will be Vickie Maybury.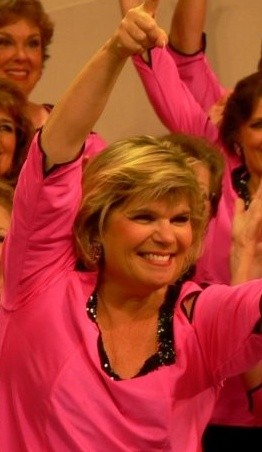 Vickie's many accomplishments include being a certified Expression Judge, a certified International Faculty member and a Master Director. As if that weren't enough, she also sings baritone in RAVE quartet, the 2011 Region 8 Third Place Quartet Medalist. In addition to sharing her expertise, energy, and quest for musical excellence with the Skyline Chorus, Vickie coaches many Sweet Adeline choruses and quartets and gives private voice lessons. She recently joined the coveted "700 Club" after Skyline scored a region-high 701 at the 2011 Region 8 Chorus Competition. Vickie's creative approach includes teaching vocal skills to both right- and left-brained learning styles. She focuses on positive energy and love for the music, performing and especially each other.
---
A Cappella Harmony Academy in July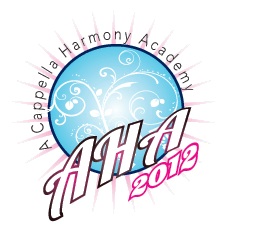 July 19-22, 2012 at Chapman University in Orange, California
Invest in yourself and expand your musical potential by attending the new Sweet Adelines International A Cappella Harmony Academy. A literal virtuoso of well-known faculty will be on hand to enlighten, motivate and inspire you. A wide array of topics in the barbershop craft are categorized into vocal, visual, musical and mental subject areas. Whether you aspire to be a choreographer/visual coach, learn more about music theory, improve your vocal skills, or exude confidence as a performer, there are classes designed for your specific area of development. Register now for just $399! Fees include on-campus housing and meals, classes, materials, links to download seminar songs with learning media, and special events.
Download the syllabus and registration forms
.
Register online
.
---
In Memorium

Diana Jessie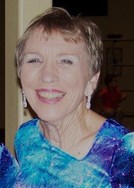 On December 15, 2011 Harmony Fusion Chorus lost our long-time member and friend Diana Jessie. Congestive heart failure took her from us.
As president of the former Harmony Bay Chorus, Diana was a driving force in the consolidation of that chorus with Harmony Crossroads to form Harmony Fusion. She was a member of Harmony Fusion's first board of directors and was a baritone section leader throughout her tenure with us.
Diana was a well published author, with several non-fiction books and innumerable articles to her credit. She wrote extensively about sailing, and is noted for her passion in opening up the world of sailing to others, especially women. She and her husband Jim lived together aboard their vessel the Nalu, and have circumnavigated the globe together.
Diana was known and appreciated for her sardonic wit and indomitable determination. If she made up her mind about something, you might as well just get out of her way, because there was no stopping her. However,she always employed her dry sense of humor to accomplish her goals.
Diana was an inspiration and role model for newer chorus members and for us all. She took an active role in show productions, event planning, and other chorus projects. She was always supportive and eager to find ways to make the final result better. Diana expressed herself honestly and forthrightly--she did not fear to disagree, and she did not hold anything against those who disagreed with her--so you knew that you could always speak your mind with her. She consistently maintained an open, can-do attitude. Diana was a fine singer and dedicated section leader. She had many endearing personal qualities, but perhaps most of all, we will all remember her for that warm smile and twinkle in her eye. Rest in peace, Diana.
Amy Jones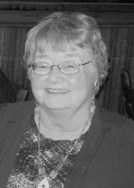 Retired U.C. Davis Student Health Nurse, Amy Jones, passed away November 21, 2011 at Woodland Memorial Hospital. Born in Dixon, Illinois to Gerald and Marion Cahill Jones, Amy's family moved to San Mateo, California, where she graduated from Hillsdale High School in 1959. Amy graduated from St. Vincent's College of Nursing in Los Angeles and was employed at UCLA Medical Center.
Amy's next relocation took her to Myrtle Beach Air Force Base in South Carolina as the wife of Lt. David W. Muris. Although living the life of an officer's wife brought its challenges to free-thinking Amy, she enjoyed writing a column for a local newspaper and performing in several local theater productions. It was in Myrtle Beach that Amy and David found their Southern dog Heidi.
Amy came to Woodland, California in 1969, where she worked as an office nurse. In 1973, she began working at U.C. Davis Student Health Center and continued there until retiring in 2001.
Amy enjoyed singing with Sweet Adelines, Woodland Chamber Singers, and finally with the Sacramento Valley Chorus until problems with her vocal chords did not allow it. She remained their biggest fan and a good friend. Amy loved dogs, all things Notre Dame, bird watching, reading, philosophy, traveling, the annual block party, and maintaining lasting friendships with everyone she met.
A celebration of Amy's life is planned for Saturday, January 14, 2012 at Woodland Community and Senior Center, 2001 East Street, Woodland, between 1:30 and 5:30 p.m. Music and sharing will begin at 2 p.m. In lieu of flowers, the family requests donations to Doctors without Borders, the Humane Society of America, or a charity of your choice.