Happy New Year, Friends, and Happy Wolf Full Moon!
We are excited about working with you for the Mexican gray wolves throughout the many opportunities and challenges to come in 2014! Thank you for being part of our pack and giving lobos a voice!



TAKE ACTION TO SAVE THE LOBO
Act Now! Endangered Female Mexican Wolf Targeted for Government Trapping
Calls Needed to Keep Loba in Her Wild Home!

The Fish and Wildlife Service (USFWS) has ordered that a critically endangered wild Mexican gray wolf be trapped for permanent removal from the wild. At last official count, there were only 75 Mexican gray wolves in the wild, making them the most endangered mammal in north America, and the most endangered wolf in the world. Every single wild Mexican wolf is a loss, yet USFWS continues to treat these wolves as expendable.

In October, Wildlife Services trapped this loba's mate, the alpha male of the Paradise pack, over livestock losses. She has since paired up with a different mate, a male wolf from the San Mateo Pack, and has not attacked livestock in almost five months! Nonetheless, USFWS is keeping the order to trap her in place.

Please call the USFWS and your members of Congress and tell them this wolf deserves to live her life in the wild. More information here.

Take Action for Keeper and all Mexican gray wolves
Criminal killings of endangered wolves must stop!

Tragically, a young lobo named Keeper was recently found shot in NM. Adding to the heartbreak is the fact that this wolf was named by 8 year old Turner Burns in last year's pup naming contest. Turner put out a call to action on his Kids for Wolves page to stop the criminals killing wolves. Here it is:

Please write to The Director of Fish and Wildlife Services, Dan Ashe at: dan_ashe@fws.gov and Secretary of the Interior, Sally Jewel at: http://www.doi.gov/public/contact-us.cfm and tell them to STOP THE KILLING. Let's do it for Keeper.

Here is what we can say. I got help with the text from my friends at Mexican Gray Wolves and also added my own words too. :

Dear ,

Too many critically endangered Mexican gray wolves have been killed by criminals and only around 75 remain in the wild. In December, another young Mexican wolf, named Keeper, was found shot in New Mexico. He was a precious member of the Bluestem pack and his life meant something to me. This has to end, and these animals must be protected or they will be gone.

To stop these crimes, I am asking that you increase enforcement of the laws against the killing of these wolves and retrieve from members of the public all government-owned radio-telemetry receivers that were programmed to track radio-collared Mexican gray wolves in Arizona and New Mexico.

The Fish and Wildlife Service has loaned an unknown number of its receivers to the opponents of wolf recovery in the Southwest. The programmed receivers make the wolves vulnerable to poaching, which has been an enormous problem for this struggling wolf population. That is why we ask that the receivers be retrieved immediately.

Thank you for acting to save these important wolves from extinction.

Sincerely,
LOBOS IN THE NEWS
A Medical First to Enhance the Genetic Health of the Endangered Lobo


Wolf Conservation Center, January 14, 2014


Wolves are "mono-estrus" — breeding only once a year during the winter months. Hence, winter is an exciting time for wolves in North America and the Wolf Conservation Center (WCC) too! This year the WCC is hosting four breeding pairs – two Mexican gray wolf pairs and two red wolf pairs. … Read more


Mexican Wolf Reintroduction Project News, January 8


Monthly Status Report: December 1-31, 2013 - From the Mexican Wolf

Interagency Field Team
The following is a summary of Mexican Wolf Reintroduction Project (Project) activities in Arizona on the Apache-Sitgreaves National Forests (ASNF) and Fort Apache Indian Reservation (FAIR) and in New Mexico on the Apache National Forest (ANF) and Gila National Forest (GNF). ... Read more

Landmark Federal Legislation Turns 40 Years Old
Mexican Grey Wolves, Carlsbad Zoo Benefit From Endangered Species Act, Current Argus, January 3, 2014
CARLSBAD- For decades, visitors have lined the fence at the Living Desert Zoo and Gardens State Park for the chance to lay eyes on the Mexican grey wolf. One of the most popular exhibits has been made possible, in part, due to the Endangered Species Act. The landmark legislation, passed by the U.S. Congress on Dec. 28, 1973, turned 40 years old last week and has continued to impact Southeastern New Mexico. … Read more

Guest Column: Delay Means Extinction for Wolves
The Daily Courier, Dennis DuVall, December 31, 2013
Think of hiking on the Prescott Circle Trail and seeing a wolf. For a hiker this would probably be a thrilling and rewarding outdoors experience. But The Daily Courier considers an opportunity like this "ludicrous" (Editorial: "Reintroducing wolves is an unworkable plan," Dec. 4, 2013). … Read more


Wildlife Experts Work Together to Save Gray Wolves
Wolf Haven International's Wildlife Handling and Training Course for Wildlife Professionals
TENINO — A Tenino wolf sanctuary is helping to bridge the gap between two different cultures with a common goal — ensure survival of Mexican gray wolves. At a course that remains one of only two in the nation to offer hands-on experience with wolves Thursday, one Wolf Haven biologist brought together scientists from the United States and Mexico. … Read more



LETTER TO THE EDITOR OPPORTUNITIES

White Mountain Independent - Mexican Wolf News
Updates on Blue Range Wolf Recovery Area Packs
In the final month of 2013, a Mexican gray wolf was found shot to death in New Mexico. The adult male wolf had separated from the Bluestem Pack in May and wandered outside of the Blue Range Wolf Recovery Area. A collared wolf, an immature female, was listed as whereabouts unknown in December. She had been observed traveling with another immature female for several months, separated from their home pack, the Fox Mountain Pack in the Gila National Forest. The second female was located outside the Blue Range Wolf Recovery Area in November. For the rest of the article and letter to the editor talking points and submission info, click here.




UPCOMING EVENTS AND OPPORTUNITIES
Join us for Environmental Day at the Capitol – Phoenix, Arizona

On February 18, 2014, environmental advocates from around the state, new and experienced, will be gathering at the Arizona State Capitol to meet with state legislators to express support for rivers and streams, clean air, land conservation, wildlife, and more. Come be a part of one of our teams! Representatives from wolf advocacy organizations will be participating.


Environmental Day at the Capitol
Tuesday, February 18, 2014
8:30 a.m. – 2:00 p.m.
Arizona Capitol Museum - Old Senate Chambers, 2nd Floor
1700 W. Washington Street
Phoenix, AZ 85007

We will meet in the old Capitol in the morning and everyone will be paired with an experienced leader and will be meeting with his or her own legislators, whenever possible, in the House and Senate buildings. It is a great opportunity to learn more about the legislative process and the issues and to make a difference. You need not be there all day to participate.

For more information and to get involved, contact Sandy Bahr at (602) 253-8633 or sandy.bahr@sierraclub.org.


WildEarth Guardians job opening:
Wyss Fellow Position: Greater Gila Advocate
Campaign: Grazing Permit Retirement & Wilderness Designations in the Greater Gila, NM Work Level: Full-Time Exempt, two-year position Location: Santa Fe, NM
WildEarth Guardians seeks a two-year, Wyss Fellow to help advance a market-based approach that retires high conflict cattle grazing allotments on national forest lands and leads to new wilderness designations. After six years working on this campaign, we now have an opportunity to designate over 200,000 acres of new wilderness and retire grazing permits on nearly 300,000 acres in the Greater Gila. This work leverages years of efforts partnering with ranchers to retire grazing permits on allotments that have high wilderness and wolf conservation values; success will implement a new rancher-conservation relationship in the southwest that sets the stage for designating wilderness over the coming decade while also helping to maximize Mexican wolf recovery. Closing Date: 1/17/2014 More info here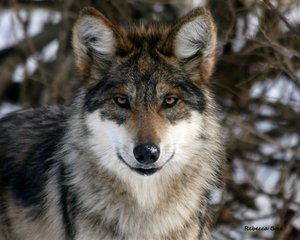 BOOKMARK OUR "NEWS AND EVENTS" PAGE FOR CURRENT
MEXICAN WOLF NEWS, EVENTS, AND ACTION ALERTS.
Follow us on