PAPA'S UPDATE
Volunteer Nepal was fortunate to host a group of student volunteers and their chaperones from New York at the beginning of July. Adam Aronovitz and Alissa Bilfield were volunteers with us many years ago and have returned a few times since in different capacities.

This time it was with Adam's NGO Global Routes Org. This group was under Alissa's leadership in conjunction with Ruth Rabiott and her NGO HEAF. Taking a break from volunteering, they planned a great July 4th afternoon celebration for all our children, our Chelsea teachers and Volunteer staff. [Continue reading here…]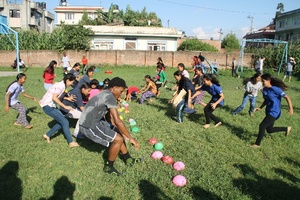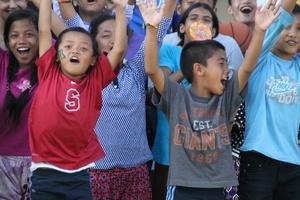 ---
Happy Brothers' Day!
By Kialashi, Grade 9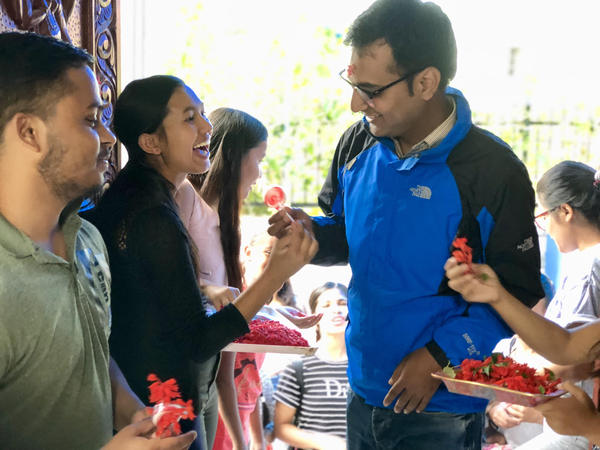 We were looking forward to celebrating Brothers' Day after our hectic exams and regular classes. Saturday, Aug. 25 was the best day to make it happen!
Around 9 am we approached Papa's House, where we smelled a delicious breakfast wafting from the windows. Our brothers and sisters in Grade 11 were cooking!

Unfortunately, it started to drizzle, so we decided to head to the Chelsea Center. At around 10:30 am, everyone began to assemble at the Chelsea Center gate.

Later, Bhumika started the program by welcoming all the performers to the stage. Anita, Khusboo, Gita, Sandhay and Muskan all served as the event's emcees. They did a great job as emcees (having overcome their fear of speaking in front of an audience, a skill they learned at the Chelsea Center).

The students from the Harmony House and the Sanctuary House gave mesmerizing dance performances. We also played a game called 'Tomato for the brothers.'

When it was time for drama, everyone's face lit up. Once the drama got going, you could hear loud laughter echoing throughout the hall -- and it didn't stop until the very end of the show! The most amazing moment was when the House Manager of Sanctuary House, Kamali Chaudhary, appeared on stage as the role of the mother.
The drama concluded the program.

Even though we weren't initially sure how to celebrate the day, Brothers' Day ended up being a joyful event for all.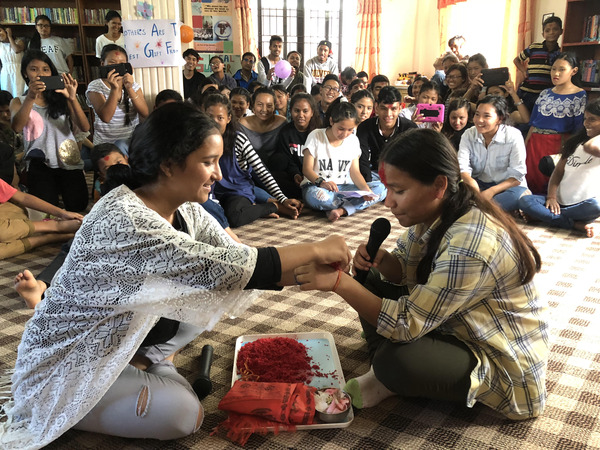 ---
Chelsea Center Updates
By Sumi Devkota, after-school teacher
A lot of great things are happening at the Chelsea Center. Things are changing as students are starting to take charge of the program by leading activities and workshops.

I'm proud to watch these students grow and learn to make important decisions on their own. A few of their innovative projects include:

"Dashain Aayo" Project

This fall, the Chelsea Center is helping empower Papa's House students and teachers alike to develop their leadership abilities, teamwork skills and confidence. Each student is tasked with researching and presenting a workshop on a topic of their choice. The students and teachers are equally enthused to participate -- and we look forward to their final presentations.

Supporting Grade School Youth

We are proud to see so many of our younger students in grade school developing their personality through various leadership activities. These include: leading the class, helping other students, public speaking and participating in the Dashain Aayo project. We'd like to highlight Sarita (grade 3), Sandip (grade 4), Manisha (grade 5) and other students who are blossoming into great leaders.

Overall, younger students are all performing well in school. Weaker students, too, are also seeing academic improvement. They especially enjoy being part of the Dashain Aayo project.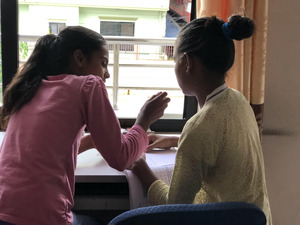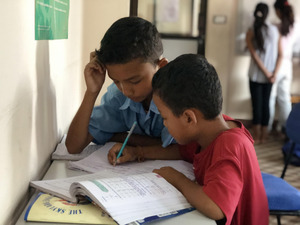 Chelsea Center Classes for Women
By Aunja Niroula, Basic Literacy Teacher at the Chelsea Center
We are so delighted to share some amazing news: the Chelsea Center is now serving and empowering 238 women through a variety of workshops, activities, events (including a talent show!) as well as basic literacy classes. Below are two of our recent celebrations.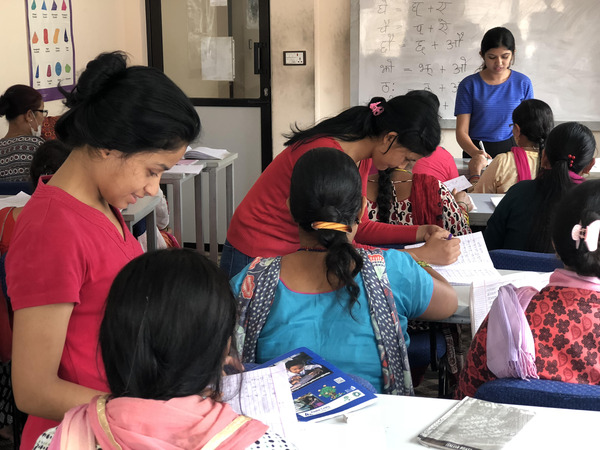 Celebrating the Teej Festival
On Sept. 8, the Chelsea Center celebrated Teej, which is a festival of dance. It is also one of the most important festivals for Nepalese women. The women students and teachers spent August preparing for the grand event, planning dance and music performances as well as poetry readings, speeches, decorations and a talent show.

During the talent show competition, we crowned our very first Mrs. Teej Chelsea Program, our own fun version of Mrs. Nepal. The competition was an opportunity for the women to show off their intellectual talents in a fun, casual environment. All of the students and teachers put enormous effort into putting on a wonderful show, making it a great success!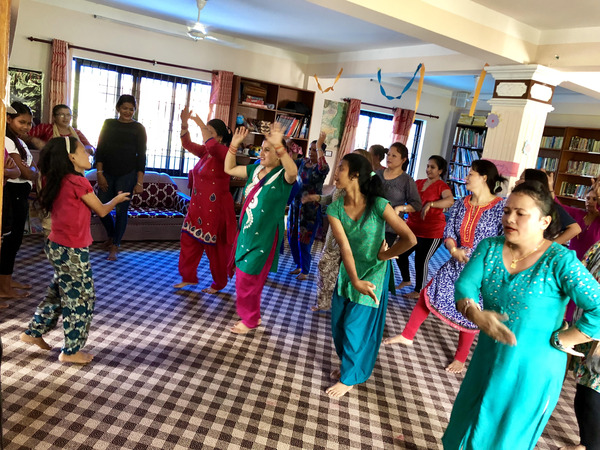 Exam Time!
After Teej, the Chelsea Center students got right back to work studying for their second terminal exam (Sept. 30 - Oct. 4). The women take their exams very seriously and do their best to be fully prepared. We wish them good luck and will share the results after their final exams.
---
Volunteer Spotlight: Maleny State High School
By Shreya Upadhyay
Abandoning the comfort of home to volunteer in a different continent is a life changing experience. The culture shock of encountering new food, new people and new places can be exhilarating and overwhelming at the same time. It was midnight on April 1 when 24 volunteers from Maleny, Australia joined our volunteer program for two weeks. Even though most of the students and chaperones were experiencing Asia for the first time, it felt like we were reconnecting with our family away from home. Everyone offered a familiar smile and their arrival rejuvenated our Volunteer House.

The group volunteered with us as a part of their school excursion program to Nepal. There were 14 students and 10 chaperons, altogether 24 volunteers, from Maleny State High School. As part of the program, they volunteered at two of our teaching placements, one of our orphanage placements and an elderly ashram. Apart from the volunteer placement, they also led different types of enrichment programs for the children at our summer camp, which took place at the Chelsea Center.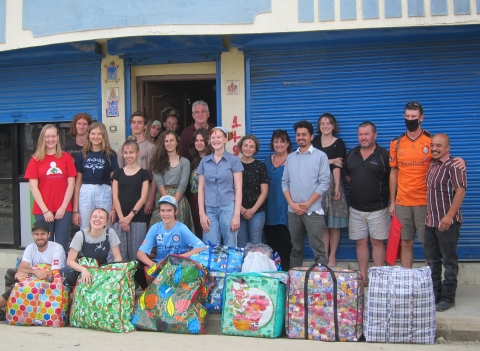 Two weeks passed in a blink of an eye! In our group meetings, the volunteers expressed being profoundly moved by their experience, how their senses had been awakened, and in reflection, they felt their perspectives on life encouragingly altered.

Today, it's already been 4 months since we bid them goodbye. However, we converse with them regularly and they admit to having a left a big part of their hearts in Nepal. For us, it's the love and dedication with which they came that added great joys to our lives and the lives of many more. To all the Maleny volunteers reading this, thank you for being our family away from home. We hope to meet you all again soon.
Earlier this summer, Volunteer Nepal also hosted a group of 19 volunteers from New York's HEAF Global Routes. The group stayed with us for a week and volunteered through teaching placements and the Happiness Center in Kathmandu, working with kids between the the ages of four and eight.
To all our other readers, if you are interested in volunteering as an individual or group then please write to us at volunteern@gmail.com.
NOH can accommodate groups from high schools, colleges as well as family or professional groups, such as medical, teaching or social work professionals. We are able to develop a custom itinerary to suit your talents and/or expectations.
---
---
THANK YOU FOR YOUR DONATIONS
Nepal Orphans Home receives no government support and relies on the contributions of individuals sharing our mission to provide for the welfare of children in Nepal who are rescued from slavery, orphaned, abandoned, or otherwise not supported by their parents.
Please help support our amazing kids by making a donation in any amount at our website. Get an inside look at Nepal Orphans Home for donation ideas.
If you would like to make a donation of stock, please contact Peter Hess at pehess@davidson.edu to obtain the routing number for our account.
Did you know?! You can contribute a penny for every internet search to NOH by designating Nepal Orphans Home as your cause on the GoodSEARCH search engine

Love to shop online?! Did you know, you can buy cool stuff on GoodSHOP while designating a percentage of what you spend to NOH?

Don't forget to follow us on Facebook and Instagram!