New Springs Community Weekly Newsletter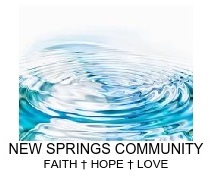 ---
From Pastor Corey
Hello Everyone,
Each year on February 14, many people exchange cards, candy, gifts or flowers with their special "valentine." The day of romance we call Valentine's Day is named for a Christian martyr and dates back to the 5th century, but has origins in the Roman holiday Lupercalia (source: History Channel).
Be honest, did you know Valentine's Day has a Christian connection? Nope, I didn't either! I thought it was a made up holiday where men try to make up for all the wrong we've done throughout the year. What other day do we spend unbelievable amounts of money on flowers? What other day is okay to bring your sweetheart a huge box of chocolates and expect her to eat every bite? I don't think the Bible relates cards, candy, gifts, and flowers to love. Sorry History Channel. The Bible in fact, describes love completely different.
1 Corinthians 13 is perhaps the most famous Bible passage about love, this one is frequently and understandably recited at weddings. But as with many well-known Bible quotes about love, it's not just romantic love that is being described:
"Love is patient, love is kind, love is not jealous, it does not boast, it does not become conceited, it does not behave dishonorably, it is not selfish, it does not become angry, it does not keep a record of wrongs, it does not rejoice at unrighteousness, but rejoices with the truth, bears all things, believes all things, hopes all things, endures all things." This is a clear description of Christ!
1 John 4:16-18 says "God is love. Whoever lives in love lives in God, and God in them. This is how love is made complete among us so that we will have confidence on the day of judgment: In this world we are like Jesus. There is no fear in love. But perfect love drives out fear, because fear has to do with punishment. The one who fears is not made perfect in love."
Now I'm sure your Valentine would enjoy a night out on the town, a card, flowers, candy, etc. Just make sure that those gestures are a token of your love and not the description of your love. Being patient, transparent, honest, kind, understanding, humble, appreciative, and not keeping score are far better descriptions of love and make a much bigger and lasting impact in your relationship. These attributes demonstrate Christ. Trust me, I know what I'm talking about. One year for Valentine's Day, I purchased a car for myself…I don't have to tell you how that played out with my Valentine. Haha, what was I thinking!
So I'm not sure what any of you are doing for Valentine's Day this year, I hope you have great plans that demonstrate your affection for the special person in your life. Just remember that if your Valentine can't see Christ in you; gifts, cards, candy, flowers, and a night on the town are only tokens that will never be the difference maker in your relationship. To develop real intimacy and unending love, Christ has to be at the center.
Happy Valentine's Day to all you romantics!
Pastor Corey
---
Third Sunday Potluck
We are discontinuing our Third Sunday Potluck. Come early on Sunday mornings for a time of fellowship. Enjoy coffee, donuts and fruit.
---
President's Day
The office will be closed on Monday, February 15, in honor of President's Day.
---
Children's Church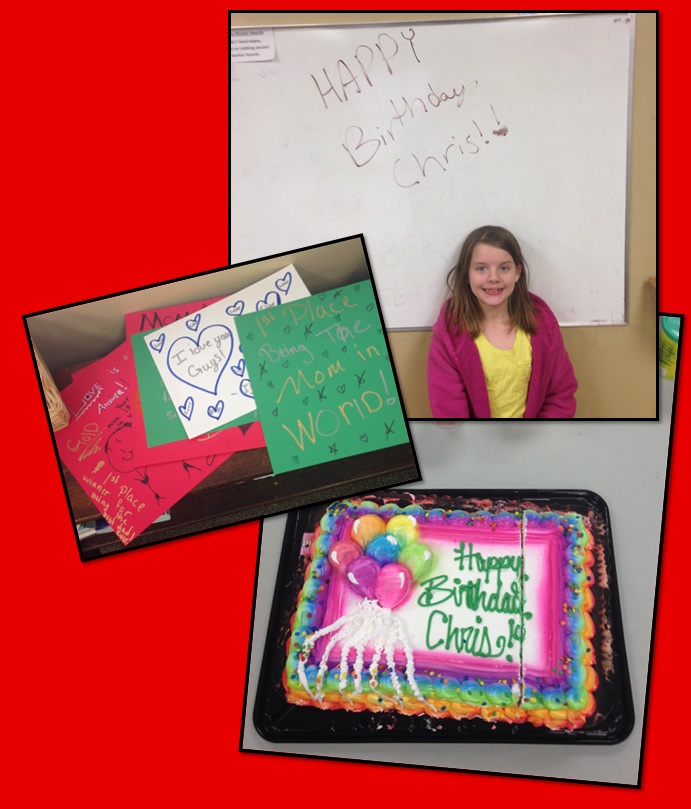 Last Sunday, the children had a lesson from the book of Ruth. They began making Valentine's Day presents for their families. It was also Chris Dudley's birthday. They were surprised with a generous gift of cake and punch!
Chris is one of our faithful teachers in our Children's Church.
---
Dr. Laura Voss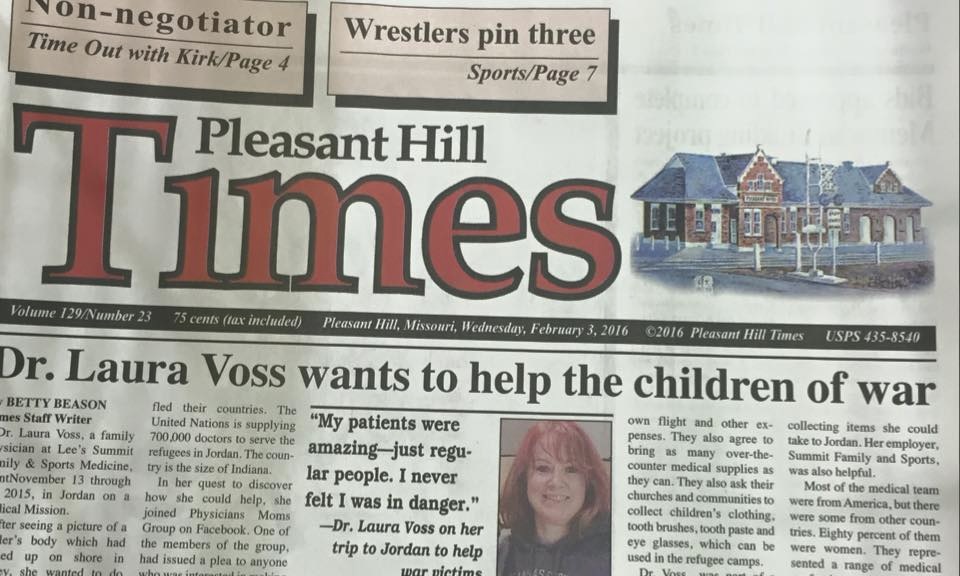 Dr. Laura Voss was featured on the front page of the Pleasant Hill Times. They shared her story about her recent trip to Jordan where she helped the Syrian refugees.
---
Congratulations, Cheyenne!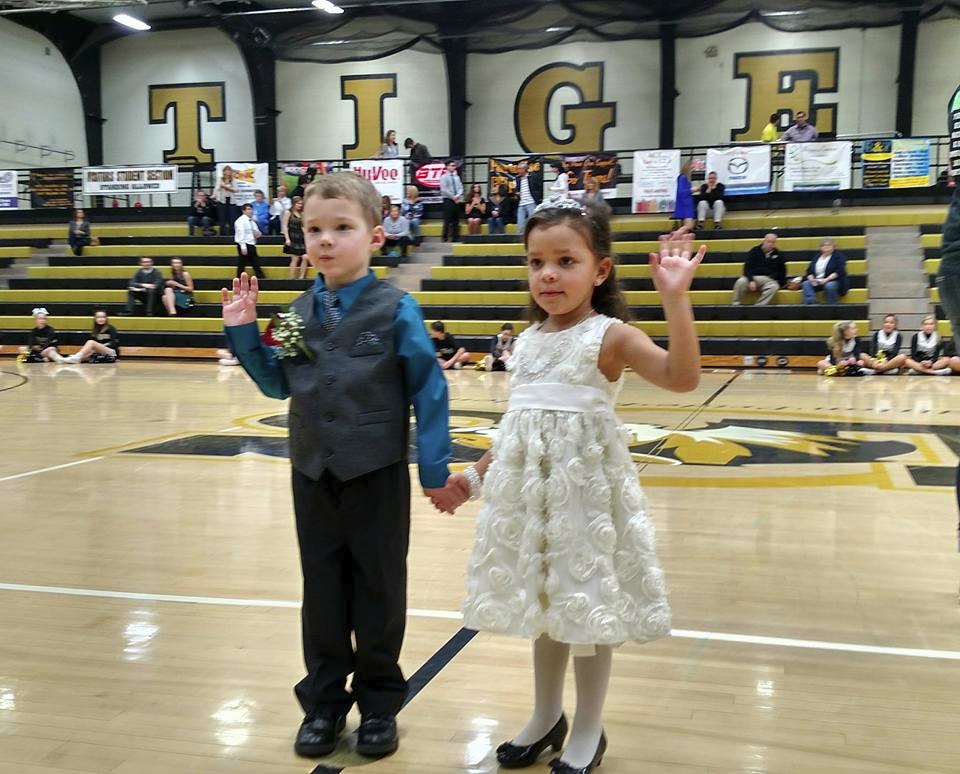 Cheyenne Sims was the Princess for Courtwarming at Lee's Summit High School recently.
Cheyenne is the daughter of Darnell and Tricia Sims.
---
Congratulations, Maddie!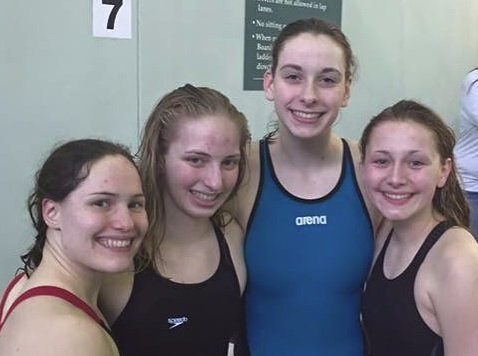 Maddie Hosick is a Junior at Lee's Summit West High School. She swims on their swim team and is having a great year. Maddie (pictured in blue) and her teammates set a school record in the 400 free relay at conference.
Maddie also got 3rd place and her state cut in the 500 free at conference! She will be heading to State on February 19 and 20!
Maddie is the daughter of David and Marsha Hosick.
---
New Springs Family
We love to celebrate with our New Springs Family. If you or your family have something to celebrate, please let Ronda know at
secretary@newsummit.org
.
---
Open Arts Night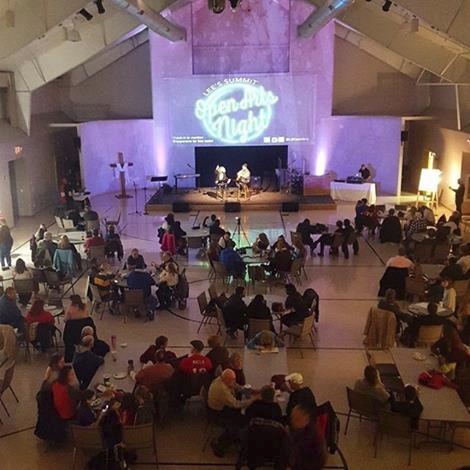 The next Open Arts Night will be Friday, February 19, at 7:00 p.m.
Invite your friends and family.
It will be a great evening filled with music and entertainment.
---
Community Groups: Doing Life Together
The most ancient spiritual practices seem to come back, again and again, to the basics: personal faith and discipleship; intentional practice of community; and acts of love and service. At New Springs we invite you to build these practices into your life and faith. Community Groups are forming for the winter of 2016. Here are your options:
Sunday mornings at 8:45, at 1800 NE Independence: Soul Keeping: Caring for the Most Important Part of You. This group is led by Pastor Dave, and is using a book of the same title by John Ortberg, a study guide, and weekly presentations by Dr. Ortberg on dvd. Six weeks.
Sunday evenings at 6:30 p.m.
We meet in different homes each week. Feb. 14 – Matt and Kacy Wood's home.
Topical study. Shamus Johnson and Bill Weatherbie
Sunday evenings for Youth, grades 6 and up: PULSE, meeting at 1800 NE Independence, from 6:00 – 8:00 p.m.
Tuesday evenings from 6:30 - 8:00 p.m. at New Town Bicycle and Coffee Shop in Pleasant Hill. Devotion and Bible Study (TBD). Ongoing. Mark and Sharon Gish, and Alan Voss
Wednesday evenings at 7:00 p.m. We meet in different homes each week. Corey McDonald
Wednesday evenings at 6:30 p.m. at church.
January 20 - March 23. Beth Moore study called Children of the Day.
Linda Palmer and Glenda Wild
Thursday afternoon "Lunch Bunch" at 12:45 p.m. February 18 we are going to meet for lunch at Ted's Cafe Escondido. Studying the book of Revelation. Charlotte Palmer and Donna Ramirez
Contact the church office, 816-246-7474, or secretary@newsummit.org, for more details or to sign up for one of our Community Groups.
---
PULSE Needs Your Help
We are looking for people to provide a light meal for 12 - 15 teens on Sunday evenings. Contact Jennifer Johnson at 816-347-1707 or
stampingjennifer@yahoo.com
.
---
PULSE Student Ministry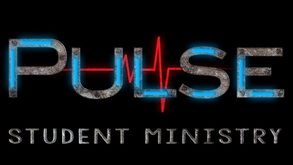 PULSE Student Ministry meets on Sundays from 6:00 - 8:00 p.m. All
6th Graders through College Sophomores are invited.
Join us for great music, time with other students, and of course, JESUS!
Mark your calendar! PULSE will not be meeting on the following dates:
February 14
---
IMPORTANT - Financial Contributions
Please continue to make out your financial contributions to New Summit Church. We are beginning the process of changing our name to New Springs Community but it will be a while before a new account is set up.
---
Did you know?