Weekly Newsletter - June 25, 2015
---
From Pastor Dave
Dear Friends,
No one will ever confuse me with an expert gardener. When it comes to landscaping, I generally operate under the "two for one" principle. I buy two plants and plant them. If in the back yard, one of the two will probably be eliminated by the dogs. If in the front yard, I'm likely to kill one of the two myself. This probably isn't the most affordable or effective strategy, but it seems to work. We actually have some shrubs and trees growing around our house.
I haven't done much with fruit and vegetables. Ronda has some herbs growing in pots on the deck, and we have two tomato plants. I've actually done okay with tomatoes, but last year one of our plants, in the dirt and not in a pot, just didn't produce. That's frustrating. You know, I just can't imagine planting a tomato for any reason other than, well, harvesting tomatoes. Maybe someone will come up with an alternative.
In Galatians, Paul is talking about what it means to live life by the Spirit of God. Such a life, he argues, would never be expressed in, "sexual immorality, impurity and debauchery; idolatry and witchcraft; hatred, discord, jealousy, fits of rage, selfish ambition, dissensions, factions and envy; drunkenness, orgies, and the like." (Galatians 5:19-21). Instead, a life lived by the Spirit of God looks like this: love, joy, peace, patience, kindness, goodness, faithfulness, gentleness and self-control." (Galatians 5:22-23) In other words, a spiritual life produces the fruit of the Spirit. Why else would you plant (start) such a life?
Now, imagine that I used my gardening strategy for my relationships with others. "You know, 50% isn't bad. I'll be kind to one person, and it won't matter what I say to the next. If I love this guy, I can really cheat the next one. If I hold my temper here, I can just explode over there." It seems crazy to even consider. If we lived that way we'd be constantly denying the very Christ in whom we believe.
Exactly.
This week you'll be offended over politics. This week you'll be annoyed at work, or at home. This week someone will have an opinion, and so will you. This week you'll experience pressure to choose a side. This week you'll have the opportunity to cross a boundary.
God "planted" us with the expectation that we would bear fruit. I challenge you to take a "fearless and searching moral inventory" (the language of the 12 step groups) of the fruit you're bearing. I challenge you to think and pray about what needs to happen to increase your production. I challenge you to choose at least one immediate step that moves you toward greater production.
Our world needs the fruit of God's Spirit, and we need it right now. We've been placed in our part of the world as a farmer's market, to distribute the fruit of God's Spirit to those around us.
In Christ's Love,
Pastor Dave
---
Pray for Matt Wood
Matt Wood will be having surgery on Wednesday morning, July 1, at KU Medical Center in Kansas City. For updates, please visit
Matt's Caringbridge page here.
Kacy posted this on Tuesday.
We have a plan!! Yay! So Matt is currently scheduled for surgery July 1st (not sure on the time) at KU Med here in Kansas City by a highly recommended neurosurgeon. The surgeon feels he can get out most of, if not all of, the suspicious area and in fact he is going to be a little aggressive and take out another section of the temporal lobe to make sure we get any remaining cancer cells that my be hiding there. This area as well as the area where the suspected tumor is will be fairly easy to get to and with little risk of deficits to Matt. That was great news!! Even better, we found out today that Matt has been receiving the placebo for the last two years he has been participating in the vaccine trial! This means he has been able to fight off this disease for two years with just the chemotherapy drug! Also, it means that now, for the next two years, he will for sure be getting the actual vaccine drug! We are excited since this is an up and coming treatment with success already!...

continue reading Kacy's post here.
---
From Coldwater Lee's Summit Facebook page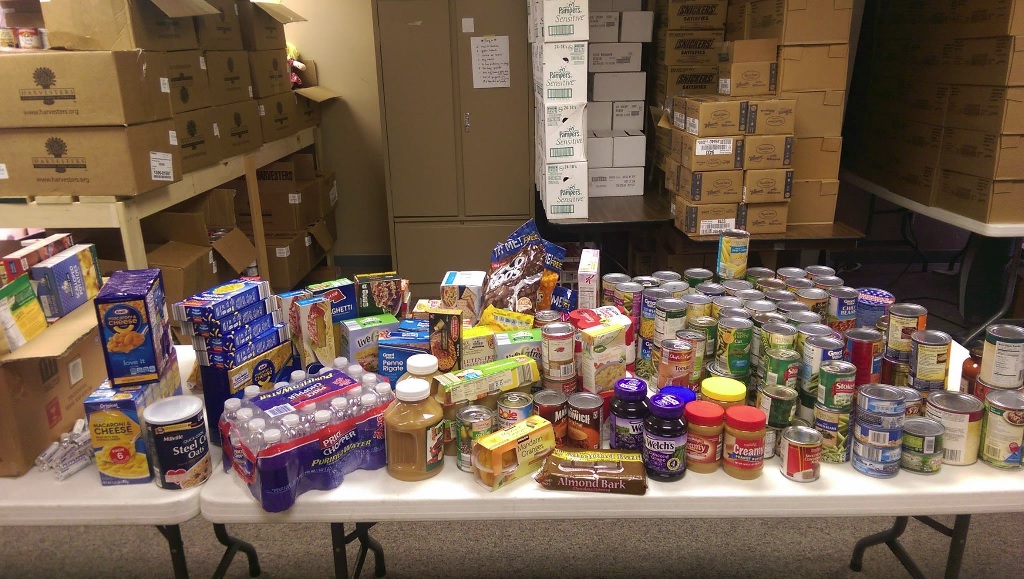 Coldwater of Lee's Summit posted this on their Facebook page:
New Summit Church and Summit Springs Community Church teamed up for an Open Arts Night featuring many different talents on Friday June 19. Those who attended the event were asked to bring a food donation for Coldwater. Thank you for helping Coldwater serve those in need in our community. We really appreciate our church friends!
---
Open Arts Night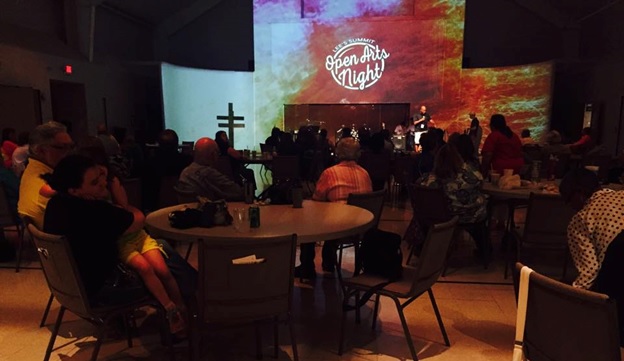 Open Arts Night was a wonderful evening. We had a fabulous turnout!
Over $100 was raised for Coldwater along with a whole lot of food.
Check out the
Lee's Summit Open Arts Night
Facebook page here
. Be sure to "Like" the page to get all the updates.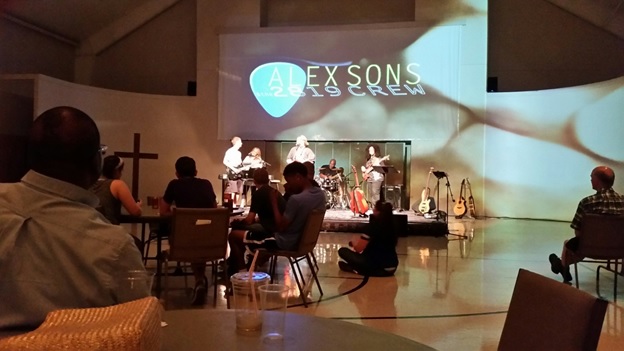 It was a great evening of fellowship, worship and celebration!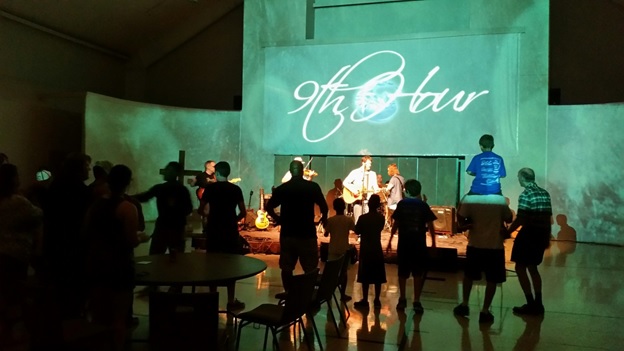 The next Open Arts Night will be July 24 at 7 p.m. Be sure to put this on your calendar!
From Lee's Summit Open Arts Night Facebook page:
Last night we showcased an incredible night of talent and we appreciate everyone that came out to support the artists and the event. We are looking for even more talent! Do you know someone that can dance, do poetry, spoken word, tell jokes, sculpture, drawings, etc.? We are looking for all types of art, so please help get the word out to the community. We are looking forward to July 24th!!
---
Free Children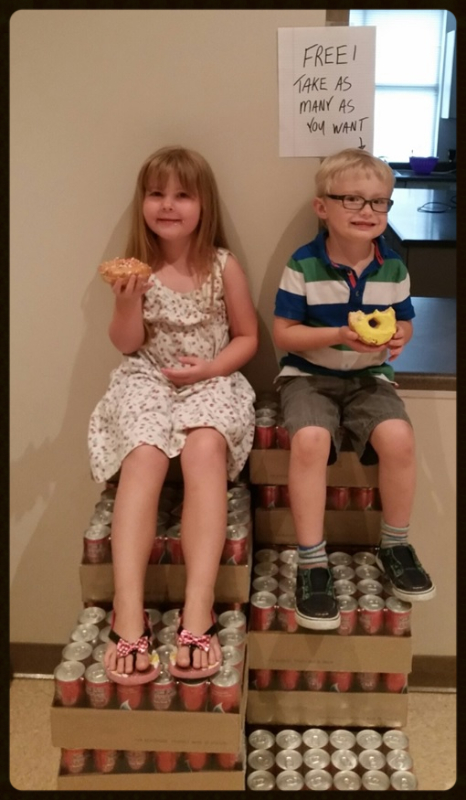 Iana and Isaac found a great seat to enjoy their donuts after church on Sunday!
Aaron Heilman, owner of A Dawg Distribution, has been giving away cases of Pur, a new energy drink. Thank you, Aaron, for your generosity.
Several of us appreciated the double meaning of the "Free" sign above the kids' heads!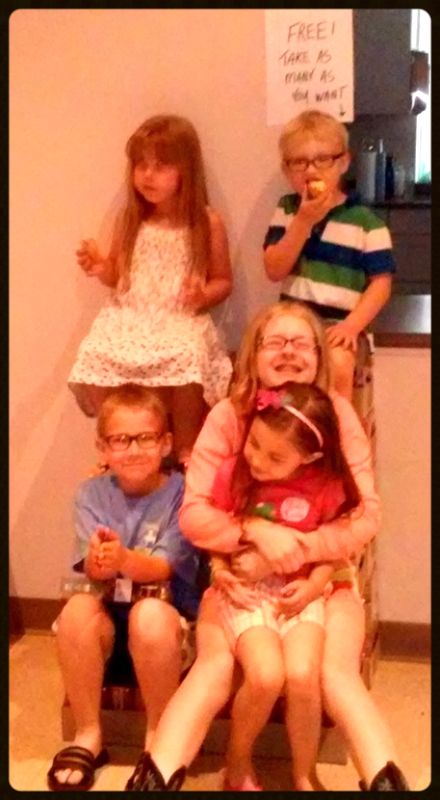 ---
Vacation Bible School
Cornerstone Church (next door) has invited our children to attend their Vacation Bible School. They would love to have anyone come. Everyone is welcome!
July 20 - 22 from 9:30 a.m. to Noon.
Lunch will be served at 11:30.
The theme is "Mystery of the Lost Scroll" and they will be looking at King Josiah who was an 8 year old king.
There is no cost to attend.
For more questions or to sign up, contact Vicki Bullard at 816-820-1564 or Cornerstone Church 816-246-5000.
---
Office Hours
The secretary will not be in the office on Wednesday and Thursday, July 1 and 2.
---
Sermons online
Pastor Dave and Pastor Corey's sermons are online.
Click here to listen.
If you weren't in Worship on June 7 or 14, please listen to Pastor Corey and Pastor Dave's sermons.
June 7 - A Moment of Encounter, Transformation and Decision - Dave Moore
June 14 - How Does God's Kingdom Advance? - Corey McDonald and Dave Moore
---
Help Needed!
Summer is upon us!! With everyone's travel schedules, there are TONS of opportunities for new blood to volunteer in the Nursery and Children's
Church!! If you've never volunteered and have questions, don't hesitate to ask! You can email Nicole at
nwoodworth@gmail.com
, or give her a call at 816.419.6002. Thanks!!!