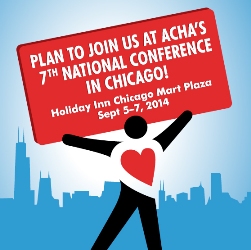 You are invited to attend ACHA's 7th National Conference being held September 5-7, 2014 in beautiful Chicago!
As we prepare to plan for the conference, we want to hear YOUR suggestions on topics or activities you would like to see in the schedule. Please share any ideas—for instance, medical topics, group activities or roundtable suggestions.
To provide your feedback, simply reply to this email and we will take the most common ideas into consideration while planning the schedule.
You may also follow and leave your feedback on our 7th National Conference Facebook page.
Thank you in advance, and hope to see you in Chicago!