The Congenital Heart Walk is coming to three locations in California this spring!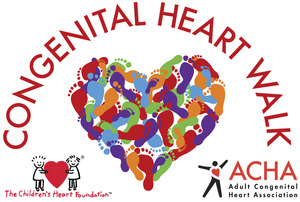 The Congenital Heart Walk is an ongoing national effort between the Adult Congenital Heart Association (ACHA) and The Children's Heart Foundation (CHF). Our walks are designed to raise awareness and vital funds to help us continue our missions of addressing the needs of both the newly diagnosed and long-term survivors of congenital heart disease.
In 2012, thousands of individuals and hundreds of teams came together at 23 sites across the country to show the world it is time to fight CHD. Last year, the Congenital Heart Walk raised more than $1,000,000, but we could not have done this without the help of our dedicated committee members and volunteers!
Are you interested in contributing to one of these amazing events in California? Below you will find event details and information about getting involved!
Sacramento – Saturday, April 27, 2013
Southside Park – Sacramento, CA
Greater Los Angeles – Sunday, June 9, 2013
Griffith Park, Los Angeles, CA
San Francisco Bay Area – Saturday, June 15, 2013
Lakeside Park, Oakland, CA
Start a team: Get registered online today by visiting your local event's webpage and clicking "Walker Registration."
Volunteer: If you are interested in volunteering on the committee or at this event, contact the ACHA office (215-849-1260) for more information.
Spread the word: Pass this email along to others who might be interested and ask them to join you on walk day!
For more information, contact the ACHA office (215-849-1260).