APRIL 2013
Springing Forward Indeed: Welcome, Elenor!

The Studio Potter is pleased to announce that Elenor Wilson has been appointed to the position of Associate Editor. Elenor is already familiar with the workings of SP, having been an intern here in the fall of 2008, during her graduate school years at SUNY New Paltz. More recently, she has been on the other end of the editorial process as the author of an article in the current issue, about her job teaching English in Taiwan ("No, I'm a Ceramic Artist"), and was a recent resident at Anderson Ranch.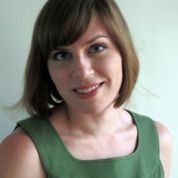 Elenor writes: I was first introduced to The Studio Potter through an assistantship with John Glick and was instantly taken with the wealth of information and sense of kinship among potters that the publication held. The conviction that sharing ideas and practices among potters through writing is essential to our field was deepened by reading SP articles, and kindled my interest in somehow being involved it its production. After having spent the last three years living and working in Taiwan, I am thrilled to be returning to the States and its ceramics community in an immersive way. I welcome the responsibility of promoting a provocative discussion about the issues in the field of ceramic art and look forward to connecting with the makers, educators, critics, historians, scholars, and fans that comprise it. In other words, I'm totally stoked to meet you!
More, Forward:
Mary is absorbed in editing the next journal. Theme: Indigenous.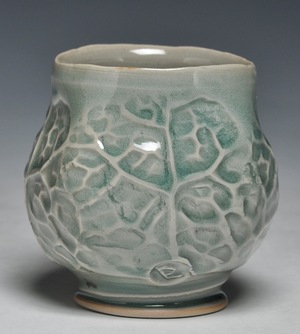 Dick Lehman, Kale Cup. From Vol. 41, No. 2: Indigenous


NCECA Winning Results
Great to see "our people" who stopped by The Studio Potter table in the Resource Hall at
NCECA last month. The raffle was a great success. Thanks to Mel for donating her plate, and to Cynthia and Hollis for donating from their collections.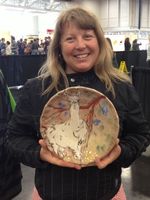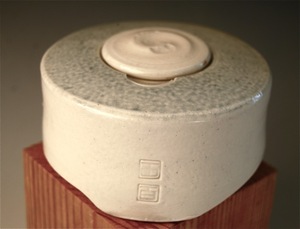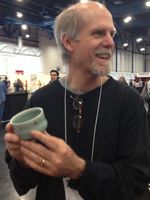 Karin Solberg, This Byron Temple lidded jar was
Jim Lawton, of UMass-Dartmouth,
of Red Lodge Clay Center,
won by Karen Kuff-Demico
winner of Malcolm Davis yunomi.
with her winning Mel Griffin plate.
of Vestal NY
His prize included Studio Potter,
Vol. 32, no.1 with the interview
"Malcolm Davis: Shino Warrior."
.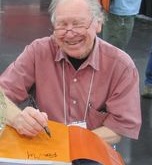 Ron Meyers, graciously signing his catalogue
at our table at NCECA
.
NCECA Student Award Winners
The Studio Potter sponsored awards in the annual K-12 exhibition, and the National Juried Student Exhibition for undergraduate and graduate students. Each winner recieved a one-year subscription to The Studio Potter. Congratulations!

Maxim Augustine, Grade 6, Erie PA. "Sculptural Dog," teacher: Susan Hunter.
Lucas Downes, Grade 12, Maize KS. "Irant Teapot," teacher: Debi Cox.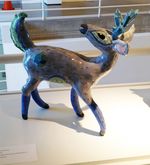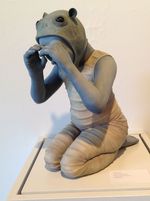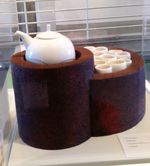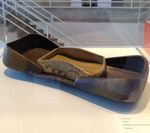 Samantha Bachman, Michelle Laxalt,
Noreen Nori,
Brian Pierce,
Undergraduate Award
Undergraduate Award
Graduate Award.
Graduate Award.
"Untitled" "To Each Our Own."
"Gathering"
"Untitled"
The Studio Potter Online
Yes, you can now read sample articles from the current issue on line. How could you have missed this? But you may have, and we'd like more feedback. So go to our website, and click on "digital sample" in the left-hand column. Then, comments welcome
here!
Back Issue Update
In the interest of memory refreshment, member Patty Savignac has made a donation of her collection of SP magazines to the Craft in America Study Center. The complete set was missing only three issues: Vol. 19, nos. 1 and 2, and Vol. 20, no. 2. If you can help complete this set, please contact Patty.

AKAR Yunomi Show
The Studio Potter is once again partnering with AKAR in their 2013 Yunomi Invitational Show. We are extending a huge THANK YOU to the artists who are donating proceeds from the sale of thier work to The Studio Potter. More info at the AKAR site, or click on our facebook page below.

Josh Deweese yunomi
Objective Clay
...is the name of a website started by presenters at the
2012 Utilitarian Clay Conference
at Arrowmont. It was a response to the need to share ideas and new work. Check it out
here
.
Support Pages
Here are the businesses and organizations from our current issue of the Support Pages. Please support them as they support us. These can also be found, with their beautiful photos, in our online sample.
Skutt Kilns, Portland OR skutt.com

Paragon Industries, Mesquite TX paragonweb.com

Plinth Gallery, Denver CO plinthgallery.com

Brent Wheels and Equipment. www.brentwheels.com

rascalware.com

L&L Kilns MFG., Swedesboro NJ hotkilns.com

Mile High Ceramics, Denver CO milehiceramics.com

Smith Sharpe Fire Brick Supply, Minneapolis MN kilnshelf.com

Bailey Pottery Equipment, Kingston NY baileypottery.com

Larkin Refractory Solutions, Lithonia Gallery larkinrefractory.com

Master Kiln Builders, Farmington MN kilnbuilders.com

Sheffield Pottery, Sheffield MA sheffield-pottery.com

Ceramics Art and Perception, Sheridan WY ceramicart.com.au

Old Poag Clay and Glass, Edwardsville, IL oprcng.com