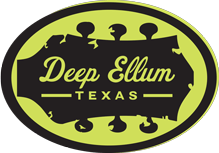 ---
DEEP ELLUM TEXAS NEWSLETTER
---
D2 DEEP ELLUM SUBWAY RALLY - AUGUST 15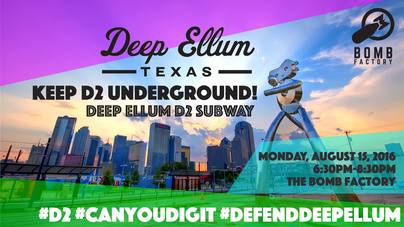 DART hasn't set up a
public meeting
for Deep Ellum so we're making our own! Come out to The Bomb Factory for a panel discussion about DART D2 and what it means for Deep Ellum. This is your chance to stay informed, grab a t-shirt to show support, and enjoy some delicious Deep Ellum food and drinks for FREE! The entire event is free. Please RSVP and share this event! Whether you can make it or not, be sure to sign the
online petition
.
#D2 #CanYouDigIt #DefendDeepEllum
Brought to you by the Deep Ellum Foundation and the Deep Ellum Community Association.
---
REIMAGINE CROWDUS - SEPTEMBER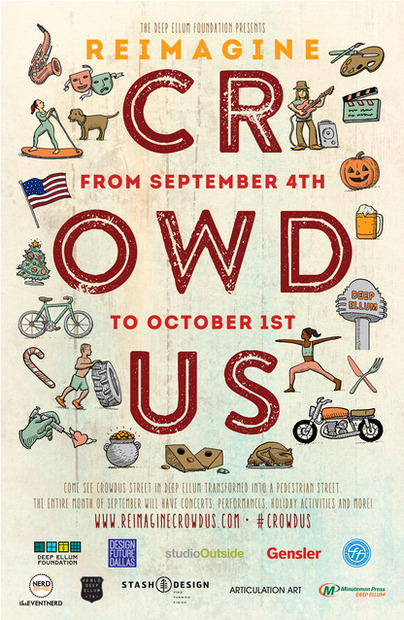 Come see Crowdus Street in Deep Ellum transformed into a pedestrian street for the entire month of September!! We will have concerts, performances, holiday festivities and more! Get ongoing updates through our
Facebook event
. And find more information at
www.reimaginecrowdus.com
#crowdus
---

It's finally here, our next Kid's Workshop and we could not be happier! Our Kid's Workshops help to engage families to get creative together with their community and local Dallas artists. Please join us and partner with the Latino Cultural Center to bring you this event that is free to attend for the whole family! August 13, 2016 from 12pm-4pm.
---
FOUNDATION 45 - AUGUST 13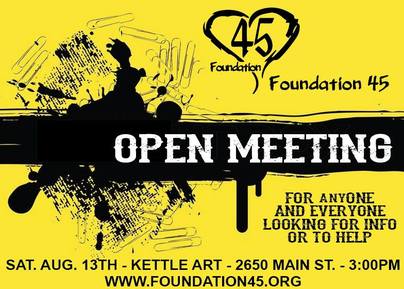 An open meeting for anyone and everyone interested in more information or looking to help Foundation 45. August 13th from 3pm-4:30pm.
---
LOCAL HUB BICYCLE CO. - AUGUST 20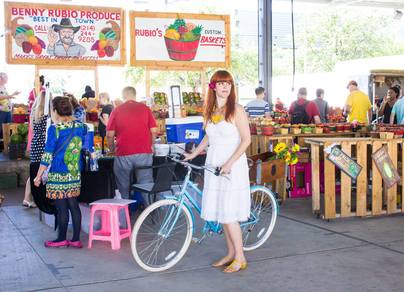 Local Hub will be heading to the Dallas Farmers Market on August 20th. Our mechanic will be demonstrating basic bio maintenance and doing free safety checks from 9am-1pm. Join us for the casual social ride that starts at the shop at 9:30am and ends at the Farmers Market just in time for the 11am class on How to Shop at the Market by Bike.
---
DEEP VELLUM BOOKS - AUGUST 15
The Dallas Institute of Humanities and Culture and Deep Vellum Books invite you to join us for a reading of Featherbone and Fardwor, Russia! Stay for a conversation with Erica Mena and Will Evans about what we write, what we translate, and what we publish. August 15, 2016 from 7:00pm.
---
DEEP ELLUM BREWING COMPANY - SEPT. 10
Who's ready for a
Deep Ellum Dallas Blonde Run
?! Our first 5K run at our brewery! High heels, an overabundant amount of makeup, short dress and perfume are not required. This is your chance to express your inner blonde! You could be crowned Dallas Blonde 2016! Come for the 5K run, free finish line photos, Justin Pickard Music, two cans of Dallas Blonde Beer, Unique Dallas Blonde Age Group Awards, and a Dallas Blonde t-shirt! Course will start and end near Deep Ellum Brewery.
Register now online
! September 10, 2016 at 8:00pm.
---
KIRK HOPPER FINE ART - THROUGH AUGUST
Kirk Hopper Fine Art is excited to announce our upcoming group exhibition, SLIPSTREAM. Curator Susie Kalil has assembled artists who use drawing in the

most direct and confrontational manner. The exhibition will feature works from Jorge Alegria, Lois Dodd, Bill Haveron, Mary Jenewein, Angelbert Metoyer, Lynn Randolph, Noriko Shinohara, James Surls, Emmi Whitehorse, and Roger Winter. Visit the exhibition at 3006 Commerce Street.
---
Zipcar has come to Deep Ellum! Located behind Cafe Brazil on Malcolm X between Elm and Gaston. Cars are now available starting at $8.50/hour with gas, insurance, and 180 miles included in your reservation. Save $60 when you join now for only $35 and NO application fee - just for being on the Deep Ellum newsletter!
---
---
---



A Project of the Deep Ellum Foundation & the Deep Ellum Community Association