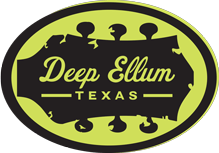 ---
DEEP ELLUM TEXAS NEWSLETTER
Grand openings, art, and classical music are in store for Deep Ellum over the next few weeks!!
---
DRUGSTORE COWBOY - GRAND OPENING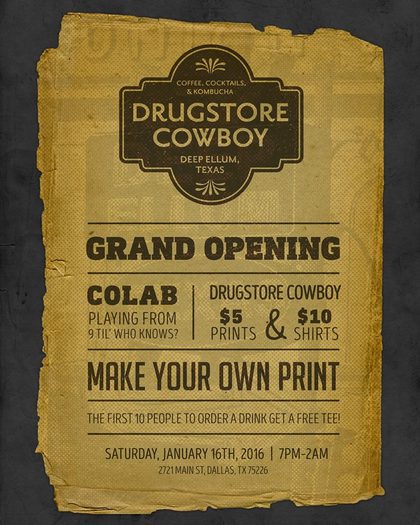 Deep Ellum welcomes
Drugstore Cowboy
to the neighborhood!! They have coffee, cocktails, and kombucha. Check them out at their
Grand Opening
tomorrow night from 7:00-2:00am at 2721 Main Street.
---
NEW SOUR BEER - DEEP ELLUM BREWING CO.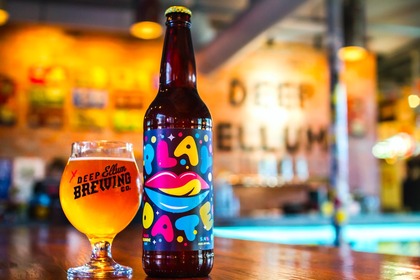 Deep Ellum Brewing Company's
2nd batch of Play Date is now available! A juicy Sour Dallas Blonde Ale with notes of sun-kissed fruit, lemon, citrus and melon. Earthy tea presence of the dates plays well with acidity to create an ale that is truly free-spirited and unique in character. Shy of puckering, the resulting tartness is our homage to an unforgettable first kiss. Pick it up at any specialty beer store or the Taproom!
---
DEEP ELLUM WINE WALK - JANUARY 21

2016 is off to a sizzling start! Celebrate the glorious ladies of pin up fame at the
Deep Ellum Wine Walk
with a limited edition glass, and enter the first-ever Mr. & Ms. Deep Ellum Wine Walk contest. Prizes, crowns, and bragging rights to fame and glory await.
---
LOUIE LOUIE'S PIANO BAR IS OPEN!!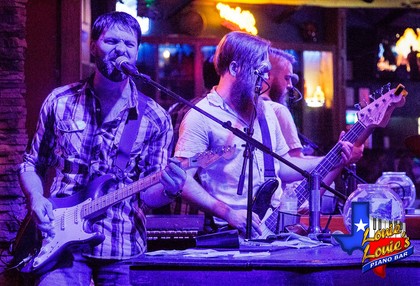 Deep Ellum welcomes
Louie Louie's
to the neighborhood! Go see what music, drinks, and fun are in store for this weekend!
---
LOCAL HUB GRAND OPENING - JANUARY 30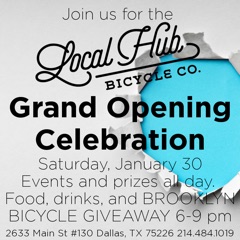 Join them during the day for events and giveaways and at night for the real party with drinks from Community Brewery and Shinola, food from The Tamale Company, and special guest Ryan Zagata, owner of Brooklyn Bicycle Company.
Ryan will be giving away a Brooklyn Bedford Bicycle! Stop by and meet Ryan and the rest of the Local Hub team.
---
COMMON DESK - DEEP ELLUM LEGEND MURALS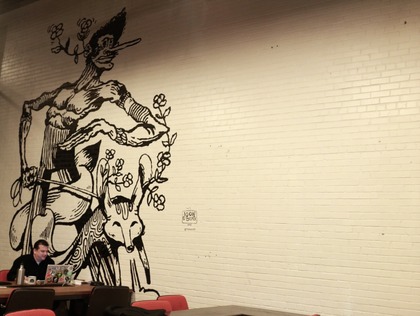 Common Desk
recently added new features in its space to celebrate a new year of coworking. Among these additions are chatrooms, a new reception area, and new artwork, including a giant mural and portraits of Deep Ellum legends, all done by local creatives. Feel free to drop by and check them out!
---
FOR THE LOVE OF KETTLE - FEBRUARY 6

For the Love of Kettle is a One-Night-Only, annual fundraiser allowing Kettle Art Gallery 51 weeks a year of eclectic, North Texas based, cultural programming. Over one hundred and fifty, 9"x12" works will be available for just $50.00 each. There are no previews or pre-sales available to anyone, so please get there early and grab a place in line. Doors open at 7:00PM.
---
STEUART PINCOMBE AT ALLGOOD - FEBRUARY 10

Internationally recognized Baroque cellist Steuart Pincombe will be at AllGood Cafe on February 10 at 8:00pm as part of Open Classical - DFW's"Music in Familiar Spaces" Tour. Come enjoy the show!
---
DEEP ELLUM IN THE NEWS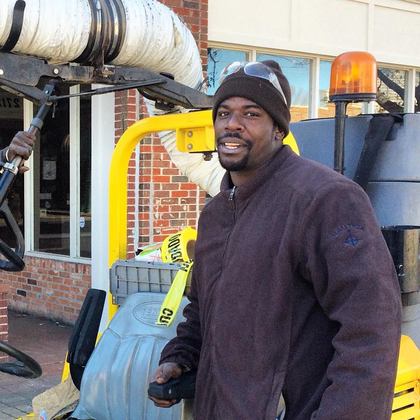 Meet Jamal, Deep Ellum's master of maintenance! He works hard to get the streets of Deep Ellum clean! Give him a wave next time you pass him on his Madvac . . . New co-working space slated to open in February . . . Muscle Memory Dance Theatre will be preforming February 6 . . . Taste of Deep Ellum walking tour next Saturday . . . City Surf offers unique workout classes . . .and Club Dada celebrates the fifth anniversary of its second coming . . .
---

Deep Ellum Community Association is an all-volunteer non-profit.
Contact DECA
Follow Deep Ellum news on our
Facebook
page (25,000 likes and growing!).
---



A Project of the Deep Ellum Community Association