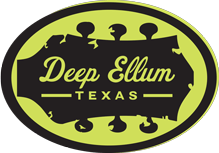 ---
DEEP ELLUM TEXAS NEWSLETTER
---
REIMAGINE CROWDUS - SEPTEMBER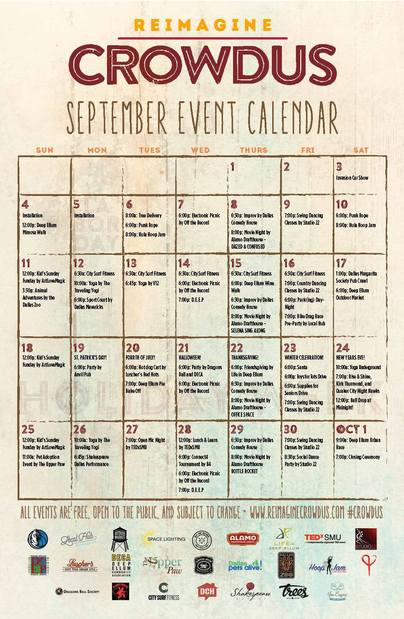 Come see Crowdus Street in Deep Ellum transformed into a pedestrian street starting September 4th!! We will have concerts, performances, holiday festivities and more! Get ongoing updates through our
Facebook event
. And find more information and a full event calendar at
www.reimaginecrowdus.com
#crowdus
---
FIRST SUNDAY AT SONS - SEPTEMBER 11
The September First Sunday will be on September 11th at 6:30pm at Sons of Hermann Hall at 3414 Elm Street. Scott Rohrman of 42 Real Estate will tell us about his plans for developing the south side of 2900 Canton into a new apartment building. If you want to know what's going on in Deep Ellum, come to First Sunday at Sons!
---
THE BOMB FACTORY - SEPTEMBER 1
AXS TV CONCERTS HOSTED BY MARK CUBAN: Free show with ticket! This event is all ages. First come first serve entry.
Whose music has been featured at EVERY major sporting event in the world including the Super Bowl, World Series, Conference Championships, the NBA, Collegiate Bowl Games, National Championship Games, the NASCAR racing Circuit and Championships, The World Cup, The Indianapolis 500, The Kentucky Derby, EVERY Holiday Parade including the famous Macy's Thanksgiving Day Parade, and the Tournament of Roses Parade, Political Party Conventions, Presidential

Campaigns

and nearly EVERY wedding, confirmation, and bar mitzvah in the world? Whose music has been featured on more than 200 motion picture film soundtracks? He has been called the "Founder of the Dance Revolution." He is Harry Wayne Casey, better known as the founder and leader of KC and The Sunshine Band.
September 1, 2016 from 6:30pm-8:00pm.
---
DEEP ELLUM BREWING COMPANY - SEPTEMBER 4
Our 5th Annual Labor of Love Homebrew Festival is this Sunday! It's your chance to sample creative offerings from 50+ local homebrewers and listen to some great tunes by Casey Daniels Band! We're dog friendly, there will be plenty of food from trucks and our own Taproom Kitchen, and it all begins at 6:00pm. #LoveRunsDeep Register to attend at www.lolhomebrew.com.
---
DEEP ELLUM BREWING COMPANY - SEPT. 10
Who's ready for a
Deep Ellum Dallas Blonde Run
?! Our first 5K run at our brewery! High heels, an overabundant amount of makeup, short dress and perfume are not required. This is your chance to express your inner blonde! You could be crowned Dallas Blonde 2016! Come for the 5K run, free finish line photos, Justin Pickard Music, two cans of Dallas Blonde Beer, Unique Dallas Blonde Age Group Awards, and a Dallas Blonde t-shirt! Course will start and end near Deep Ellum Brewery.
Register now online
! September 10, 2016 at 8:00pm.
---
LOCAL HUB BICYCLE CO. - SEPTEMBER 16
Just Ride Dallas and Local Hub have teamed up to bring you a bike party in the heart of Deep Ellum sponsored by Red Bull, PBR, and Durty Laundry. Event kicks off with a social

ride at 7:30pm starting at Local Hub. Gold Sprints start at 8:30pm on Crowdus. Entry fee for the Gold Sprints is $5 and all proceeds go towards funding a book bike for the Dallas Public Library. September 16, 2016 at 7:00pm.
---
DEEP VELLUM BOOKS - SEPTEMBER 27
Open Letter Books, in partnership with Deep Vellum Publishing, celebrate Danish author Josefine Klougart's English-language debut, One of Us is Sleeping (Open Letter), and her second English-language publication, Of Darkness (Deep Vellum), with an event on Tuesday September 27 at Deep Vellum Books at 3000 Commerce Street from 7:00pm-9:00pm.
---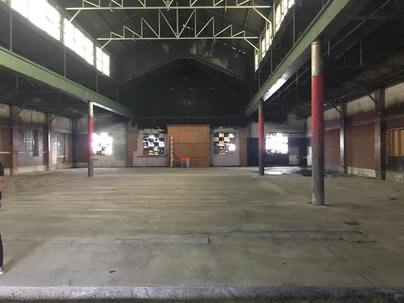 ---
---



A Project of the Deep Ellum Foundation & the Deep Ellum Community Association