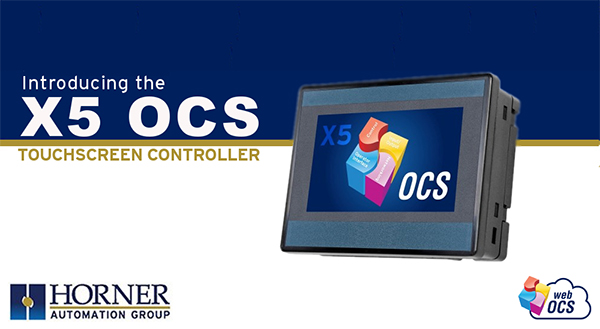 Defining industry standards through a wide aspect colour screen, fixed Built-in I/O and good performance. This 4.3" wide aspect screen is very friendly, intuitive and clear. By incorporating our "pop out" soft keyboard technology, you can use the entire screen to illustrate your specific applications and then "pop out" special function keys as required.
When it comes to performance, resolution and technical capabilities, the X5 provides more than expected for its size. Yielding fast processor speeds, a suite of capabilities similar to our established XL line of products with proven success across an array of commercial and industrial applications. In the market of fixed I/O, web-compatible controllers, the X5 is among the class leaders.
In an effort to make Horner OCS controllers as seamless and user-friendly as possible, we have selected a streamlined set of fixed on-board I/O. 4 digital inputs, 4 digital outputs and 4 analogue inputs make automating your applications simple with a single product.
The simplistic overall design of the X5 is at the forefront of leading technology. The state-of-the-art design, coupled with economic efficiencies position the X5 as more than a technological milestone – it's a competitive industrial leader.
The X5 really packs a big picture into an overall small package.