"Clothes are inevitable. They are nothing less than the furniture of the mind made visible." James Laver, Style in Costume
Greetings Pat!
Are Orphans and Black Sheep Living in Your Closet?

When you open your closet, how do you feel? Overwhelmed, frustrated, downright disgusted? Maybe orphans and black sheep are living in your closet. Read more here.
Inspired Style--Top Image Experts Reveal Strategies to Always Look and Be Your Best.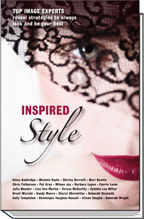 Copies will be here anyday. Some of the topics covered are The Yin and Yang of Style, Looking Great at Any Age, Stepping Out of Sweatpants and Into Style, Secrets of a Stylish Yet Savvy Shopper.
An except from the book--"Clothing sends unspoken messages both to ourselves and to others around us. Yang style clothing sends the message that the wearer is professionalk, authoritative, formal, bold, and sophisticated. Yin style clothingsends the message that the wearer is receptive, informal, friendly, and warm."
Book and hold your color analysis or Univeral Style consultation during the months of May or June and receive a signed copy free. Call 510-593-8805 or email pat@patgrayincolor.com to set your appointment.
Not ready for an appointment, order here.

Your Personal Makeup Colors.

A new service offered by Pat Gray in Color Image Consulting. Do you know that your best eyeshadow colors have nothing to do with what you are wearing? Find out what makeup colors--foundation, eyeshadow, blush and lipstick--are best for you. Bring your makeup and we'll go through it to decide what works best with your personal coloring. Keep the best and throw out the rest. $50, 60 to 90 minute appointment.

Now You Can Order Integrity Makeup Online.

For your convenience, you can now order Integrity Makeup online and pay with your credit card or Paypal account. Click here to order your favorite products from this line designed to match Your Personal Colors.
Don't see the exact shade you want? Call and I'll see if I can get it for you.

Join me on my fan page on Facebook. Get tips, links, and videos on current fashion and style topics. Click here to join.

Pat Gray, Ph.D., AICI FLC
Certified Image Consultant
Co-author of upcoming book "Inspired Style"
pat@patgrayincolor.com
www.patgrayincolor.com
510-593-8805

Just in Time for Mother's Day

Mother's Day and graduations are just around the corner. Here are some great opportunities for you to give, request, or just treat yourself.

Pat Gray in Color Image Consulting. Give or get the gift of beauty. Mother/daughter color analysis are very popular and a lot of fun. Gift certificates are now 20% off until Saturday, May 8, 2010. Or consider giving a copy of my new book, Inspired Style.

Carlisle Trunk Shows. I have fallen in love with these clothes. View video of the Spring 2010 show here. Two opportunities to view the Summer 2010 Collection.

In the South Bay and on the Peninsula, May 4th through May 11th. Contact Cindy Zuccarino at 408-741-7007 or 408-202-3471. View her newsletter here.

In the East Bay, April 24th through May 9th. Contact Marj DeRoeck or Carolyn Woodworth at The Image Studio, 925-299-0660.

JanKos Trunk Show. Another great clothing line. View video of the Spring 2010 show here. May 5th through May 15th. Contact Adena DiTonno at 415-729-1008.


Petra Class Jewelry Trunk Show. At SmithAldar, Santana Row. Some of the beautiful pieces can be seen by clicking here.

Jewelry by Marilyn Weller. Order online. Use discount code patgrayincolor to receive a 20% discount

Vintage Jewelry by Barbara Kiltz. Fabulous vintage pieces. Barbara will adjust necklaces for length and clip earrings for comfort.
April 24th,9:30 am to 4:00 pm--San Jose Women's Club Home Tour, 75 South 11th St., San Jose, CA 95112.
May 6th and 7th, 9 am to 6 pm, May 8th, 9 am to 2 pm--N'Style Salon, 1154 Saratoga Ave., San Jose, CA 95129, located in the Maple Leaf Plaza.
.