"Fashion fades, style is eternal." Yves St. Laurent.
Greetings Pat!
You are receving the first issue of Color and Style, because you have been one of my clients in the past or you recently opted-in. I'd like to keep you up-to-date on what's happening in the world or color and style; introduce you to tips, resources, and new products; and inform you of special promotions.
Want more information? Follow my blog. Or find me on Facebook.
Introducing Integrity Color Cosmetics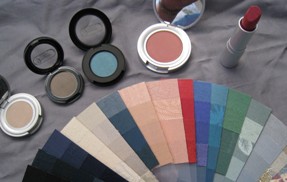 * Specially designed to coordinate with the Appearance Design Color System.
* Find all the right colors in one place.
* Only available from 2 consultants.
* Mineral foundation, blush, and eyeshadow.
* Lipstick, lipliners, eyeliners.
* Tinted moisturizers, primers (face, lip, eye).
* Skin care coming soon.
* Limited time offer-no professional fees and 20% off purchase. No need to have had a color analysis.
Call 510-593-8805 now and book your free makeup lesson.

* Color Analysis
* Style Consultation
* Make Lessons
* Professional Dress
Pat Gray
Image Consultant
pat@patgrayincolor.com
510-593-8805

Summer Vacation Packing Tips
Plan ahead. Don't wait until the last minute to think about packing. What's the climate--warm, cold, rainy? Will you need both business and leisure clothes? What activities will you participate in? You don't need to pack days in advance, but you do need to know what you need to take and make sure all has been laundered or dry cleaned, repaired, if necessary, and is ready to go.
Think capsule. Every piece you take should go with every other piece. The only exception is evening wear. Plan 5 to 10 pieces. A good start is 3 bottoms, 3 tops, and 2 jackets. Skip the jackets and substitute one shawl if going to somewhere warm. Will you need two capsules--one business, one leisure? The number of garments you take depends on the length of your trip. A good rule of thumb--each garment should be worn at least twice.
Pare down. Minimize. 3 pairs of shoes, max. Athletic, casual or business, dressy. If you've planned your capsule correctly, you won't need a huge number of accessories. Pare down makeup. If in a warm resort climate, will you really need foundation or will tinted moisturizer be enough?
Pack well. If your travel wardrobe is knits, then you can minimize wrinkles and space by rolling. Fold pants lengthwise and stack on bed. Roll into a big bundle from the waistband down. Repeat with tops. Long dresses can be rolled with pants. Jackets with tops. Put underwear in ziplock bags and stuff into shoes. Or stuff with socks, belts, and other small items.
Have fun. With space leftover in your suitcase, you'll have plenty of room to bring back all those souvenirs.