"Fashion is not something that exists in dresses. Fashion is in the sky, in the street, fashion has to do with ideas, the way we live, what is happening." Coco Chanel

Greetings Pat!
Wake Up Your Senses in Winter
It's easy to fall into hibernation mode in winter. In hibernation mode, you eat more, sleep more, and tend to care less about how you look. Your senses can't help but come alive when the daffodils are in bloom and the sun's rays are warming your bare skin. But those signs of spring won't be showing up for several more weeks. Let's tune into our senses and embrace the beauty of the moment. Here are some ways to keep your spirits up even while the snow is falling down.

Revive the routines
In the summertime, we have our routine of manicures, pedicures, shaving and waxing. In the wintertime, many of us let those routines go. Let's face facts. It feels as good in winter, maybe even better, to look down at our toes and see them polished and groomed. If you've been neglecting your routines, what could you do this weekend to give your body a treat? How about a massage or a body scrub that leaves your skin feeling nourished? How about a mani-pedi? Getting yourself back on a regular maintenance program will make you feel better about yourself.

Let in some light
You don't need to dress in colors that match a cloudy, dreary day. Instead of wearing dark shades of gray, black, and brown throughout the week, bring in some relief. Those are all great neutrals, but you need some light. Add some frosted colors this time of year – like icy blue, frosted aqua, and pearlescent pink. If your color palette is warm how about playing with a soft apricot, light gold, periwinkle blue, or a vibrant moss green? Try these accent colors in a long cardigan, a ruffled scarf, a camisole, or in a layering piece. Or even apply these shades in a polish for your fingernails.

Limit the dullness
Take a look at your basic pieces. Is everything dull and flat looking? Too many dull fabrics are going to make you feel dull. Go to your closet and pull out everything that has a shine, sheen, or that glistens. Look for embellishments that shimmer and catch the light such as sparkly buttons, shiny ribbons, satin piping, or patent leather trim. Lean on these pieces that reflect light. Work them into some fresh outfits. The added illumination will make you feel more alive and energetic.

Bring in the necessary details
Spend time with your accessories and reaquaint yourself with some old favorites. You may not be showing a lot of skin during the winter months so make accessories your focal points – at your wrist with playful bangles or an oversized watch, at your waist with a belt in a python print, in patent leather, studded or in a bright color. The neck, ears, and fingers can be bedazzled with jewels in necklaces, earrings and rings. (Don't worry if accessories aren't the strongest part of your wardrobe, I can help you.)

Seek some inspiration
Rent some movies from the 40's or 50's, particularly those with grand musical numbers. They are so visually exciting. Check out Pillow Talk, the original Auntie Mame, or Singing in the Rain to get inspired by the fabrics and details in the costumes. As soon as the credits have rolled, go to your closet and create something new to wear this week. Bring that visual excitement forward with some creative flair inspired by the likes of Grace Kelly, Doris Day, Rosalind Russell, or Debbie Reynolds.

Until then …
Spring will be here soon enough but that is no reason to put the pleasure of looking and feeling great everyday on hold until it gets here. A pick-me-up wardrobe session in the middle of winter can go a long way towards delighting your senses, even on those stormy days. Let me help you look great now.

Pat Gray, Ph.D., AICI FLC
Certified Image Consultant
Co-author of "Inspired Style"
pat@patgrayincolor.com
www.patgrayincolor.com
650-492-8291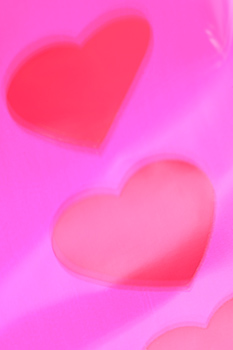 Red and Pink:
The Colors of Love

RED "When in doubt, wear red." – Bill Blass, designer

PINK Suzy Chiazzari, author of The Complete Book of Color, says this about pink: "Wear pink if you are affectionate, loving, and need to be compassionate and sympathetic. It encourages self-nurturing and being kind to yourself."

RED About red, author Suzy Chiazzari says: "Wear red when you need a.....Read more.
Need a New
Makeup Look?
Tired of department store makeovers where you come out looking "made over" and when you can hardly wait to get home and wash your face? If this is your experience, then you need an Integra makeover. Integra makeup is designed to match your inherent coloring so that you look natural, not
theatrical.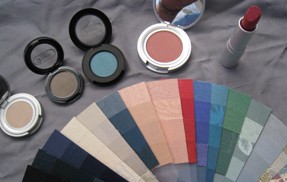 What do you get with your $75 Integra makeover with me? A mini-color analysis, makeup lesson using makeup to match your inherent coloring, and a video of your makeover so you can review at home how to apply your makeup. Plus the first 2 people to call and book their exclusive appointment, receives a copy of Brenda Kinsel's book "Fashion Makeover," personally signed by Brenda herself.

I'm one of only two people in the world who have been trained to use Integra cosmetics. Call me now. 650-492-8291
.