"To be a fashionable women is to know yourself, know what you represent, know what works for you. To be "in fashion" could be a disaster on 90 percent of women. You are not a page out of Vogue." Unknown.
Greetings Pat!
Are You in a Clothing Rut?
Spring is finally here! Time to clean out the closet, put away the cold weather clothes, and bring out the summer clothing. It can be a drudge. This time I want you to have some fun and play with your clothes. As you're putting your warm weather clothes in your closet, try some new combinations. Put jackets with different tops, try different accessories. Read more here....
Inspired Style--Top Image Experts Reveal Strategies to Always Look and Be Your Best.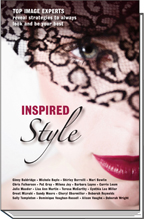 I'm about to be a co-author. Inspired Style is off to the printer. Last chance to order and save. Regularly $24. Pre-order and save. $19, no tax, no shipping fee. Click here.
I'm on Facebook!
Join me on my fan page on Facebook. Get tips, links, and videos on current fashion and style topics. Click here to join.

Pat Gray, Ph.D., AICI FLC
Certified Image Consultant
Co-author of upcoming book "Inspired Style"
pat@patgrayincolor.com
www.patgrayincolor.com
510-593-8805

SPRING 2010 COLOR TRENDS
Pantone, know for paint and printing colors, also publishes Fashion Color Reports. The color trends for Spring 2010 are
Turquoise
Amparo Blue
Aurora yellow
Fusion Coral
Tomato Puree
Tuscany beige
Pink Champagne
Dried Herb green
Eucalyptus
To see these colors and to see how quite a few designers have used these colors, click here to go to the Pantone Fashion Color Report for Spring 2010.

PRINTS AND PATTERNS WORKSHOP

Spring 2010 brings us a lot of prints and patterns--from tie dyed to watercolors, polka dots to tribal. And designers are mixing prints together. Want to learn your best prints and how to use more than one print in an outfit? This workshop is for you. Wednesday, April 7, 7 pm to 9 pm. $30. Los Altos area. Register here.

YOUR PERSONAL COLORS WORKSHOP

Learn about the color seasons and subseasons and receive a mini-color analysis. $30. Thursday, April 29, 7 pm to 9 pm. Los Altos area.

Register here.

MY FAVORITE STORE AT SANTANA ROW


One of my favorite stores at Santana Row is Smith Aldar. Find out why at

my blog.

.