"A woman's dress should be like a barbed-wire fence: serving its purpose without obstructing the view." Sophia Loren
Greetings Pat!
Updating Your Wardrobe with Accessories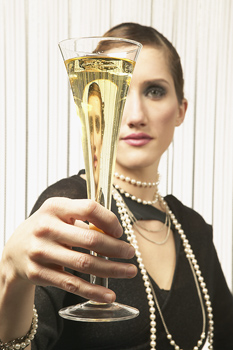 Want to update your wardrobe, but not break the bank? Why not use your current clothing and add some trendy accessories? Think about adding some of these Fall 2009 trends.
Leather boots, especially knee high and over the knee styles.
Statement necklaces. Go through your current jewelry and see what necklaces you can layer, just like the woman above.
A new handbag. Make it big and shiny.
Bangles. And lots of them.
Scarves and shawls. How about a big square scarf folded into a triangle and thrown over one shoulder.
Belts. Either wide or narrow.
Gloves. Long, to the elbow ones.

Pat Gray
Image Consultant
pat@patgrayincolor.com
www.patgrayincolor.com
510-593-8805

UPCOMING EVENTS

Carlisle/Per Se Open Studio

Wednesday, October 21, 9 am to 2 pm.

Join me at the home of Cindy Zaccarino, Wardrobe Consultant. Receive a mini color analysis from me and enter to win a gift certificate for a full color analysis. Preview the Carlisle collection by clicking here and the Per Se collection here. Contact me for location. Can't make it? Contact Cindy (cindyzuccarino@gmail.com) to schedule your appointment October 21-28.

CAbI Trunk Show

Friday, October 23, 7PM

Wonderful, affordable, up-to-date fashions. I'll be there to help you choose the right styles and colors for you. Preview the collection by clicking here. Contact me for location.

Halloween Pearl Party

Saturday, October 31, 10 am to 2 pm

Start your Holiday shopping or pick up a bauble or two for your Holiday outfit. And help Third World Women at the same time. Pearl jewelry from $20 to $200. Enter a raffle to win an orange stone and pearl necklace. I'll be there to measure you and determine your two best necklace lengths. Contact me for location.