Monthly e-Update: November 2011
---
HIGHLIGHTS
•Square Affair Sale Continues Online — Artwork for sale from local and internat'l artists to benefit the Quilt Project in Schools 2012...is available for your gift list!
It is priced to sell!
•
Thursday, Nov 17, 5-7 PM
— Celebrate our PDX art world debut at
ARTSPARK
!
•Call for Volunteers, get the Quilt in Schools this Winter/Spring!
---

---
ARTSPARK, 5-7 PM - NOVEMBER 17, 2011

We're honored to be featured as an organization by the Regional Arts and Culture Council's bimonthly
ARTSPARK
series, come join us and play a fun Create Plenty version of
bingo
, listen to jazz and mingle! The
International Plastic Quilt Project
will also be on display with new additions. Schmooze and view! See you soon.
Where: Vie de Boheme, 1530 SE 7th Ave (near 7th & Clay), Portland
---
Square Affair Benefit Continues thru Dec 31st
Gift Your Loved Ones and Benefit Our Work: Buy Art Online!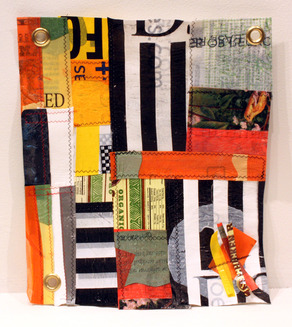 We had a very successful opening art sale/exhibit earlier this month at 100th Monkey Studios. We like our parties to be waste-free and our set of 30 mugs had to be washed for reuse at least three times! Now some amazing pieces of original, wall-ready artwork are available for sale online (some are 25% off!). Designs from nationally re-knowned artists including Virginia Fleck and longtime artist/activist Dianna Cohen are among the collection that also includes outstanding local artists like Bridget Benton (see right), Suzy Root, Vicky DeKrey and Tim Combs. Even a group of artists from Mérida, Mexico contributed some imaginative and playful pieces that will harken your internal sunshine if you live in the gray areas like Portland, OR. Speaking of which, read this blog entry by board member Amy Chovnick, who visited from the Bay Area to experience the show first hand!
Artwork is one-of-a-kind so it's best not to hesitate! We will have your purchase shipped or available for pick up by Dec 5 for orders made by Nov 30.
---
Art & Environmental Education Volunteers Wanted!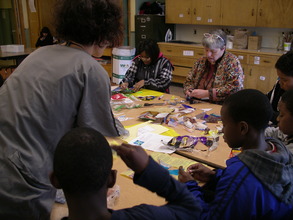 Create Plenty's International Plastic Quilt Project will lead more students in learning about the effects of plastic on the environment. The project will culminate in an exhibit of artwork made from single-use plastic in a group show that brings all student participants and their families together in a celebration of increased and growing awareness and solutions. We are expanding the project in Portland for 2012 and need volunteers to facilitate the project in the after school programs that have expressed interest in the project.
Details: We will help you get started with a volunteer orientation. Requires ~six visits of ~75 minutes each, plus one hour/visit of preparation time. Project ranges from Jan-Apr 2012. Great for earning hours working with elementary school-aged students! Please forward this to anyone who may be interested. Contact:cheryl@createplenty.org and/or fill out this online volunteer form to fill out by December 31, 2011. If you school is interested in receiving the Project, there's a form for that, too!
---
We are active on Twitter and Facebook for you to follow, like, and share! Love what we are doing and want to see more? You may donate here.
---
Our Mission:
Create Plenty will mobilize people toward a culture of resourcefulness and intentional daily living, creating waste-free, local alternatives that are practical and accessible by all.
---