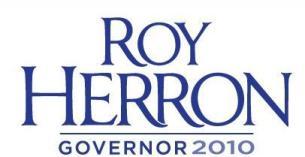 FOR IMMEDIATE RELEASE
November 14, 2009

Contact: Tony Marks
(731) 364-5415
(202) 365-3986



Roy Herron Wins Second Straight Straw Poll



Blountville – Sen. Roy Herron (D-Dresden) decisively won the second Democratic straw poll in the race for Governor on Saturday. The poll was held at an event hosted by the Sullivan County Democratic Party in Blountville.

With his strong win in the first straw poll in Rutherford County, Sen. Herron has now won the first two Democratic straw polls by large margins.

"I am humbled and grateful to the voters of Sullivan County," Sen. Herron said. "The people here in northeast Tennessee are just like those I represent in middle and west Tennessee: hard-working, family-loving, God-fearing people. I'm grateful for their kindness to me today."

Sen. Herron received more than 57% of the votes cast and more than the other four candidates combined. Full results are below:

1. Sen. Roy Herron – 85
2. Mike McWherter – 20
3. Sen. Jim Kyle – 12
4. Ward Cammack – 11
5. Kim McMillan – 9
6. Undecided - 12

At the straw poll, Sen. Herron said that if elected Governor, his top three priorities would be "jobs, jobs, and jobs." He will work to keep the jobs we have, help existing businesses grow new jobs, and recruit more jobs to the state. He also said improving education is the best way to prepare Tennesseans to compete for the jobs of the future.

Saturday's win in East Tennessee, combined with his win in the straw poll in Middle Tennessee and his long-time service in West Tennessee, shows Sen. Herron has strong support in all three of Tennessee's grand divisions.

Sen. Herron's reputation as a hard worker with strong Tennessee values continues to resonate with voters. In his 22 years in the legislature, he has held over 1,000 listening meetings, perhaps more than any other Tennessee legislator. And he has missed only one day of legislative session – the day his youngest son was being born.

Roy Herron was first elected to the Tennessee House of Representatives in 1986. He has served in the state legislature for 22 years, including 12 years in the Senate, where he was Democratic Floor Leader and Democratic Caucus Chair. A small-town attorney, businessman, and former minister, Herron has also written three books, including God and Politics. For fun, Herron runs marathons, and he has completed three 140.6-mile Ironman triathlons. He lives in Dresden with his wife of 22 years, Nancy. Soon his third son will join his father and brothers as an Eagle Scout, the seventh in their family. For more information, visit RoyHerron.com.