Bobcat Bucket List
Strike a Pose with Edgar Tufts
Commissioned and donated by Trustee Murray and his wife, Carolyn, the life-size bronze sculpture of Rev. Edgar Tufts in Swank Park honors his life and legacy of service. Students, staff, faculty and visitors enjoy posing with th iconic founder of Lees-McRae.

View the Bobcat Bucket List >>
Events You Don't Want to Miss
Alumni and Friends Caribbean Cruise
March 23-28, 2015
Departs from Ft. Lauderdale, FL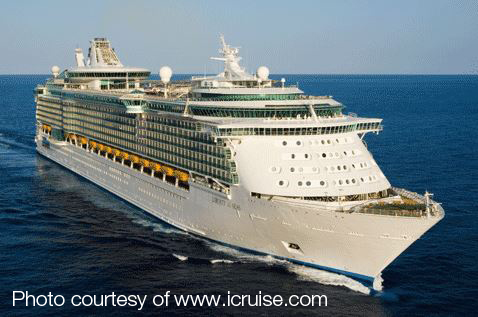 Come sail away with us on March 23,
2015 for a great week of fun and adventure in the Caribbean. We've reserved a selection of cabins at various rates but they won't last long! Our special group rates and bonus offers make this an exceptional value and, of course, cruising together is an even bigger bonus.

The deposit for the cruise is $200 per stateroom, and all staterooms MUST be booked by April 21, 2014! After that, they cannot guarantee rooms or pricing. Final payments for the cruise need to be paid by December 31, 2014.

With questions, contact Jillian Rosato at 828.898.2534 or the cruise booking agent, Roxanne Martin, whose information can be found by clicking the link below. See you onboard the Liberty of the Seas in March 2015!

Click here to make your reservation >>
News from Academic Affairs

Robert Tynes painting exhibit on display at Lees-McRae
March 14-April 11
On Friday, March 21, Lees-McRae will host an opening reception for artist Robert Tynes, whose exhibit of contemporary Trompe L'Oeil paintings will be on display from March 14 through April 11 in the King-Shivell Gallery at the College. This exhibit is free and open to the public.

"Robert Tynes is an extreme professional when it comes to teaching and fine art," said Jason Sabbides, assistant professor of Communication Arts and Design and King-Shivell Gallery Manager. "His work is a cultivation of years of laborious work. He has perfected a technique called Trompe L'oeil, which means to fool the eye. This group of work is an outstanding opportunity to view what great skill can be achieved through unwavering passion and dedication."

Click here to read the full article >>
---
Lees-McRae business students get hands-on experience at AC PRIDE

If you're lucky, you might snag an internship before you graduate from college, but it will probably consist of manning the copier and getting coffee. Fortunately for Lees-McRae seniors, they have the opportunity to gain real-world experience in their field through a new partnership with AC PRIDE business incubator.

Interim chair of the Lees-McRae Business Administration Division Amy Anderson Taylor said that the senior project is a chance to test classroom knowledge in action.

"All of our seniors are required to do a major capstone project before the end of their time here. I have four students who have been working with the incubator.

Click here to read the full article >>

News from Student Development

Housing Selection Process

A new housing selection process is underway for 2014-15. Two information sessions have already been held with more scheduled in March. All students must pay a $50 room reservation fee before participating in the housing selection process. Students will not be able to pay during the lottery.

Deadline to pay room reservation fee is March 28.

Click here to learn more >>
Upcoming Dates to Remember

Tuesday, March 25

Housing Information Session
Evans Auditorium | 4 p.m. and 7 p.m.

Tuesday, March 25

Off-Campus Notifications

Wednesday, March 26 -
Friday, March 28
Reserve Current Room for Next Year
9 - 11:30 a.m. | 1:30 - 4:30 p.m.

Tuesday, April 1

House and Apartment Application Deadline
Pet Application Deadline

Thursday, April 3

Room Reservations for Honors Students
9 - 11:30 a.m. | 1:30 - 4:30 p.m.

Monday, April 7

Housing and Apartment Notifications


Tuesday, April 8

Housing Lottery
Evans Auditorium | 6 - 8:30 p.m.
---
Spring Break Announcements

Residence Halls:
Close at 4:30 p.m. on Friday, March 7

Re-open at 2 p.m. on Sunday, March 16

Only students with prior permission from the Student Development Office will be allowed to stay on campus during Spring Break.
Food Service Hours of Operation:
MacDonald Dining Hall will close at 6 p.m. on Friday, March 7 and re-open at 11 a.m. on Sunday, March 16.

Wily's Bar & Grill will close at 10:30 p.m. on Thursday, March 6 and re-open at 11 a.m. on Monday, March 17.

News from Athletics

Morning Jac: Div. II's Own Black History Month

Prior to the start of the contest between Tusculum and Lees-McRae on Wednesday, there will be a ceremony. Since it's the first home game in the history of the Tusculum program, an honorary faceoff will be staged featuring school president, Dr. Nancy Moody, among others.

Shortly after that moment, a more intriguing event will happen.

Tusculum coach Richard Carrington and Lees-McRae coach Darry Thornton will stride toward each other and shake hands, establishing the contest as the first-ever between two black head coaches at the Division II level, and just the second known meeting in NCAA men's lacrosse history.

It's a bittersweet moment for lacrosse.

Click here to read the full article >>
---
McRae Claims Women's High Jump Title at Conference Carolina Indoor Championships

Lees-McRae senior Persephanie McRae won the women's high jump while senior teammate Kortnie Curry finished second to pace the LMC Track & Field squads at the Conference Carolinas Indoor Track & Field Championship at JDL Fast Track in Winston-Salem, N.C.

McRae (Brooklyn, N.Y.) cleared 5 feet, 3 inches on her second attempt to claim the individual title while Curry (Lexington, N.C.) hit the same mark, but on her third attempt. Freshman Makayla Boswell earned a seventh-place finish with a leap of 05-01.00. Both earned all-conference recognition for their performances.

Freshman Erin Bingham wrapped up an impressive campaign by earning second-team all-conference accolades while finishing second in the 60-meter hurdles in a time of 9.25 seconds. The Jefferson, N.C., native notched a time of 27.60 in the 200-meter dash to finish 12th while grabbing an 11th place finish in the 400-meter run at 1:05.13.

Click here to read the full article >>
Dates to Remember
Mar. 6: Wily's Bar & Grilll will close at 10:30 p.m. for Spring Break

Mar. 7: Cap and Gown Orders Due

Mar. 7: Residence Halls close at 4:30 p.m. for Spring Break (MacDonald Dining Hall will close at 6 p.m.)

Mar. 10-14: Spring Break

Mar. 16: Residence Halls re-open at 2 p.m. after Spring Break (MacDonald Dining Hall will re-open at 11 a.m.)

Mar. 17: Wily's Bar & Grill will re-open at 11 a.m.

Mar. 20: Stephenson Center Lecture (Stewart Skeate) 7 p.m.

Mar. 22: A Day in the Life of Skakespeare (10 a.m. - 5 p.m.)
Mar. 24: Advising and Registration Begins

Mar. 27: Greensboro Event (alumni, family and friends)

Mar. 28: Deadline to pay room reservation fee (2014-15 Housing)

Mar. 29: Charlotte Checkers Game (alumni, family and friends)

Apr. 7-11: Appalachian Heritage Week
Click here for a full listing of calendar events >>
---