Bobcat Bucket List
Hang out with Sassy
Sassy, a Great Horned Owl who was found as a very young nestling with a wing torn off, is one of the animal ambassadors at the Dan and Dianne May Wildlife Rehabilitation Center. Sassy is one of three non-releasable animal ambassadors. The other two are Red-tailed Hawks named Cloudfeather and Ladybird.

View the Bobcat Bucket List >>

Season's Greetings from Lees-McRae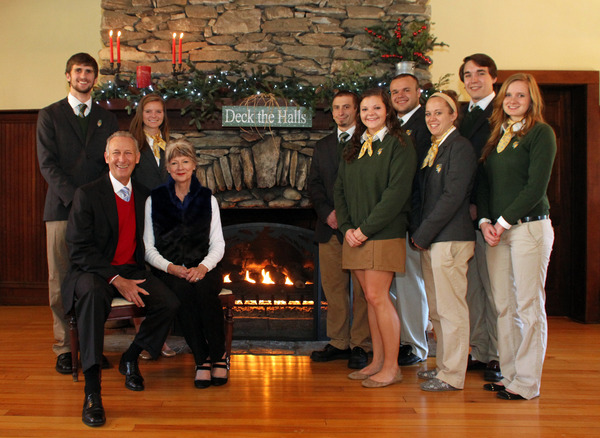 We all got in the holiday spirit this week as the Office of Communications hosted a holiday-themed photo shoot - complete with lights and Santa hats!

Click here to view the photos >>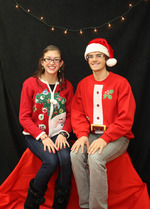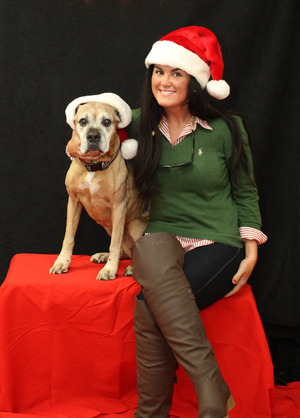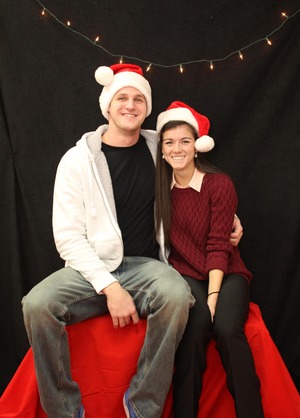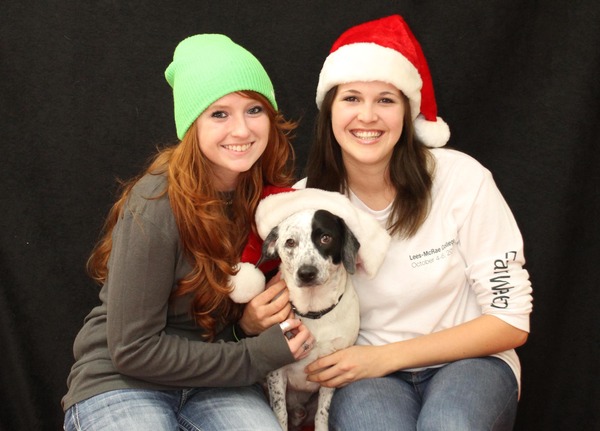 College News to Note

Lees-McRae Featured in the Charlotte Business Journal

On November 1, Charlotte Business Journal featured Lees-McRae in a special article about colleges and universities in North Carolina that are freezing or lowering tuition costs. Since Lees-McRae has frozen tuition for the second consecutive year, the College was a perfect fit for the article!

Click here to read the article >>

News from Academic Affairs

Last Day of Classes
Friday, December 6

24-Hour quiet hours will go into effect at midnight on Friday, December 6 and remain in effect until Thursday, December 12.

Click here to view the exam schedule >>
---
Construction Updates

May School of Nursing and Allied Health

On Monday, November 4, Lees-McRae College appointed Dr. Laura Fero as Director of Nursing. Dr. Fero, who most recently was the national curriculum and instruction specialist for Chamberlain College of Nursing, began full-time duties on November 14.

"I'm very excited to be part of the Lees-McRae community," said Dr. Fero. "The opportunity to establish and grow a competitive, high-quality school of nursing in the High Country is an honor. I believe our students will experience a holistic, technology-driven, evidence-based curriculum that will facilitate their successful transition into the nursing profession. I am looking forward to our future."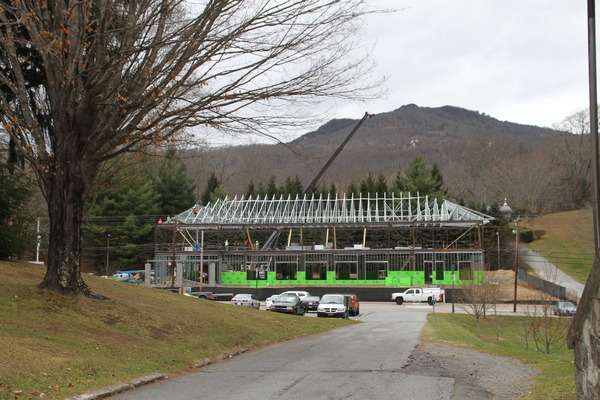 May School Construction Webcam >>

Click here to view the May School of Nursing and Allied Health Facebook Photo Album >>


Lauritsen Technical Theatre and Design Studio

Lees-McRae broke ground last month on its newest addition, the two-story Lauritsen Technical Theatre and Design Studio. With construction on schedule, the building is anticipated to be complete in time for the much anticipated 2014 season of Summer Theatre.

"Our students are so excited for the new studio to open," said Danielle Curtis, technical director and associate professor of performing arts. "Right now, platforms and flats for scenes must be broken down and recreated each show, which increases the costs and resources necessary for each production. The current space also restricts faculty from using industry standard tools such as table saws and drill presses to allow students to widen their skill sets. This new space will allow us to better prepare our students for their future careers."

Click here to learn more >>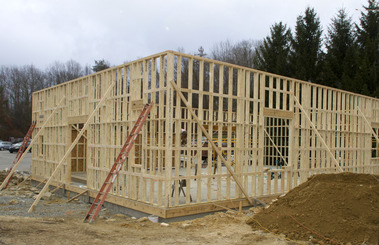 Click here to view the Lauritsen Technical Theatre and Design Studio Facebook Photo Album >>

News from Student Development

Student Appreciation Day

The inaugural Student Appreciation Day, held November 13, was a huge success! Fifteen offices participated across campus by providing students with sweet treats, supplies, t-shirts and mini games. The event allowed us to show our appreciation for students and the opportunity for students to visit some offices/areas for the first time.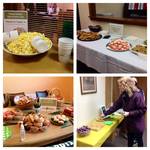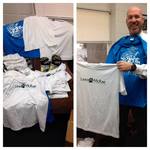 News from Athletics

No Shave November Update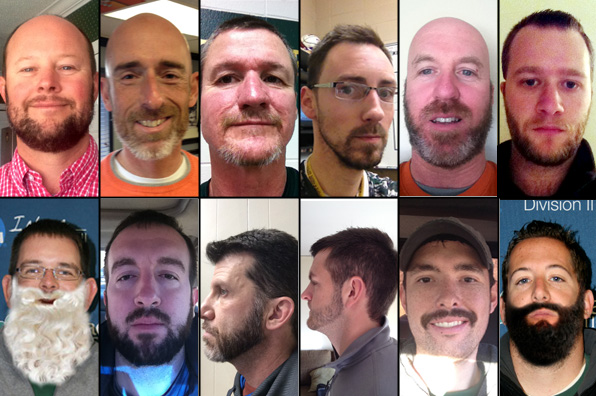 Lees-McRae College's Athletic Department has joined the popular craze that is "No Shave November". Today marks the end of the contest's fourth week, and coaches along with administrators in the Bobcat athletic department are embracing the challenge as the facial hair becomes difficult to manage, much less contain.

Click here to read the full article >>
---
Bobcats place three on NCCSIA all-State teams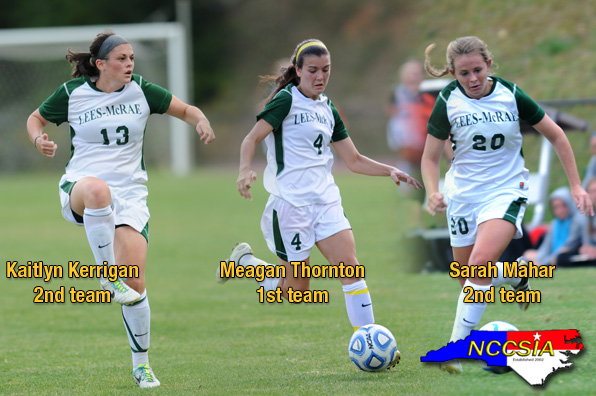 The Lees-McRae College women's soccer team has placed three players on the 2013 North Carolina Collegiate Sports Information Association all-State team, including first-team selection Meagan Thornton (Millville, N.J.) and second-team honorees Sarah Mahar (Jacksonville, Fla.) and Kaitlyn Kerrigan (Fishers, Ind.), announced NCCSIA officials Monday.

Click here to read the full article >>
Emergency Alerts
from Lees-McRae
You can now receive weather closings and emergency communications via text and voicemail!
Sign up today at lmc.edu/eas
---
Dates to Remember
Dec. 6: Last Day of Classes

Dec. 6: All Library Materials Due by 5 p.m.

Dec. 6: Banner Elk Presbyterian Spaghetti Supper for Students

Dec. 7: Banner Elk's Christmas in the Park

Dec. 8: Bristol Speedway in Lights Bus Tour
Dec. 8: Exam Breakfast

Dec. 9-12: Final Exams
Click here for a full listing of calendar events.
---
Christmas Break Information
All Residence Halls will close at 2 p.m. on Friday, December 13
MacDonald Dining Hall will close on Friday, December 13 after dinner
(5 – 6 p.m.)
Wily's Bar & Grill will close on Wednesday, December 11 after dinner (5 – 10:30 p.m.)
Residence Halls will reopen on Sunday, January 12, 2014 at 10 a.m.
The Dining Hall will reopen on Friday, January 10, 2014
Wily's Bar & Grill will reopen on Wednesday, January 15, 2014
Note: We apologize for the incorrect residence hall closing dates published in the Family Association Calendar. The academic calendar was modified after the calendar was printed. However, all other dates are correct.
---



Don't forget to "Like"
the Lees-McRae Family
Association page on Facebook.